These 10 must-read YA mysteries will keep you guessing until the very last page.
"A beautiful and distinguished family. A private island. A brilliant, damaged girl; a passionate, political boy. A group of four friends—the Liars—whose friendship turns destructive. A revolution. An accident. A secret. Lies upon lies. True love. The truth. Read it. And if anyone asks you how it ends, just LIE."
2. The Lake by Natasha Preston
"Esme and Kayla once were campers at Camp Pine Lake. Now they're back as counselors-in-training. Esme loves the little girls in her cabin and thinks it's funny how scared they are of everything—the woods, the bugs, the boys…even swimming in the lake. It reminds her of how she and Kayla used to be. Before…
"Because Esme and Kayla did something terrible when they were campers. Something they've kept a secret all these years. They vow that this summer will be awesome. Two months of sun, s'mores, and flirting with the cute boy counselors. But then they get a message:
"THE LAKE NEVER FORGETS.
The secret they've kept buried for so many years is about to resurface."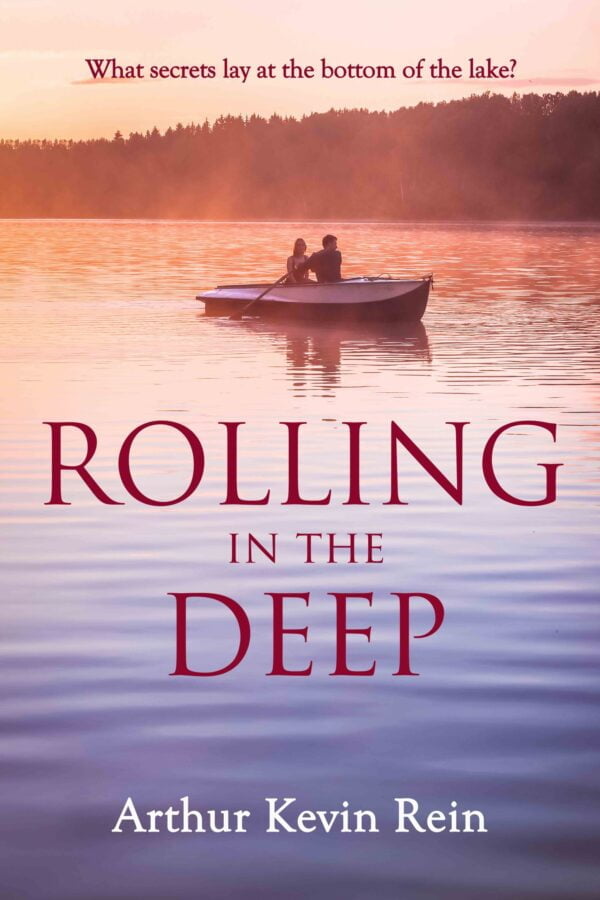 "Seventeen-year-old Sam Robel knows about loss. After the death of his older brother, his family bought Noquebay Resort in Northern Wisconsin to escape their grief.
"Sam's friends Max and Diane also know about loss. Max's mother died long ago and his father's mysterious wealth and trophy wife are the talk of Walnut Creek; and six years ago, Diane's sister Jean disappeared without a trace.
"One day while fishing with Max, Sam's line snags something from the bottom of Red Wolf Lake, and the discovery sets off a series of events that not only involves the three teenagers but also their friends and families, the sheriff's department, the other citizens of Walnut Creek, and, last but not least, a ruthlessly powerful small-town family, the Manticores, who seem intent on taking Noquebay Resort from Sam's family, no matter what the cost.
"How far will Sam and his friends go to discover what secrets lay at the bottom of the lake?"
"Pay close attention and you might solve this. On Monday afternoon, five students at Bayview High walk into detention. Bronwyn, the brain, is Yale-bound and never breaks a rule. Addy, the beauty, is the picture-perfect homecoming princess. Nate, the criminal, is already on probation for dealing. Cooper, the athlete, is the all-star baseball pitcher. And Simon, the outcast, is the creator of Bayview High's notorious gossip app. Only, Simon never makes it out of that classroom. Before the end of detention Simon's dead. And according to investigators, his death wasn't an accident. On Monday, he died. But on Tuesday, he'd planned to post juicy reveals about all four of his high-profile classmates, which makes all four of them suspects in his murder. Or are they the perfect patsies for a killer who's still on the loose? Everyone has secrets, right? What really matters is how far you would go to protect them."
"On a beautiful summer night in a charming English suburb, a young woman and her boyfriend disappear after partying at the massive country estate of a new college friend.
"One year later, a writer moves into a cottage on the edge of the woods that border the same estate. Known locally as the Dark Place, the dense forest is the writer's favorite place for long walks and it's on one such walk that she stumbles upon a mysterious note that simply reads, 'DIG HERE.'
"Could this be a clue towards what has happened to the missing young couple? And what exactly is buried in this haunted ground?"
"It's been five years since Summer Marks was brutally murdered in the woods.
"Everyone thinks Mia and Brynn killed their best friend. That driven by their obsession with a novel called The Way into Lovelorn the three girls had imagined themselves into the magical world where their fantasies became twisted, even deadly.
"The only thing is: they didn't do it.
"On the anniversary of Summer's death, a seemingly insignificant discovery resurrects the mystery and pulls Mia and Brynn back together once again. But as the lines begin to blur between past and present and fiction and reality, the girls must confront what really happened in the woods all those years ago—no matter how monstrous."
"Four teens fight to outsmart a killer who intends to avenge a young boy's death in this suspenseful thriller that inspired the classic horror film. After a party, four teens are in a hit-and-run accident that results in a young boy's death. Unable to deal with the consequences, they leave the body behind and make an anonymous phone call to the police, tipping them off. The group makes a secret pact to bury the memory of that night and never speak of it again, but when one of the girls receives a note that reads 'I know what you did last summer,' their dark lie is unearthed. With twists and turns at every corner, they'll have to fight to stay steps ahead of a killer determined to make them pay."
"Seventeen-year-old Cassie Hobbes has a gift for profiling people. Her talent has landed her a spot in an elite FBI program for teens with innate crime-solving abilities, and into some harrowing situations. After barely escaping a confrontation with an unbalanced killer obsessed with her mother's murder, Cassie hopes she and the rest of the team can stick to solving cold cases from a distance.
"But when victims of a brutal new serial killer start turning up, the Naturals are pulled into an active case that strikes too close to home: the killer is a perfect copycat of Dean's incarcerated father-a man he'd do anything to forget. Forced deeper into a murderer's psyche than ever before, will the Naturals be able to outsmart the enigmatic killer's brutal mind games before this copycat twists them into his web for good?"
"Eighteen-year-old Daunis Fontaine has never quite fit in, both in her hometown and on the nearby Ojibwe reservation. She dreams of a fresh start at college, but when family tragedy strikes, Daunis puts her future on hold to look after her fragile mother. The only bright spot is meeting Jamie, the charming new recruit on her brother Levi's hockey team.
"Yet even as Daunis falls for Jamie, she senses the dashing hockey star is hiding something. Everything comes to light when Daunis witnesses a shocking murder, thrusting her into an FBI investigation of a lethal new drug.
"Reluctantly, Daunis agrees to go undercover, drawing on her knowledge of chemistry and Ojibwe traditional medicine to track down the source. But the search for truth is more complicated than Daunis imagined, exposing secrets and old scars. At the same time, she grows concerned with an investigation that seems more focused on punishing the offenders than protecting the victims.
"Now, as the deceptions―and deaths―keep growing, Daunis must learn what it means to be a strong Anishinaabe kwe (Ojibwe woman) and how far she'll go for her community, even if it tears apart the only world she's ever known."
10. The Cousins by Karen M. McManus
"Milly, Aubrey, and Jonah Story are cousins, but they barely know each another, and they've never even met their grandmother. Rich and reclusive, she disinherited their parents before they were born. So when they each receive a letter inviting them to work at her island resort for the summer, they're surprised . . . and curious.
"Their parents are all clear on one point–not going is not an option. This could be the opportunity to get back into Grandmother's good graces. But when the cousins arrive on the island, it's immediately clear that she has different plans for them. And the longer they stay, the more they realize how mysterious–and dark–their family's past is.
"The entire Story family has secrets. Whatever pulled them apart years ago isn't over–and this summer, the cousins will learn everything."
Receive top book recommendations directly in your inbox.
Try Audible Premium Plus and Get Up to Two Free Audiobooks