Throughout the centuries women accused of witchcraft have been burned alive at the stake. The term "witch" is often used as an insult or accusation to this day. Many fictional witches are portrayed as ugly and intrinsically evil, while others live in suburban houses, married with children, twinkling their nose so the dishes magically wash themselves. These top 13 witches in literature go beyond the pointy hat and broomstick to give a more charmed portrait of what it means to be a witch.
Hecate is a goddess in ancient Greek mythology known to be associated with crossroads, entrance-ways, night, light, magic, witchcraft, knowledge of herbs and poisonous plants, ghosts, necromancy, and sorcery. She first appears in Hesiod's Theogony. She is also the first to represent The Power of Three, which has been carried down in the portrayal of witches throughout the centuries.
Another figure in ancient Greek mythology, Circe is an enchantress, having the power to take away men's manhood. After they land on her island, she turns Odysseus's men into swine when she feeds them a meal. She is also depicted in Circe by Madeline Miller.
These three sisters share one eye and one tooth among them and are extremely old. Yet they are also described as being swan-shaped in Prometheus Bound and "fair-cheeked" in Theogony. They are early representations of the Power of Three.
4. The Three Witches in Macbeth by William Shakespeare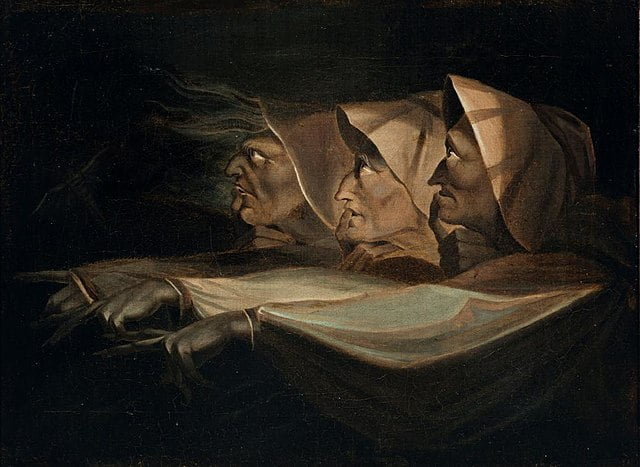 The Maid, Mother, and Crone also represent the Power of Three and are stronger together.
5. Morgaine in The Mists of Avalon by Marion Zimmer Bradley
An important and controversial figure in Arthurian legend, the portrayal of Morgaine (Morgan Le Fay) has altered radically depending on the storyteller. T.H. White paints her as a villain in The Once and Future King. In another version, Le Mort D'Arthur, author Thomas Malory showcases her healing forces. In The Mists of Avalon, we see Morgaine as the protagonist and Gwenhwyfar as the antagonist as they struggle for power in Arthur's kingdom during a time when Christianity is taking over Britain.
6. Elphaba, The Wicked Witch of the West, in The Wizard of Oz by L. Frank Baum
We all know her, with her pointy hat, green skin, broomstick, and caustic threats to Dorothy and her little dog Toto as they make their way down the yellow brick road. Elphaba has her own story to tell, of course, in Wicked: The Life and Times of the Wicked Witch of the West by Gregory Maguire.
7. Mary in Witch Child by Celia Rees
"Welcome to the world of young Mary Newbury, a world where simply being different can cost a person her life. Hidden until now in the pages of her diary, Mary's startling story begins in 1659, the year her beloved grandmother is hanged in the public square as a witch. Mary narrowly escapes a similar fate, only to face intolerance and new danger among the Puritans in the New World. How long can she hide her true identity? Will she ever find a place where her healing powers will not be feared?"
8. Granny Weatherwax in

The Discworld Saga

by Terry Pratchett
This powerful witch is a member of the Lancre coven and one of the main protagonists of of this seven novel series.
9. Serafina Pekkala in His Dark Materials by Philip Pullman
A ageless, whimsical witch queen from a tribe in Inari, Finland. Her dæmon, Kaisa, has the form of a snow goose.
Responsible for eternal winter and turning people into stone, she made her first appearance in The Magician's Nephew.
11. Hermione in Harry Potter by J.K. Rowling
By far the most well-known, not to mention well-loved, girl/tween/teenage witch of them all.
12. Alexandra, Jane, and Sukie in

The Witches of Eastwick

by John Updike
"Toward the end of the Vietnam era, in a snug little Rhode Island seacoast town, wonderful powers have descended upon Alexandra, Jane, and Sukie, bewitching divorcées with sudden access to all that is female, fecund, and mysterious. Alexandra, a sculptor, summons thunderstorms; Jane, a cellist, floats on the air; and Sukie, the local gossip columnist, turns milk into cream. Their happy little coven takes on new, malignant life when a dark and moneyed stranger, Darryl Van Horne, refurbishes the long-derelict Lenox mansion and invites them in to play. Thenceforth scandal flits through the darkening, crooked streets of Eastwick—and through the even darker fantasies of the town's collective psyche."
This witch's coven comforts and cares for the nameless narrator.
Receive top book recommendations directly in your inbox.
Try Audible Premium Plus and Get Up to Two Free Audiobooks