These notorious goats in books appear in Greek mythology, Norse mythology, fiction books, nonfiction books, fairy tale stories, and educational books. These top 10 goats in literature are the G.O.A.T.
Half-man and half-goat with the hindquarters, legs, and horns of a goat, Pan is god of the wild, shepherds, and flocks in ancient Greek mythology.
2. Tanngrisnir and Tanngnjóstr in Norse Mythology
These two goats pull Thor's chariot across the sky.
3. The goats in Othello by William Shakespeare
Taunted about his wife's supposed infidelity, Othello finally loses it, shouting, "Goats and monkeys!"
4. The goats in Brave New World by Aldous Huxley
The same goats in Othello make a return appearance in Brave New World. "He made a grimace. 'Goats and monkeys!' Only in Othello's word could he find an adequate vehicle for his contempt and hatred."
Giles, which means "young goat" from its Greek origin, is a Pan-like protagonist who commits to conquer the Wescac computer system that threatens to destroy his community.
Despite the potential consequences, a family takes in an orphaned goat.
The name of this nonfiction book about the U.S. Army's exploration of New Age concepts and the potential military applications of the paranormal refers to attempts to kill goats by staring at them and stopping their hearts.
"I was in like a big field with all flowers and trees, and there was a like goat with a man's litso playing away on a like flute."
The Little, Middle, and Big Billy Goat Gruff brothers encounter trouble when they try to cross a bridge and discover a hungry, terrible troll.
10. The goat in "The Pet Goat" by Siegfried "Zig" Engelmann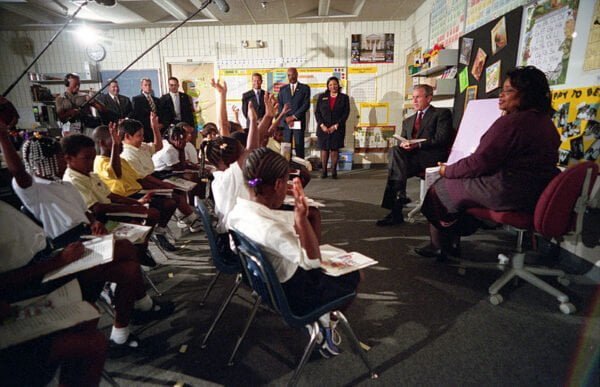 This goat became famous when President George W. Bush, who was reading "The Pet Goat" to a group of school children in Sarasota, Florida, was informed about the attacks on America on the morning of September 11, 2001.
Receive top book recommendations directly in your inbox.
Woof, woof! How could we leave out man's best friend? Get to know these top dogs in literature.
Meow, meow! These cats in literature shouldn't be missed.
Oink, oink! Get to know these top 10 pigs in literature.
More of a horse person? Discover the best horses in literature.
Hop on over to the best rabbits in literature.
There be dragons! Check out the top dragons in literature.
You will be a-mazed by these top rodents in literature.
Slither over to the best snakes in literature.