You're never too old for school, especially when the supernatural is at play. These 6 supernatural stories set in schools make going back to school anything but boring.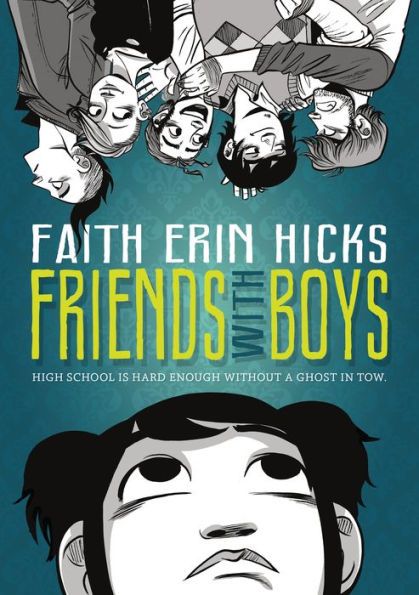 "Maggie McKay hardly knows what to do with herself. After an idyllic childhood of homeschooling with her mother and rough-housing with her older brothers, it's time for Maggie to face the outside world, all on her own. But that means facing high school first. And it also means solving the mystery of the melancholy ghost who has silently followed Maggie throughout her entire life. Maybe it even means making a new friend―one who isn't one of her brothers."
2. Carrie by Stephen King
"Carrie White may be picked on by her classmates, but she has a gift. She can move things with her mind. Doors lock. Candles fall. This is her power and her problem. Then, an act of kindness, as spontaneous as the vicious taunts of her classmates, offers Carrie a chance to be a normal…until an unexpected cruelty turns her gift into a weapon of horror and destruction that no one will ever forget."
"In a poor suburban community in southern Ohio, Dieter Vogel is a failing English teacher at a high school populated predominately by minority students. He is bullied by the basketball coach, neglected by the principal, ignored by his crush, Esther, and pressured to workout with Jose, the art teacher. At the end of the first day back after summer break, Dieter is visited by Satan, who takes the initial form of a Twinkie. Satan convinces Dieter to overthrow the school mascot, Gretel the Pretzel, so that the Devil can take its place. Dieter is promised Esther's love and the position of principal in return. All Dieter has to do is follow the Devil's advice and use classic literature to manipulate the students into a racially charged frenzy against the mostly white staff."
"Harry Potter is a series of fantasy novels written by British author J. K. Rowling. The novels chronicle the life of a young wizard, Harry Potter, and his friends Hermione Granger and Ron Weasley, all of whom are students at Hogwarts School of Witchcraft and Wizardry."
"Alex Wells appears from afar as a typical high school senior, yet visions of the dead invade her mind in a way that is anything but typical. Nighttime visits from spirits are commonplace. Questioning her sanity, she struggles inside self-inflicted walls, hiding her secret from the world. As she comes to terms with her strengthening psychic abilities, the latest vision of a young stranger's violent suicide has her spinning out of control. While attempting to take charge of her life, she is compelled to uncover his story, forcing her to face her own fears and follow him on his journey to seek redemption. As her family and friends watch her spiral into a well of despair, she refuses to give up seeking out his truth, no matter the cost. It may only be the new boy in school who can lift her from the depths of self-destruction, but he too has a secret to hide."
"Award-winning writer Patrick Ness's bold and irreverent novel powerfully asks what if you weren't the Chosen One? The one who's supposed to fight the zombies, or the soul-eating ghosts, or whatever this new thing is, with the blue lights and the death? What if you were like Mikey? Who just wants to graduate and go to prom and maybe finally work up the courage to ask Henna out before someone goes and blows up the high school. Again. Because sometimes there are problems bigger than this week's end of the world and sometimes you just have to find the extraordinary in your ordinary life. Even if your best friend might just be the God of mountain lions… An exceptional novel from the author praised by John Green as 'an insanely beautiful writer'."
Receive top book recommendations directly in your inbox.