The Whisper of a Distant God is recommended for military history readers who may enter the story knowing little about the War of New Mexico, but will depart its pages with a much more thorough grounding in the war's events.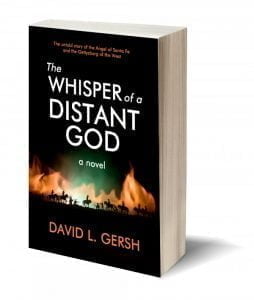 The realistic representations are captured in a blend of letters, diaries, newspaper articles, and both first and third person dialogue that focuses on the lives, thoughts, and experiences of three main characters involved in the fray: Henry Sibley, commander of the Texas Mounted Volunteers; Edward R. S. Canby, the Union commander; and his wife Louisa, deemed the Angel of Santa Fe.
From Louisa Hawkins' diary of her forthcoming marriage to Edward and her visions of a perfect life as his wife to Henry's letters to his wife in which he expresses his convictions and uncertainties ("I will fulfill the honor done to me by President Jefferson Davis and achieve historic things, in spite of the obstacles placed before me. Yes, my dear, even in our Confederacy, there are obstacles. Alas, it reflects a basic defect that exists in some men everywhere, I fear."), the story excels in contrasting first-person inspections of the social and political forces affecting each character's life.
David L. Gersh crafts a story that is filled with psychological insights as much as politics and struggle. Readers who anticipate a story of military strategy alone will be surprised (and delighted) that Gersh takes the time to candidly reveal the contrasting experiences and perceptions of those who fought on both sides: "That Bob's a funny one. Today, during the battle, he don't go and hide like the other slaves. He found hisself a spot near where we was, where he could watch the fightin'. I seen the look on his face. Maybe more hate there for the Yankees than I have. Don't rightly know why, since them Yankees is supposed to be fightin' fer him. Can have him, far as I'm concerned. Can have all of them for the good they are."
These approaches raise the story beyond a war novel alone to represent the depth Gersh has captured in exploring the roots of the war.
From moral and ethical issues of brutal struggle to the changing lives of all involved, The Whisper of a Distant God will attract military fiction readers with its battle coverage—but then delivers something much more.
Filled with the unexpected depth and detail that comes from a well-researched production, The Whisper of a Distant God deserves a prominent place not only in collections about New Mexico history and North/South struggles, but in discussion groups about ethical issues. These will find its reflections on prejudice and vivid descriptions of the horrors of war to be more than thought-provoking, encouraging considerations of loyalty, traitors, and the costs of fighting for one's convictions.
Related: Read an excerpt from The Whisper of a Distant God