From Timbuktu to Duck and Cover: Improbable Tales from a Career in Foreign Service covers some thirty years working in foreign service and living in over eleven countries, and traverses nations throughout Africa, Europe, and the Middle East, and South America.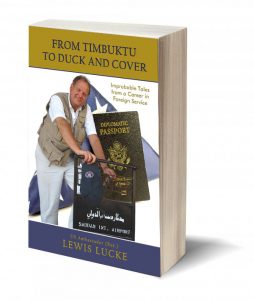 Retired US Ambassador Lewis Lucke's career was not only "never boring," but often assumed the feeling of high adventure as he faced and survived a Haitian earthquake, the jungles of Bolivia, the fall of Communism in old Czechoslovakia, and more.
Lucke's experiences working for the US Agency for International Development (USAID; the agency that provides economic development and humanitarian assistance overseas in about eighty countries, which works closely with the State Department) is revealed as he encounters all kinds of people and places.
From the origins of how he realized this career choice to how he made it happen and then embarked on many life-changing interactions with other cultures, From Timbuktu to Duck and Cover is thoroughly engrossing and revealing, moving through the process of making dreams come true: "Maybe it was possible to combine my new experiences and interests into a real profession—something international, using another language and interacting with another culture, doing something important that helped people, living life significantly."
As the narrative evolves, readers receive a series of adventures that not only cover the highlights of his career, but synthesize the management and people-oriented lessons he learned from each encounter.
More so than most accounts of foreign service, Lucke's journeys through fluid and different economic, social, and political situations offers a rare opportunity to juxtapose these situations to better understand the underlying outcomes of decisions made at the top, and their impact on different regions and cultures: "I guess I had been so immersed with the details of Bolivia until the very end that I had failed to focus on what was awaiting me in Amman. There was something wrong with this picture. Jordan had signed a real peace treaty with Israel two years back and was now experiencing severe economic problems."
This approach allows for a rare inspection of changing conditions due to not only foreign service influences and approaches to them, but the underlying challenges to the diplomacy they represent.
Lucke's ability to move his personal encounters and experiences into broader social and political inspection, especially the injection of changing diplomatic efforts in different nations, contributes strength to a story that draws in readers with its promise of travel and adventure, but ultimately provides so much more.
It's a study in understanding, change, and foreign service efforts that teaches much about the special challenges involved in U.S. humanitarian efforts abroad. From Timbuktu to Duck and Cover is highly and especially recommended reading for anyone who dreams of pursuing a foreign service career or, in lieu of that effort, would better understand the special challenges involved in working with other peoples in changing, volatile conditions overseas.
Related: Read An Excerpt: From Timbuktu To Duck And Cover By Lewis Lucke