The Sun King by Allison Lee Palmer is a fictionalized memoir about a mother, her son, and mania. Here is an exclusive excerpt from the book: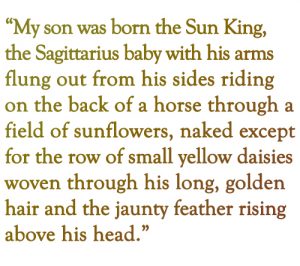 My son was born the Sun King, the Sagittarius baby with his arms flung out from his sides riding on the back of a horse through a field of sunflowers, naked except for the row of small yellow daisies woven through his long, golden hair and the jaunty feather rising above his head. In my mind's eye I see him holding in his left hand a large red banner that unfurls around his little body while above him the sun shines rays of yellow light upon his little head. He is the boy-wonder, who, now an eighteen-year old man-child poised on the threshold of legal adulthood, rages in anger at his plight.
"Why did they take my tie?" he questions me, with his blue eyes blazing black.
This time there is no escape through the locked doors behind which he paces back and forth.
My son Jack now stands 6 feet 2 inches tall in front of me, and I can tell he has lost weight by the way his clothing hangs loosely from his thin frame. He is wearing a khaki suit with a button-down oxford shirt, no tie, no belt, and thick woolen socks on his feet. His shoulders are broad and strong from years of competitive swimming, and his jacket fits neatly across his chest but sways down his torso while his long arms jut out too soon from the sleeves. His shaggy dark blond hair is cut short on the sides and left long on the top, which allows thick chunks of hair to wave wildly across his face. He has worn the same outfit for five days now, but his rumpled clothing still smells clean thanks to a daily schedule of lying in bed or pacing around the hospital lounge all day long.
I had just been let into the foyer of Rose Hill Behavioral Health Hospital at 6 p.m. sharp to visit Jack for one hour. I am staying in a dingy hotel not too far from the hospital but I still got lost finding the correct entrance because the mental health buildings are set back from the street, hidden behind a row of trees lining this pretty Ohio road. Coming from Oklahoma, I am not used to the thick, lush, September vegetation that obscures my view.
I also have a tiny rental car, and as I was driving across town in my exhausted state, I had to remind myself over and over again to navigate the car slowly and carefully because I couldn't remember if I had purchased the extra car insurance when I picked the vehicle up at the airport, and I knew that if I wrecked the car Jack would be waiting for me, confused and cut off from the world, not knowing why I didn't show up.
Related: Read an interview with Allison Lee Palmer, author of The Sun King