"Rodell writes about America the way Sinatra sings about New York, unflinching about the gritty realities, but with abiding affection and relentless positivity about the future."—Pennsylvania Governor Tom Ridge. Below is an excerpt from Undaunted Optimist: Essays on Life, Laughter and Cheerful Perseverance by Chris Rodell.
Preface
I remember the 1993 day I became a committed optimist like it was a day most people strive to forget. It was cold and dreary. We were seated on the first base side at old Three Rivers Stadium, an in-decline multi-purpose Pittsburgh sports facility with all the sensory allure of a giant concrete ashtray.
Me and three like-minded buddies were there to watch the doormat Pittsburgh Pirates try and steal a win from the dominant New York Mets. Those hopes were dashed when Met Jeff Kent lined the first pitch off the right field wall for a stand-up double. What followed was a carnival of bumbling, kicked grounders, misread popups and wild pitches so errant the umps just shook their heads.
When the third out was finally, mercifully, recorded the scoreboard detailed the damage: The visiting Mets had eight runs, seven hits, four errors. The Pirates hadn't even come up to bat and already there were fans streaming for the exits. A pessimistic friend wondered if maybe we should join them. What happened next became a foundational ethos for the rest of my life.
Our oldest friend—a Vietnam veteran—leaned back in his seat and said, "Fellas, we ain't going nowhere. We could be about to witness one of the greatest comebacks in Pirate history."
He with that statement proved the possibility of being simultaneously 100 percent right and 100 percent wrong.
Because it could have been one of the Pirates' greatest comebacks. The odds were long but, hey, anything's possible.
But it was not to be. We were among the last fans there when light-hitting Midre Cummings watched a nipple-high curve ball coast by him for a called third strike and the final out. Final score: Mets sixteen, Pirates two.
What else do I remember? I remember what a great time we had pretending with every pitch the historic comeback was about to begin.
It was an interesting time in my career. The year before I'd quit my job at a local newspaper because I was optimistically convinced my future was certain to involve best sellers, movie deals and Pirates championship confetti parades to celebrate all those World Series victories.
So how has it all worked out?
Well the Pirates have won (please don't check my math) 1,801 times to 2,680 losses, and they haven't come close to winning a World Series since, geez, 1979.
Me, I found a lovely woman and we've been together nearly thirty years. We have two daughters, nineteen and fourteen, and I adore them beyond all reason.
I love my darling family and they know there's nothing I wouldn't do for them …
"'cept get a real job."
There is a lot of inherent tension in that compound sentence.
It leads to sometimes massive debt as I've rolled the dice on various publishing schemes intended to make me somewhere between stable and famous (I'd be deliriously happy with stable, as would my long-suffering wife).
Just two years ago my credit card debt was, gulp, $19,000.
I consider it a cost of doing business in a field that rewards creativity over sound business models.
Besides, I'm an optimist, remember? I wake up every single morning convinced something great is going to happen to my career that very day. That I've been mistaken every single morning since 1992 doesn't negate the odds. It ripens them!
So I haven't earned.
But have I learned? I think so. Some lessons:
• The only time bitch, bitch, bitch ever turns into something productive is when you're running a thriving dog-grooming business.
• Be so at peace with the world that the only thing you have left to get off your chest are your nipples.
And this is key:
•  Both the optimist and the pessimist are right about fifty percent of the time, but the optimist is cheerful 100 percent of the time.
Studies show optimistic people are happier and healthier than their doomsday counterparts.
The End is Near?
It is for them.
I mention all this during a time when it's reasonable to wonder why anyone would decide to be optimistic. There is pandemic disease, racial strife, social division and climate change projections contending we're all toast.
The challenges are daunting.
Would it be possible for us to have our finest hour if they were otherwise?
"When going through hell, keep going," was the advice of Winston Churchill. He certainly lived through his share of hell. He was a POW in the Boer War (ducked gunfire to escape); learned to fly planes, crashing two of them (surviving both); fought in the trenches of WWI; in '31, he was nearly killed crossing the street in Manhattan at age fifty-seven. This all happened nearly a decade before he became prime minister and vaulted to the top of Hitler's kill list.
These brushes with death only amplified his daily zest for life. He read and wrote great books, painted with skill and joy, reveled in lively conversation, befriended barnyard animals and drank champagne for breakfast (and something else alcoholic the whole rest of the day).
He understood life, as humbling as it can be, is still a spectacular gift.
My grandfather was like that. He enjoyed a long life and died feeling assured his soul was heaven-bound. I was impressed how he'd even had some spiritual sass ready.
"When it's my turn to meet God," he'd say, blue eyes twinkling, "I plan on saying, 'I know you created Heaven and Earth, but who or what created you?'"
I remember congratulating him on his blasphemy. "But aren't you being a little presumptuous? What if you go to the other place? What are you going to ask Satan?"
"'When's Chris gettin' here?'"
We have to convince ourselves that better days are ahead and to understand that magnificent moments—the laughter of a child, a good meal, the touch of an eager lover—can all happen on otherwise bad days.
I think Churchill had it wrong. Many of us are going through Hell right now and it isn't enough to merely keep going.
The trick is to go faster.
So hang in there. 'Cause, fellas, I have a feeling we could be about to witness one of the greatest comebacks in history.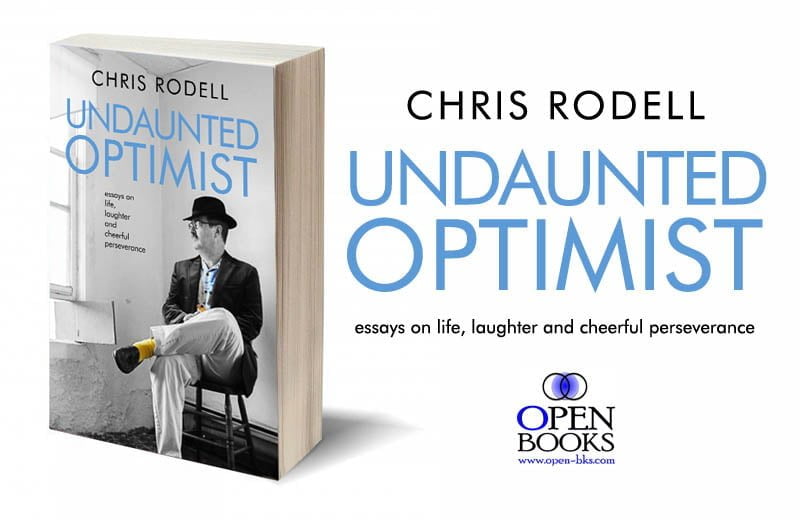 Related: Read an interview with Chris Rodell, author of Undaunted Optimist