The Year of the Return by Nathaniel Popkin is a vivid story of families trying to reconnect with and support each other through trauma and loss, and a meditation on the possibility of moving on to a better future. Here is an exclusive excerpt from the novel.
Prologue:
The Lebanon Arms
Harry Silk
You're asking me where I live? I live on the planet Xylon in the eighth dimension and I eat powdered sugar all day out of a giant wooden scoop made by a French baker, a friend of Voltaire. An old Kraut lady, Frau Heckel (like freckle) comes in and cleans. She wears her hair in pigtails. So she isn't old at all. Except she has the same sound to her voice as every complicit Nazi housewife. This is my nightmare, do you understand? Don't look so ashen, kid.
I check in on my sister-in-law Betty every day, like clockwork. This isn't so heroic. We both live on the eighth floor of the Lebanon Arms. She's in 803 and I'm in 812. Opposite sides of the floor. We live in the tallest building in Wynnefield. They should have named Philadelphia New Wales, or New West Wales. (You follow?) Now I see some color returning to your face.
I'm just an old hardware man unlike my brother Abe, Mr. Silk. Mr. Silk of Silk Industries. When Abe went to heaven in 1966 (that is a joke, Jews don't believe in heaven or hell) the Lebanon Arms was brand-new and Betty, always a woman of distinction (I say so sincerely), so different from my Fanny, who was, God bless her, always content to be in the store, behind the counter next to me—So Betty moved in. Naturally she chose an apartment with two balconies with lavish views of the park and the city. Abe had left her enough to hire a decorator and, anyway, her son, Sam, the new chief of Silk Industries, continued to pay her a small salary. Now God has seen to it that the heiress and the hardware man live on the same floor.
I go over around one-thirty, after my sister-in-law has had her tuna salad and cottage cheese. My visit will arouse her sufficiently that she'll make me coffee. The girl is tall and overweight, with a head like a parking cone. Every day, when she opens the door to the apartment (I always ring instead of using my key—no one should accuse me of breaking in), I get a picture in my head of a giant zucchini. But once I settle into the kitchen and start wiping the crumbs off the tablecloth, she takes her lunch break and leaves.
About the time the coffee has cooled sufficiently Betty will stop making sense (I see the look in your eyes) or she may doze off. I'll do the crossword puzzle in the paper and when she lifts her eyelids and notices me she'll think to complain about Harriett rifling through the papers on her desk. I'll counsel her to arrange the papers in a certain way and advise her to leave them out—lay a trap. I may even prod her, in which case she'll respond in a stern voice. "Why is she going through your papers," I'll say, innocently. "Because she wants to get her hands on my money." When she says this she no longer sounds like Betty, a kind and graceful woman (my brother Abe chose well). Actually she sounds a bit like Harriett.
The truth is it's me who goes through her papers, the hardware man God has chosen to take up residence on the eighth floor of the Lebanon Arms, to live among the stars.
Betty Silk
My grandson Paul came to visit me today. He came right up in the elevator without even calling up and I had the girl let him in. I couldn't understand it because on a Monday he should be in school, but the girl said, in that stern voice I can't stand, that he was a grown man and that he'd just moved back to town. I'm not sure how she knew all this but the important thing was that I get dressed properly and fix my hair and the girl dabbed on a little blush.
He is a handsome boy, his hair thick and wavy like my late husband's was, may you rest in peace, Abe, my angel, and he has the same eyes, like deep green pools. I think Sam's eyes are just the same. "Sit," I said, "sit and let me get you a cup of coffee," which I did myself since she doesn't know how to do it right, it always tastes a little bitter when she makes it, and I wanted my boy to have a good cup of coffee to remember me by, and some orange Milanos, which are his favorite. My boy said he'd just arrived the night before and I couldn't understand this. From vacation? And where is Harriett? Paul, this is Paul, someone said. My grandson Paul. A grown man! A handsome man. "How nice of you to visit, you know everyone forgets me up here, I have to call and call to get your wife to visit."
He leaned in to me then, the kind boy, so close I could almost feel his whiskers on my cheek. When Harriett comes in here she doesn't even sit, she's probably going through my papers. I told my son about it, she goes right for my desk drawers. Well this boy leaned in and he took my hands, and he seemed to wipe a tear from his eye, and he said, "Nana, it's me, Paul. I've moved back home from Denver and that's because my wife, Charlene, you remember Charlene? Charlene, my wife, died. She had cancer."
I couldn't believe this. That's what I told him. I can't believe it.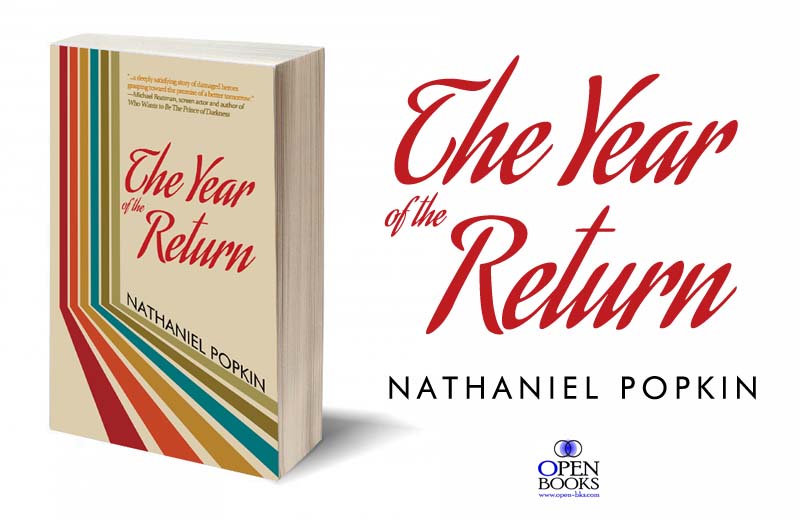 Related: Read an interview with Nathaniel Popkin, author of The Year of the Return