A high tech AI startup, the Russian mafia, and the downfall of a 'resident adult.' Below is an exclusive excerpt from Startup by Riko Radojcic.
OCTOBER, 2020
Safe Haven
Here and now, I feel safe. This might be due to the effect that this place has on me more than the reality of my situation. Hiding in this old house, with its thick stone walls, double windows and wooden shutters, I feel secure as a mouse in its den.
Outside, I can hear the rhythmic sound of the waves lapping against the stony shoreline, some twenty feet from my window, and I can discern the sea, the mountains and the night sky, all blending into blackness along the Bay of Kotor.
And inside my head, I can also hear the now distant echoes of excited children—the sounds of my cousins and myself romping through my grandparents' seaside home. But that was more than half a century ago, so far away both in time and experience.
By way of introduction, my name is Andrija, but my Anglo friends, as well as my colleagues and neighbors, find the Serbian name hard to pronounce (it's that 'j' toward the end that always confuses) so they have long ago changed it to Andrew. By now I am quite used to it, or perhaps I am now truly more of an Andrew than an Andrija.
I am originally from what used to be Yugoslavia, but my compatriots managed to screw up that nation, and I was lucky enough to get out before the worst of the bloody disintegration. I was truly fortunate and after getting my EE degree at the University of Belgrade, I stumbled into a scholarship that funded my graduate studies in America. And I have lived there ever since, other than visits to the Montenegro coastline every couple of years to catch up with family.
And if neither Andrew nor Andrija works for you, then call me Professor. Everybody does, because I formerly taught at one of the top engineering schools in the world. But that seems like another lifetime, even though I left academia only a few years ago.
CIRCA 2010:
THE ACADEMIC
Good Old Days
Yes, I was a professor, tenured at a university that many of us believed to be equal or better than the famous Ivy League schools. Holding the coveted Alfred S. Harris endowed chair since 2001—an amazing achievement, if I say so myself, for an academic who at the time had not yet turned forty and with what then seemed like sufficient funding to pursue leading edge research in my chosen field: semiconductor technology. I had a state-of-the-art research lab, which at its zenith was staffed by half a dozen permanent technicians, a couple of associate professors, two or three visiting researchers, up to eight Ph.D students, a handful of MSc grunts, and a number of operators and administrators.
Yes, I was flying high back then. I could happily hand off most of the boring teaching chores to my TAs and concentrate on research. And my team was churning out some excellent work. We were publishing dozens of papers each year that routinely won awards and recognition at many industry events and conferences. Our grant applications were frequently funded by DARPA, or SRC, or NSF or even by various private foundations or corporate programs. Attracting talent was not an issue. The best and brightest were vying to join my team.
Back then I was like a rock star in the business, and invitations for keynote talks, review papers, contributions or simply introductions to various technical books were often extended. I could happily turn down all sorts of speaking engagements, even the private corporate invitations that offered those obscene, but so very tempting, honorarium fees—$10,000 plus expenses for a lecture and a two-hour-long round-table chat—evidently a small price to pay for an opportunity to nourish the egos of a few corporate bigwigs who enjoyed grandstanding in front of a famous professor.
Yes, it looked like the millennium had brought good things for us, and the sky was the limit.
And not just professionally…
Bev and I had met back in the '90s in one of those combined interdepartmental undergrad classes—something like 'Science, Technology and Society.' I got involved with the course because it was trendy, and an easy way of earning an extra teaching credit. A feather in a cap for a newbie, especially because such courses were shunned by the more senior professors who did not have to worry about burnishing up their teaching rep. I thought that teaching science to non-scientists would be easy and would not require much prep work—something that I could easily do off-the-cuff. But as fate would have it, the class held something much more significant than teaching credits. The moment I walked into the first lecture, I noticed her, and everything changed. It was not just the deep azure eyes that were such a contrast to her jet-black hair, or the tight jeans that showed off all her beautiful curves, or… It was the dimples in her cheeks that seemed to amplify the sparkle in her eyes whenever she smiled. And the tiny furrows between her knitted eyebrows whenever she raised a question. And the insidious acuteness of the questions she would raise.
I must admit, with all the brilliance of hindsight, it was lust at first sight—certainly so for me. Ethics be damned!
"But, Professor Krstic, why…?"
Sounding awkward and tongue-tied, I tried to focus on the question rather than on her.
"Please explain…" With dimples framing a most enchanting smile, her eyes dared me to impress her.
So I had to be stellar in that class, just to keep up with her questions. I mean, how does one explain magnetism or electricity to a non-engineer without sounding stupid or condescending?
But as we got to know each other, the relationship deepened, we fell in love, moved in together, and…well…lived happily ever after. A couple of years later we married. We bought and renovated a perfect house in a good neighborhood. Summer breaks in Europe—often in Montenegro where we congregated with my family. Winter or spring breaks in Mexico. Fall weekends camping in New England… A few years later Lara came, our wonderful daughter, which of course changed everything. All for the good, though. Diapers, pre-school, play dates, kindergarten, school. We settled into a family routine of two professional careers and a kid and looked forward to the continued bliss of middle-class existence in modern America.
__________
But then Moore's Law caught up with me.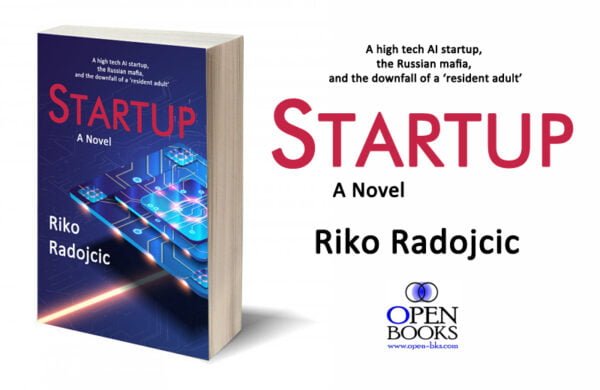 Related: Read an interview with Riko Radojcic