An easy-to-use guide devoted to Paris, Pilgrimage to Paris: The Cheapo Snob's Guide to the City and the Americans Who Lived There by Jayne R. Boisvert includes travel tips, main attractions, free (and nearly free) things to do, shopping, museums, churches, cafes, and restaurants. The book also provides short biographies and addresses associated with famous Americans—writers, journalists, politicians, musicians and performers, artists and architects, and several other interesting people who don't fit neatly into typical categories—who spent time living la belle vie in the French capital. Here is an exclusive excerpt from the guidebook:
Preface
Ever hear of someone having "champagne tastes on a beer budget?" Have you often thought that the expression describes you? Do you want to get the best out of life at the most reasonable prices? If so, you are a Cheapo Snob and this guidebook is for you. Who is it not for? Well, probably not for the backpacking, hostel-staying youngster you might once have been. Nor for the "cost is no object" type who sleeps in five-star hotels and goes to Michelin-starred restaurants every night. No, this is for most of the rest of us who are always aiming at the right mix of high standards and affordable costs. Cheapo Snobs take charge of their itinerary, go where they want, when they want. Of course, this kind of lifestyle requires time and perseverance but it can lead to wonderful adventures to fit nearly any budget. Like most big cities, Paris can be quite expensive. Well, let's face it: it IS expensive. Still, there are many free and low-cost options in the City of Light. This guide will tell you about some of the best of them and will help you to find your way. Keeping the Snob dimension in mind, this guide will also highlight a few splurges that might just be up your alley. More importantly, we will look at a new way to explore the city, one which will not only give you a real feel for Paris but will allow you to follow in the footsteps of famous Americans who have lived there. And what a diverse and wonderful group it is: Thomas Jefferson and Jim Morrison, James Whistler and Isadora Duncan, and Julia Child, and Archie MacLeish, and T.S. Eliot, and James Baldwin, and well, as you can see, the list is quite long. Reading this guide, you will learn not only about the charming city of Paris, but about the great variety of Americans who for at least part of their lives called it home. What could be cheaper and allow for more bragging rights than exploring the streets of the French capital while visiting the addresses where famous Americans lived, worked, and played?
Leaving no stone unturned, the guide helps you get ready for your trip. Chapter 1 gives a few short tips on finding flights as well as essentials about how and what to pack. Information is included on where to stay and eat, how to get around the city, and how to pay using credit and debit cards. The guide also doesn't overlook the ever-important not so obvious process of finding restrooms in the city. In Chapter 2 the focus is on the best free and nearly free things to do in Paris—walks, parks, museums at no cost, and, perhaps surprisingly to some readers, cemeteries. The twelve don't-miss places to see in and around the French capital—from Notre-Dame and the Louvre to Giverny and Versailles—make up the third chapter. Then we begin taking a look at famous Americans who once called Paris home. Chapters 4, 5, and 6 are devoted to writers of fiction, our biggest category by far. You no doubt know that Hemingway and Fitzgerald lived for a while in Paris, but you might just be surprised that authors like Mark Twain, Edith Wharton, William Faulkner, and Saul Bellow, among scores of others, spent time there as well. But the list of Americans in Paris is not just composed of poets, dramatists, and novelists. Chapters 7 through 11 introduce lots of others: journalists, publishers, and critics; politicians; artists and architects; musicians and performers; as well as a "hard-to-classify" category of people who are, well, hard to classify. The information will not only provide a unique way to explore Paris but will introduce you to (or help you recall) these people and why they are considered important. Perhaps even opening you up to new books and explorations once you get back home. A final chapter focuses on the principal cafés in Montparnasse and Saint-Germain, hang-outs associated with these celebrated Americans in years past. Stepping into these cafés today provides a nice way to cap off a visit for Cheapo Snobs wishing to relax and follow in some pretty amazing footsteps.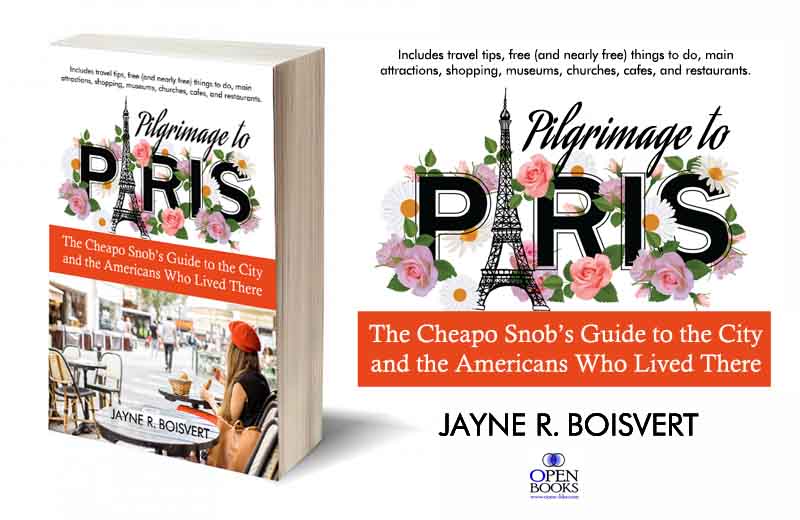 Related: Read an interview with Jayne R. Boisvert, author of Pilgrimage to Paris