Nevergreen by Andrew Pessin is a smart, fast, funny, and incisive portrait of today's liberal arts college scene, cancel culture, and more. Below is an exclusive excerpt from the novel.
__________
"Welcome to the asylum, Dr. Jeffrey!"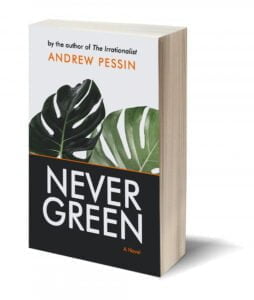 Brenda, wearing the same bubble sweater from the plane, was waving from the illuminated dock as he disembarked unsteadily from the longest thirty minutes of his life. The bay may have looked serene on boarding, with the sun sinking into its pristine surface, but underneath it was home to criss-crossing currents that made for some not smooth sailing. These famous undertows in fact made the island the ideal location for The Nevergreen Asylum for the Lunatic, Imbecile, and Idiot when it was established in 1821—or so said the tourist brochure on the boat. As the institution's marketing materials boasted at the time, no one committed there ever left; a boast as much about their dedication to lifelong care as about the impossibility of escaping. Not that anyone even in their right mind would want to leave, since the place was beautiful: plenty of woods, surrounded by water, and lots of wildlife, including a rare species of miniature pig initially introduced to control the infamous fungal infestation of 1823. When the necrophilia scandals, and more importantly the subsequent lawsuits, finally did destroy the institution soon after the infamous insect infestation of 1921, the real estate was promptly snapped up by some visionary investors who wanted to found a new sort of private college. The Nevergreen College was born—still referred to, by townies and gownies alike, as "the asylum." The students in particular had long embraced the informal motto, "Keep It Crazy."
"How are you, Doctor?" Brenda took his extended hand. "Do you—" she peered compassionately at his complexion—"need to vomit?" She gestured to a cordoned-off area near the end of the dock, softly lit. "That is a popular spot."
"I'm good," J. lied as he gratefully settled on solid land.
"Then let us follow the guidestones, friend," Brenda said as she led the way to a paved path through the darkened trees, gently illuminated by small, rounded lamps on the ground that looked
like glowing stones. Vehicles were not permitted on the island, she explained, so everyone walked everywhere, along paths guided at night by these gorgeous smooth stones donated by an alum. It was a good thing he didn't have any luggage because she had forgotten to bring a wagon! "Watch your step," she warned as he nearly placed his foot in a mound of red fibrous droppings.
"That was close," he said.
"No, you're supposed to step in the pig droppings. It's good luck," Brenda explained cheerfully. "Ah well, bad luck for you then!"
By now J.'s seasick-nausea had been replaced by an indistinguishable nervousness-nausea. Generally speaking he did not like being in the dark, metaphorically or literally, and here he was both, following flickering lights through nocturnal woods populated by ravenous carnivorous pigs. Okay, he added the ravenous carnivorous part, but still. And he was on his way to giving a lecture to real academics, to people who had taken his path not taken, to people Debra believed often displayed their own peculiar forms of mental illness, and she should know, she pointed out, as a professional psychologist and as the daughter of one such academic. Her dreadful narcissist father with his years-long fixation on that seventeenth-century natural philosopher Igno-something—
"Ravenous and carnivorous! You have a wonderful imagination, Doctor," Brenda was saying. "Don't worry, almost no one ever sees them. We just find their droppings here and there. Ah,
here we are. The Overlook!"
As they came into a clearing there was a modest block-like stone building with enough lights on to make it look reasonably warm, welcoming, safe. It was the first building constructed for the asylum, Brenda noted, pointing next to the front doors to the foundation stone in which the year 1820 was carved, originally housing the medical staff whose job it was to watch over the inmates, hence the name. When the takeover occurred now almost a century ago it was converted into a guesthouse.
"It's awfully large, no?" J. followed her past an unstaffed front desk then down one of the dreary corridors leading from the lobby. "For the college?"
"Thirty-five rooms!" Brenda concurred. "There used to be lots of tourists."
"Really?"
"Sure! The asylum. Very rich history here. Speaking of which, you must visit our Museum of Curiosities while you're here, which documents it. And the college itself, of course, with our own reputation. And the wildlife. People hope they will see the little piggies. There's a gift shop on campus where you can purchase a jar of preserved droppings if you like."
"But—used to be? Tourists?"
Brenda hesitated as they came to the door of his room, seemed to brush something off the handle. "Well," she dug through her bag for the key, "it has fallen off some. There was," she hesitated again, "well, an episode. A few years back. Tourists just come for the day now instead of staying over."
"An episode?"
"Ah! Found it. Come on in. It may not be the Ritz, but I hope you will find it adequate."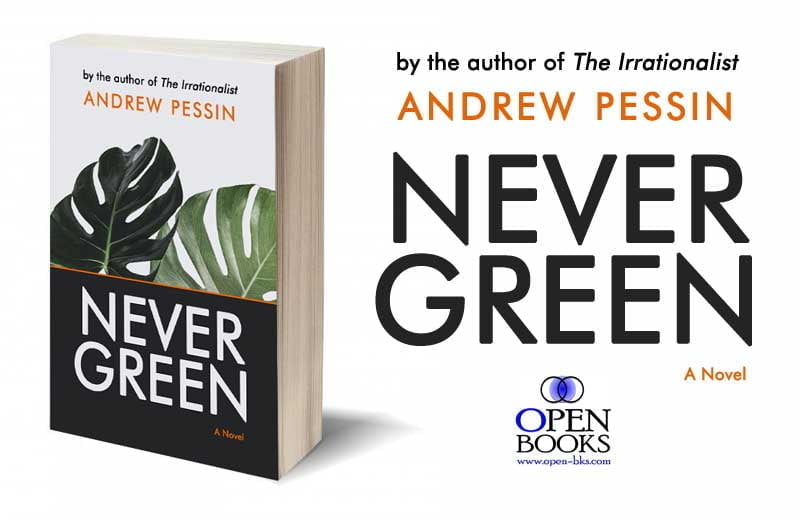 Related: Read an interview with Andrew Pessin, author of Nevergreen