Two brothers. One mother. One big question. Mr. Wizard features a DNA mystery, strong women, Irish golf, Jewish guilt, and the world's driest Alzheimer's joke. Below is an exclusive excerpt from the novel.
Prologue
Jenny
Jenny Elliot insisted she had to get her hair done; Robert Stack was coming to pick her up in his Bel Air convertible.
"He has a tiny prick," she told her son Phillip.
"Robert Stack? The actor?" Phillip said.
Jenny perched on the edge of the sea-foam sofa, her Velcro tennis shoes fastened tight as if she were about to make a run for it.
"Yep. Little pencil dick," she said.
Phillip took a long sip of his grapefruit sparkling water, trying not to laugh.
"And you should watch your drinking," Jenny said. "Being half Irish."
His orthodontured smile broke open like a whacked piñata. "Irish Jews? Is that what we are now?"
"Ballydraiocht," she said, cryptically. "A golf pro."
And two days later she was dead.
Chapter One
Phillip
The night after Jenny's funeral, Phillip mentioned the Ballydraiocht business to his brother Spencer. They were sitting in a dark drinker's bar on Columbus Avenue toasting their mom with twenty-three-dollar glasses of Macallan.
"Chalk that up to the dementia," Spencer said. "Or to the fact that she was always batshit crazy." He raised his tumbler in the air.
"I'm not so sure," Phillip said, clacking glasses. Meaning: was this a clue—whether inadvertent or intentional—to the mystery the boys had been trying to solve their whole lives: who, exactly, was their father?
__________
Around midnight, unable to sleep, Phillip went online at the desk in his home library overlooking a currently leafless chestnut tree and a triptych of pre-war brownstones. The Upper West side was nearly quiet, the street pixelated with rain through the leaded glass. He ordered one of those DNA kits that you spit into and then send off to some lab.
Three weeks later he received more personal information about his own history than their mom had parceled out to him and Spencer in fifty years. Phillip found comfort in the charts and graphs and percentages, the links that revealed the coded structure of his own chemistry—whether he was likely to contract colon cancer or live past ninety, what his chances were of being a carrier of Autosomal Polycystic Kidney disease despite not having either gene variant; what percentage of Neanderthal ancestry he possessed; the probability that he'd develop age-related macular degeneration; his odds for getting Parkinson's, Celiac, or Canavan diseases; if he was a candidate for hereditary thrombophilia or hereditary fructose intolerance; the likelihood of his coming down with Nijmegen Breakdown Syndrome; or if he might be the rare person to suffer from Photic Sneeze Reflex; and on and on, decoding the mysteries, focusing on what was undeniably, quantifiably real.
The test indicated that Phillip was forty-six percent Ashkenazi Jew but also identified a strong Northern European gene strain: forty percent of his DNA originated in the British Isles.
__________
He called his brother.
"The Irish thing makes sense," Spencer said. "I've always loved the steak and ale pie. And Riverdance. That Michael Flatley sure is something!"
Phillip pictured his brother three miles away on the same crowded island between the Hudson and East Rivers, lying on the thick rug on the wide-planked oak floor of his loft.
"Don't you think it's strange, even for Mom, to have hidden this, if it's true? So what, we're half Irish?" Phillip asked.
"It wouldn't surprise me if Mom hid that we're half Klingon," Spencer said. "That was her peculiar charm: she hid things."
"I might not have cared if I'd known sooner," Phillip said. "But now it's disturbing. I've gone through my whole life thinking I'm a full-fledged Jew."
"You haven't done anything Jewy since your bar-mitzvah."
"It's still part of my identity. I'm one of the chosen people—I've just chosen to ignore it."
"Okay," Spencer said. "But don't reverse your circumcision yet. Why don't we think about this for a few days? See how we feel."
Phillip took a deep breath. Was his brother talking sense?
"Meanwhile, I've gotta go tend the potatoes," Spencer said. "Oh, and my Guinness is getting warm. Er, I mean it's getting cold."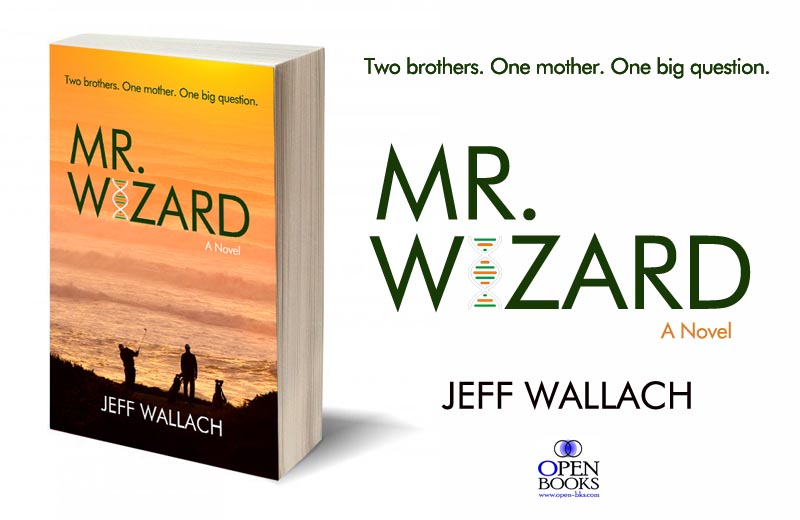 Related: Read an interview with Jeff Wallach, author of Mr. Wizard