Set against the backdrop of 1976 Philadelphia, The Year of the Return follows the path of two families, the Jewish Silks and African American Johnsons, as they are first united by marriage and then by grief, turmoil, and the difficult task of trying to live in an America failing to live up to its ideals. The author Nathaniel Popkin talks with Book Glow about the novel.
Describe the book in one sentence.
The Year of the Return is the story of people (told in their own words) confronting their personal and collective pasts, negotiating pain, and seeking to grab onto the potential life that's ahead of them.

What led you to write it?
The Year of the Return takes place from February to July 1976, a turning point year in American life, as Americans tried to put Vietnam and Nixon behind them (never quite possible). In Philadelphia, where the book is set, the Bicentennial celebration of American independence appears to be a flop, but in the despair of the American urban crisis of the 1970s (when all old cities lost substantial jobs and population) real hope emerged. Philadelphia was dominated by an exasperatingly Trump-like mayor, Frank Rizzo, whose misdeeds led to a substantial pro-democracy resistance movement and a nearly successful recall. In that movement, I see shades of today's response to Trump's nativism and authoritarianism.
The novel is in some sense the culmination of a long literary consideration of a city (think: Orhan Pamuk and Istanbul), Philadelphia, filled with the most tantalizing human contradictions.
How long did it take to write?
I wrote the first draft over six weeks, at two separate residencies in 2017 and revised it over the next 18 months, in collaboration with the editors from Open Books.
Do you prefer writing in one genre over another?
The question of questions. I started off as a writer of literary non-fiction, moved to reporting and journalism, became an editor, architecture and literary critic, and a documentary film writer. Then I started writing novels, probably out of frustration with the limits of the other genres. The novel remains the single greatest art form (probably tied for first with film!), for nothing else allows us to try to articulate the ineffable, over and over again; no other form is at once cerebral, psychological, and emotional. Yet, of course, it is the most intensely difficult, for a novel must be perfect in order to succeed. I felt I'd never be fully a writer without the novel. Recently, I've also been exploring the essay form (so much range there), with my eyes on a film essay I'm dreaming about now.
What book most influenced your life?
Dostoyevsky and Faulkner made me realize that a novel can unearth the impossible humanity inside us and that was many years ago, before I imagined I could try to do so myself. Nothing moves me as James Baldwin's The Fire Next Time.

Where do you write?
I usually write at my fifteen-foot-long wooden desk on the third floor of my row house, where I have a window to my left facing south and a thousand birds in the street trees and in the eve of the house, and an open door to my right, facing north. Like everyone, I write most everything on the computer. But the first drafts of The Year of the Return were composed on a typewriter I dragged to the two residencies. This spring, beginning a new novel manuscript, I began writing by hand in a notebook for the first time—and I like it!
Is there any one thing that especially frustrates you about the writing process?
Far and away, it is the post-process of seeking representation, pitching the manuscript, etc. In 2018, I received 75 rejections for various projects, enough to prove one's dedication, but also untenable. I love imagining, composing, crafting sentences, revising, taking criticism, and observing the process of expanding consciousness that a book affords the writer. To all of this I am addicted. Spare me the pain of finding outlets for the work!
Any advice for novice writers?
Take jobs and internships in the publishing field and make friends there. Write short works on the tiniest of matters and get them published. Write only what obsesses you. Write every day, on a schedule (if you need one to stay on track). Don't expect anyone to think you're special.
What's next?
I'm seeking a home for a book-length essay on the ecological crisis, To Reach The Spring. At a residency this spring I began a new work of fiction. I've finished drafting the first of four parts of that book, ready for feedback from my writers group. In this coming year of anniversaries of the 15th and 19th Amendments to the U.S. Constitution I'm going to curate a reading series in Pennsylvania's capital on the imagining of political rights.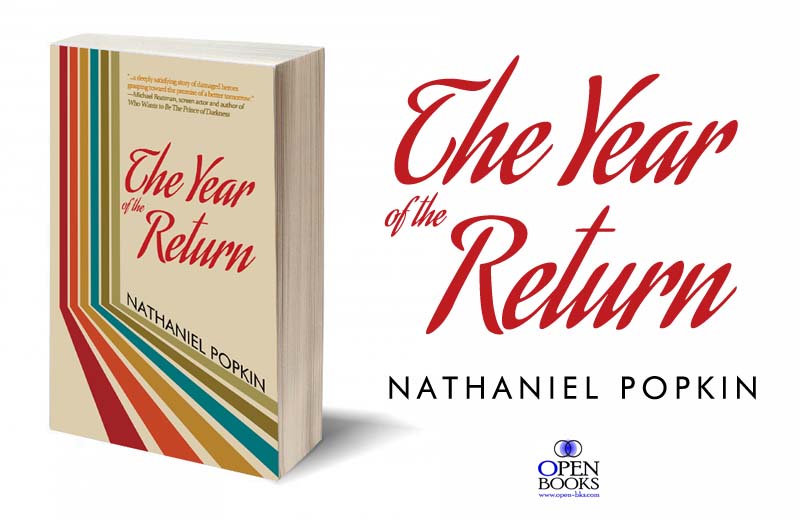 Related: Read An Excerpt From The Year Of The Return