It's a complicated world out there and it takes a nimble mind to sort it all out. Rodell does it with style, warmth, an engaging euphoria and undaunted optimism that lets every reader know he enjoys being human and enjoys human beings. Chris Rodell talks with Book Glow about his new book, Undaunted Optimist: Essays on Life, Laughter and Cheerful Perseverance.
Describe the book in one sentence.
A joyful collection of soul-tickling essays sure to remind every reader it never hurts being happy to be human.
What led you to write it?
Why does the shark swim? The bulk of these essays are from my blog. I've done more than 2,000 posts in 12 years. The blog's earned more than 750,000 readers from 175 countries all over the world. Devoted readers have urged me to put together a compilation and the coronavirus shutdown seemed perfect timing.
How long did it take to write?
It takes me about two hours to write one 700-word post so this took about 140 hours or 5.8 days. That's one way to look at it. Another way is it took 12 years.
Do you prefer writing in one genre over another?
I love to write fiction and am most proud of my 2016 novel, The Last Baby Boomer: The Story of the Ultimate Ghoul Pool.
What book most influenced your life?
Joseph Heller's Catch-22. It's the still vital blueprint for satirizing all life's follies.
Where do you write?
I'm very fortunate. My office is a room on the third floor of a 250-year-old tavern with three distinct bars and hundreds of interesting people. It's near Latrobe, Pennsylvania, birthplace of both Arnold Palmer and Fred Rogers. Of course, it's rumored to be haunted. I'm a skeptic, but one time I felt a pat on the back. I turned around but there was no one there. I told the story to a visiting spiritualist. She said the ghost was telling me, way to go, that I was doing a good job. Now, I tell people, I may not believe in ghosts, but the ghosts believe in me!
Is there any one thing that especially frustrates you about the writing process?
Just how elusive decent, stable pay can be. I tell people writing books is easy; selling books is difficult.
Any advice for novice writers?
The difference between doctors and writers is that doctors save lives. Writers make lives worth living. Writing is a tremendously satisfying way to make a living. One of the keys to happiness is to do something you love to do each and everyday just because it's something you love to do each and every day. For me that's writing.
What's next?
I'm about 2/3rds done with my second novel about a long distance Afterlife courtship conducted between a bad boy named Evan and a good girl named Elle. It's called Evan 'n' Elle in Heaven 'n' Hell. Because sometimes for love to flourish you need to lower a little heaven and sometimes you gotta raise a little hell.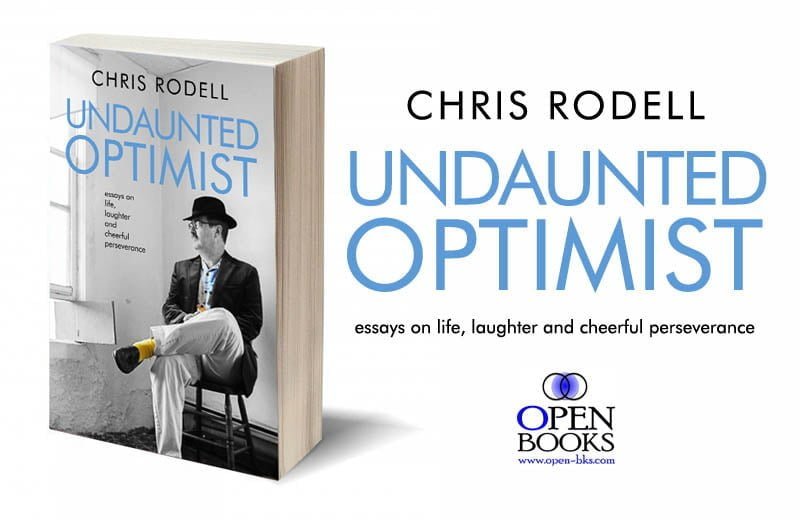 Related: Read An Excerpt From Undaunted Optimist By Chris Rodell