From Tea to Coffee is a story of struggle and triumph during China's modern-day cultural and political drama, and is a rare and personal account that showcases the Chinese national psyche. The author Cheng Wang talks to Book Glow about the memoir.
What led you to write From Tea to Coffee?
I have experienced more flashbacks in recent years than at any earlier time in my life. It might have to do with my age, accumulation of life experiences, and the present-day realities making me more introspective. But it was the sense of mission that nudged me to start writing it for commemorating China's lost generation as a consequence of the Cultural Revolution. History betrayed our youthful zeal. More than a generation of talented people has been deprived of formal education; thus, their voices are forever missing.
As the lingering thought grew more pronounced, I felt compelled to explore and write down how ordinary people, like my family and me, among so many others I grew up with, lived through that bizarre time, and how that part of history is still at play today. Even though I was not trained to be a writer, let alone one writing in English, somehow it did not stop me from doing it. My life has been a voyage of exploration, and authoring this book is one of the most audacious parts of that journey.
How long did it take to write?
It's difficult to accurately answer this question since all the stories from the past had been going through my mind over the years. I had written down some in my journals, short essays, or blogs. Later, many of these writings were woven into the substances of this book; therefore, those years should count, too. If everything is taken into account, it was at least ten years in the making
However, the actual writing time, including publishing, took less than two years start to finish. It's like brewing beer; the fermentation process can take far longer than the final bottling.
Do you prefer writing in one genre over another?
I love nonfiction. And I believe real life, especially the lives of ordinary people, can be more relatable than invented tales; therefore, a true story strikes a chord with me more profoundly. For example, I admire Hillbilly Elegy, a memoir by J. D. Vance, because it helps me understand the life of ordinary people.
Moreover, if the saying is true that history favors the stories of the kings and queens over the lives of ordinary people, I think it's mostly because far fewer ordinary people have written their stories to share with the world. That's another motivation for me to choose memoir as my primary focus. Our personal histories should not be forgotten.
What book most influenced your life?
There has to be more than one book for me, whose life path has extended across half a century and two continents with entirely different cultural and political systems. It is the blending of Eastern and Western worldviews that have shaped my own.
During my upbringing during the Mao era, I had to prepare myself to become a Maoist soldier, ready to go to Inner Mongolia for re-education. I read the novel, How the Steel Was Tempered, for the third time. It was a socialistic novel written by Nikolai Ostrovsky in the 1930s Soviet Union. It fueled my passion and made me think about how the protagonist of the novel, Pavel Korchagin, survived his revolutionary experience while fighting for Soviet Bolsheviks. Mostly, I pictured how I could be like him—to be transformed from a mischievous boy into an idealistic, revolutionary soldier. I wanted to be as strong as steel and become Pavel.
However, as the Cultural Revolution abruptly fizzled out in 1976, so too did my youthful aspirations. But the years of indoctrination were like a shadow that has followed me. After I was admitted into college in 1978 in China, I stumbled upon the book, Economics by Paul Samuelson, the first original Western book I read. His prose was exceedingly engaging, and the theory was easy to understand. However, I could not stop comparing this Western perspective with the Marxist view that had taught me up to that point.
Marxist political economics taught us that the effort to extricate profit from workers, followed by resistance from said workers, was the primary cause of class warfare. All of this would someday lead to a revolution by the workers to take over the capitalist world. However, in Economics, maximizing profit was the core of capitalism and the ultimate drive of all economic behavior in modern society. Therefore, profit has greased the wheels of the economy and advanced civilization.
The two viewpoints toward 'profit' could not be more contradictory, and there seemed to be no way that both could be true. Even when I achieved success at the dawn of economic revival in China in the early 1980s, a desire to solve this puzzle and quell the doubts that had continued to gnaw at me drove me to a new quest for Western ideas. I became a PH. D candidate in economics at the University of Cincinnati.
To that end, I started a new life in America with only two hundred dollars. Over the years, my worldview has evolved in many ways. I have come to a revelation to end my quandary about the two contradictory views, with its process and conclusion recounted in the memoir.
Where do you write?
I took a train ride for two days from North Carolina to Portland, then touring around Nova Scotia for 15 days. I also went to the North Carolina mountain and stayed in a historic hotel for four nights, then to Virginia to take a five-day wine tour. I traveled to those places all by myself. During the trips, I went out for half a day to commune with nature and meet strangers from anywhere and everywhere. I then came back to my room to write a few hours each day. Staying in a strange place alone—free from usual social circles, daily rituals, giant TV, and a super-sized refrigerator—I could feel the creative ideas following uninterrupted.
To keep a balanced life—physically, mentally, and socially—I played tennis four or five times a week. I could feel the fresh energy when I wrote the following day. And that has become a sustainable, productive writing process for me.
I'd heard that writers were perceived as eccentric, often staying in solitude to write. If that is true, then I am not a conventional writer. I truly believe a healthy lifestyle that comprises most typical elements, such as family, friends, and social, entertaining, physical activities, cannot be sacrificed. My motto: 'intellectual mind and athletic body,' the two seemingly unrelated pursuits actually feed into each other, becoming my blueprint to complete this formerly unimaginable task.
Subsequently, I created a blog entitled 'A Man of a Certain Age on the Road.' While journeying, my diasporic nature let my eyes and ears subconsciously absorb those distinctive traits—sights, sounds, smells, and folk stories. In so doing, intertextuality has begun to take shape.
Is there any one thing that especially frustrates you about the writing process?
Going through emotional ebbs and flows was a daily occurrence, if not hourly, which often made me think I must be crazy to do this. Since writing the first draft was mainly to pour out what I had in mind onto the pages; therefore, it was not the time to decide what to—and what not to—write. During this process, my mind often wandered too far from the main storyline. So, the actual writing process should be rewriting, more than a dozen times going back and forth. This was a seemingly endless and painful process, although it was always gainful at the end of each cycle.
Any advice for novice writers?
I believe most people have the innate desire to share their thoughts, opinions, ideas, and experiences. Just look around at any social media platform. Almost everyone has a way to show others what's in their mind or what's going on in their life. Therefore, it's only a matter of degree rather than if you have it or you don't.
However, most people do post their thoughts or ideas to share with others, but they do it only when something hits them emotionally. But drafting a book, one cannot wait for those moments to keep coming and string these thoughts together coherently as a full story. So, for those who want to write a book, one needs to write even when it seems like there is nothing to write about. Do it every day. But the amazing thing is that the ideas start to flow after you pass a certain point. Our brains function better when something keeps triggering the neurons to generate these electrical signals and thus lead to thought formation. For me, usually after the first fifteen minutes of aimless writing, all kinds of ideas begin to leap into my head. This simple ritual has transformed me from writing one thought here and there to authoring a book.
One other thing for me, as I'm still learning the craft, I must pay more attention to the English convention and to professional advice. But if I go by every rule and listen to everything that other people have said, I would never have been able to share my writings with anyone, much less submitting them to a publisher. Is my non-native hand a death sentence to my writing dream? My experience has proved otherwise. Should our stories, our distinctive voices, and personalities be the first thing to capture the attention of a publisher? My writing journey indicates that our unique narratives—making it personal, bold, and ready to take a stand against conventional wisdom—is more imperative than just clean grammar.
Furthermore, once I have done the rewriting to the best of my ability, I need to have someone (or pay someone) to evaluate it for its textual clarity, logical progression, and overall coherence. I treat this as a different process entirely. Separating my own writing process from professional evaluation as well as the editing process, makes the daunting project more manageable for me.
What's next?
People say one should have a dream. For me that dream is not about a final product, or a destination, or a finish line. Instead, I will let my restless and somewhat fearless spirit lead the way. To be more specific, my second book is brewing; so, stay tuned.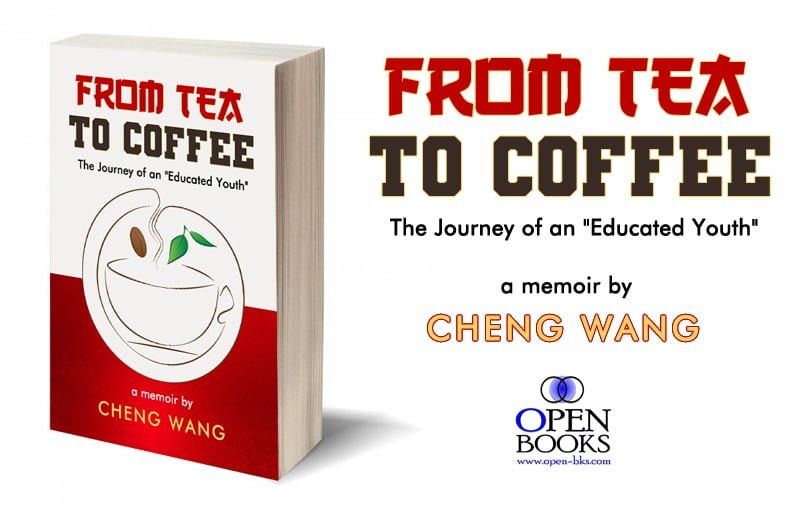 Related: Read an excerpt from From Tea to Coffee by Cheng Wang
1 comment