Bookseller Spotlight features the world's best independent bookstores presented by the people who run them in their own words. In the first episode of the series, Sean Christopher shows us his unique Lhooq/Exrealism in sunny, seaside Carlsbad, California.
When did Lhooq/Exrealism open?
Well, there really isn't a direct answer for that question. I was writing and publishing as a full-time career in San Francisco in the early 2000s, and during winter of 2004/5 I took an academic sabbatical and moved back to North County. What was meant to be a very brief pitstop in my home town set my life on an entirely different trajectory. I didn't return to SF to finish my Doctorate. I didn't move to the Pacific North West, I didn't by a van and roam the American Countryside as a traveling writer (not to be mistaken with a travel writer)! I did move to Los Angeles to write for a television show and was commissioned to write a screenplay even though I swore I would never hustle my writing game in Hollywood, but after months of living the cliche Hollywood scene I chose to retreat to my hometown again. But this time I was out of money, I was writing, but I didn't have any retainers or contracts with magazines or publishers and I found out I was going to be a father.
So I hooked up with one of my former professors who also happened to own an amazing bookstore, but he was also extremely neurotic working full-time as a professor at UCSD, "managing" his own bookstore downtown and working on his second PhD. I turned down a well-paying Managing Editor position for a magazine and chose to help him try to recover the failing bookstore. Long story short, it was just too little, way too late and the store closed. I bought him out, the entire collection, all his contacts, but I had no physical space. I moved the books to a storage unit, started looking for a retail space in the Pacific Northwest and eventually started selling the books online, all while I continued to write. The online store was named L.H.O.O.Q. Books in homage of Marcel Duchamp.
One day I came across a rather decrepit building for lease tucked away in the center of my little beach town village. I ended up leasing the building, remodeled it just enough so it wouldn't fall over in a strong wind, and made it my writing studio and book warehouse for our online store.
I was still actively looking for a retail space both locally and up north (prices in Southern California on the coast were outrageous so the plan was still to eventually open a retail bookstore in the Northwest). But in the interim I ended up taking over the entire property, which also had a house on it that is now my son's and my home. About four years ago the city rezoned the area and my little building became prime real estate. I began a thorough remodeling of the interior using entirely reclaimed and re-purposed materials. We officially opened about 3 years ago, but just weeks after our grand opening the city shut us down. It was ridiculous and legally unwarranted, but it took a year and a half of dealing with the worst bureaucratic nightmare scenario, but with pure defiance, tenacity, perseverance and the good graces of a wonderful community, we ultimately prevailed.
The next step was financial recovery, but even after the space was cleared to open legally, it took some time to recover financially. So after some serious restructuring, and another round of remodeling and renovation, we finally opened our doors without impediment and have kept them open pretty much 7 days a week from 6 am to midnight…or sometimes even later since early last spring.
Our inventory has expanded in rare and obscure collectibles as well as a much broader range of new, contemporary literature, art books and a very well-rounded collection of fiction and nonfiction books.
We also opened a coffee/espresso bar/cafe with a private garden cafe/theater and a stage.
We host a variety of events ranging from readings, live music performances, lectures, symposiums, movie nights, open mic nights and international live/virtual events using technology to present live interactive events via similar to FaceTime or google talk.
All of which begins to cross over into The Exrealism Project (our international nonprofit art/artist/activist project).

Why is Lhooq/Exrealism called Lhooq/Exrealism?
Lhooq Books is the bookstore, cafe and venue, originally L.H.O.O.Q. and now simply Lhooq Books, again, in homage to Marcel Duchamp, the direct take is from his defaced postcard of The Mona Lisa on which he drew a mustache upon her face and wrote L.H.O.O.Q. below which was a play on words, phonetics, etc. and among other things primarily known for the french phonetic interpretation, "She has a nice ass".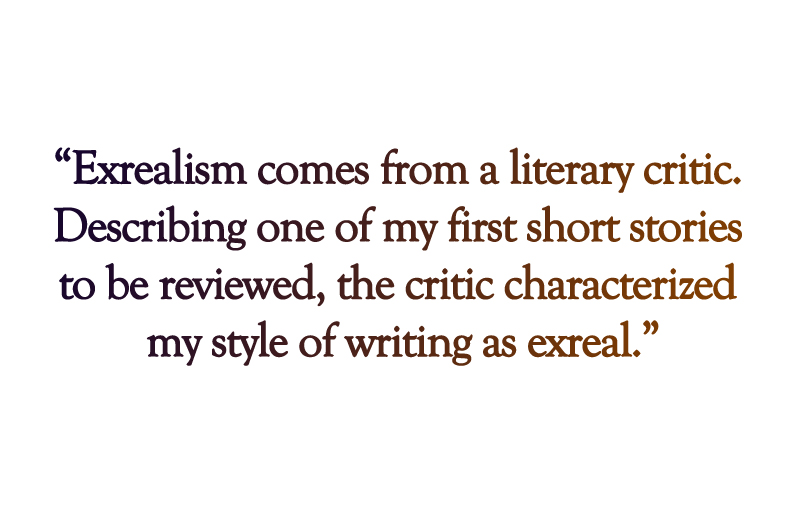 Exrealism comes from a literary critic. Describing one of my first short stories to be reviewed, the critic characterized my style of writing as exreal. Relating it to similar ideas like existentialism and/or surrealism, he described Exrealism as both a divorce from reality and an extraordinary reality. The description basically described my writing style and storytelling as a story firmly set in the reality of this world, dealing with the human condition, our time, place and epoch, never leaving the ground and taking off into fantasy, etc, but when the time was right, the style of writing and the ideas and philosophy did intentionally and positively dance into something extraordinary. So I kept it and expanded on that idea as an art theory and movement.
It's quite possible that every lover of books has at least once daydreamed about owning a bookstore, however few actually realize the dream. Can you tell us when you knew you wanted to own and operate a bookstore? And what was the process in bringing that dream to life?
Now having realized my dream of owning a traditional little used/rare/obscure bookstore/cultural hub while living above the store and writing, I must say that I honestly can't remember a time when I didn't have some version of that idea/vision in my head. And I never doubted it would come to fruition. I just never imagined it would end up coming into existence in my humble, uncultured semi-small beach town in Southern California.
Perseverance, learning lessons through trial and error, patience, cautious optimism and utter defiance have prevailed.
What's one thing you love about your job? And what's one thing you hate?
I've never held a "real" job for more than a few months. I've spent decades traveling, with bits of time working and quickly getting fired or quitting so I really had no idea what it took to run a business or deal with people in a retail environment. At first, I did try to conform, but that didn't work, so I changed the paradigm.
I do not consider Lhooq Books a business. I consider it, along with The Exrealism Project, an art project, an experiment, a cultural hub, a beacon of inspiration, a place for all artists to meet, grow, inspire and be inspired. I also consider ourselves as historical preservationists and gatekeepers of knowledge.
Short answer: I don't have a "job". Within my life and lifestyle exists this 'thing' that we are talking about, and I do my best to curate the energy, maintain the inspiration and passion and reluctantly make sure we are square with our layers of government from the city, state & country. Meaning, making sure we have the proper permits, licenses and pay our taxes, etc. So what I love and hate about my job is the same things I love and hate about life, things like human rights, history, our future, culture, society, politics and whatever else comes across our path all seen and experienced through an eccentric, anti-establishment, artist, activist and father. I hate jobs! But I love life!
Tell us about some of the books you can find in Lhooq/Exrealism. What are some of your favorite titles?
We have some pretty basic rules concerning our in-house collection (side note: we have an entire wall of books out front available to the public 24/7, our community library/bookstore). But inside, no fillers, only good shit.
Example: there are probably over 100 biographies on President Abraham Lincoln. At Lhooq we'll carry two. One: The most respected, thorough, complete factual account of his life. The other: All the shit you never read or heard about, as long as it's true.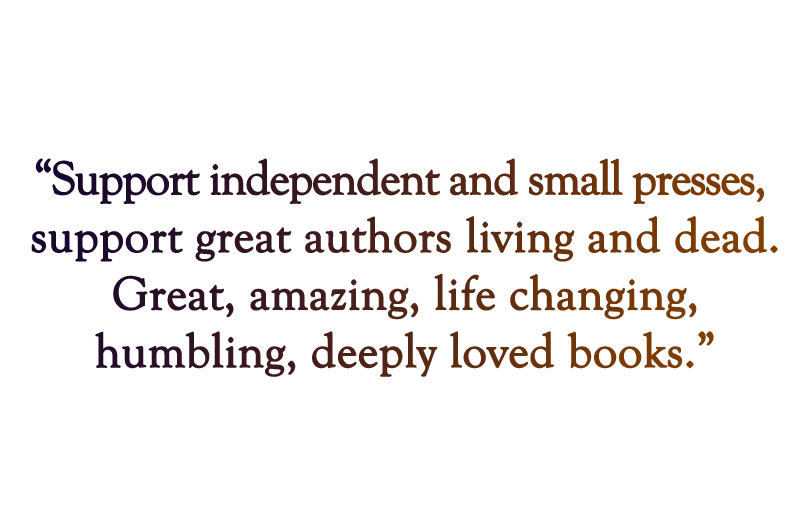 Support independent and small presses, support great authors living and dead. Great, amazing, life changing, humbling, deeply loved books.
The city of Carlsbad, where Lhooq/Exrealism is located, wanted to shut down the shop, but you fought the issue and won. Can you tell us what happened?
Simple/short answer: We are very obviously out-of-place, oddball, eccentric, subculture, intellectual, creatives in a predominately upper middle-class mainstream conservative community. We were negatively profiled and closed down without proper reason or rights. We won because they underestimated how diligent and defiant I/we are, and most importantly, that we really are trying to give our community something good and genuine.
Enough people respected that and believed in us and supported our cause and stood up for and with us against the powers that be.
And now I hear the shop is being featured in some national publications. Can you tell us which ones and what they're saying?
Now we are the cultural darlings of our little city. I think the one speech/message I got across which stuck was simply explaining to the government and community that you cannot buy culture. You have to nurture it. And we are the nurturers.
Let's talk about books. Why are they so important for a culture?
I'd be writing for days to answer this question to my liking.
Go back as far as the existence of civilization itself and you will find over and over again that arts and culture is the first or second pillar of society. In other words, there would be no civilization, no society, without art and the culture.

What do you hope for regarding the future of Lhooq/Exrealism?
I hope that Lhooq Books maintains the simple feeling that it is everyone's special little secret wonder. Then, on the flip side, I hope that The Exrealism Project becomes a global player in arts and culture through artistic activism.