Bookseller Spotlight features the world's best independent bookstores presented by the people who run them in their own words. In the second episode of the series, journalist Andrea Peacock and poet Marc Beaudin show us their heritage-minded Elk River Books located at the bend of the Yellowstone River in Livingston in southwest Montana.
When did Elk River Books open?
Our grand opening was on May 26, 2011. We featured a reading with our friend Rick Bass who had a new book out, The Heart of the Monster (co-authored with David James Duncan) about the fight to stop Alberta tar sands from being trucked through Montana. In every way, it set the tone we wanted: the politics, the excitement, the quality of literature. Plus it was a fantastic party that seemed to include the whole town (except for the woman who walked by as we were preparing to open, and said, "Books? Who f-ing reads?").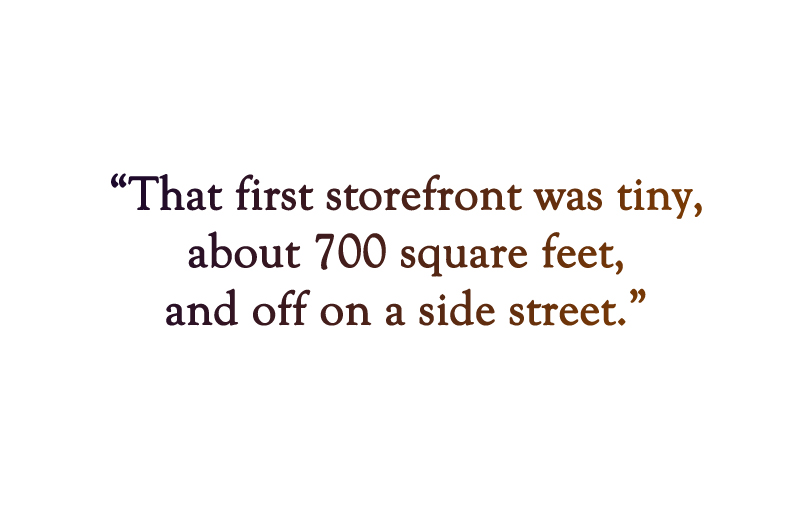 That first storefront was tiny, about 700 square feet, and off on a side street. We put our shelves on casters so we could roll them out of the way for readings. Marc's wife Lisa had an equally tiny juice bar next door to us called the Wheatgrass Saloon. While we joked about cutting a doorway through to join the two, what happened was even better: Lisa and Marc bought Russell Chatham's old gallery space on Main Street, right in the heart of Livingston's arts district, expanding our combined space to something like 5,000 square feet. So we had a second grand opening nearly three years to the day after the first with an equally raucous party. We got to stretch out and expand all our sections, and Lisa's business has evolved to include a vegan lunch counter, an eco-boutique, and a gallery space upstairs. The businesses are still separate, but there's a great symbiosis. Book people will buy a smoothie while they're browsing, and it turns out people who eat healthy food like books too.
How was the store named?
Livingston is located at the bend of the Yellowstone River, which is the longest undammed river in the lower 48 states. One of the tribes that used the area was the Crow Nation, and their name for the Yellowstone is Iichíilikaashaashe, or Elk River.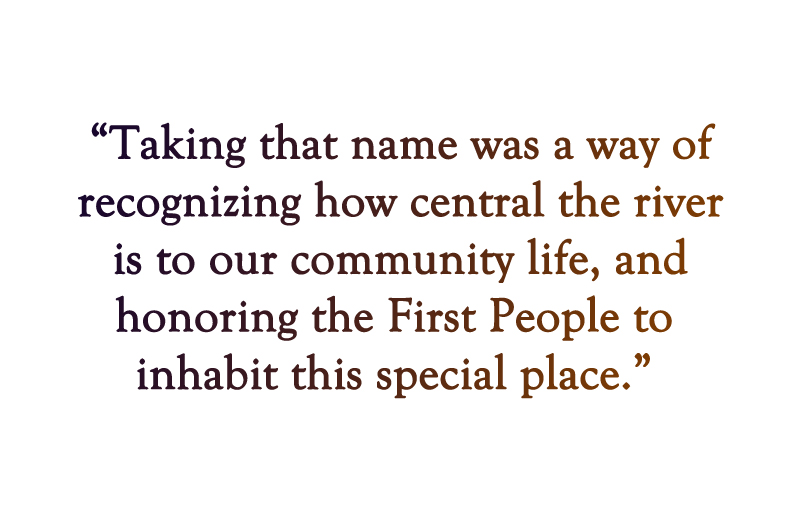 Taking that name was a way of recognizing how central the river is to our community life, and honoring the First People to inhabit this special place. Also, Andrea once had a tabby cat named Elk, and now she's got a collie dog named River.
It's quite possible that every lover of books has at least once daydreamed about owning a bookstore, however few actually realize the dream. Can you tell us when you knew you wanted to own and operate a bookstore? And what was the process in bringing that dream to life?
Andrea says, "My husband and I were going to build our own house, and Doug's cousin Marc knew how to build a house so he moved to Montana from Michigan to help us. When we were done, and moving our books into the new place, we realized there wasn't enough room for them all. Marc was helping us move and commented that he'd always wanted to have a used bookstore. I thought about it for a few days, and said why not? I was a freelance journalist, and Marc was a poet and playwright, which is to say we had room in our lives for this. We started planning and opened our doors about nine months later."
Marc adds, "I don't know if I wanted to actually own a used bookstore as much as I wanted to be able to hang out in a used bookstore as much as possible. Since Livingston didn't have one at the time, it seemed like the only option was to open one. "
What's one thing you love about your job? And what's one thing you hate?
Andrea: Marc and I both attended the Colorado Antiquarian Book Seminar, and I've taken a few classes at Rare Book School, so the last few years we've been dealing increasingly in antiquarian books. Because the landscape plays such an important role in our lives here, we began specializing in rare outdoor literature. This means we handle books on mountaineering and adventure, hunting and fishing, Western and Native American history, that sort of thing. (And poetry, of course.) So these are topics of interest to locals and tourists alike. I love that there is always more to learn, and I love being part of the larger antiquarian bookseller community, in which people think of themselves as colleagues, not competitors. What do I hate? Not having enough money to buy all the books I'd like to see on our shelves.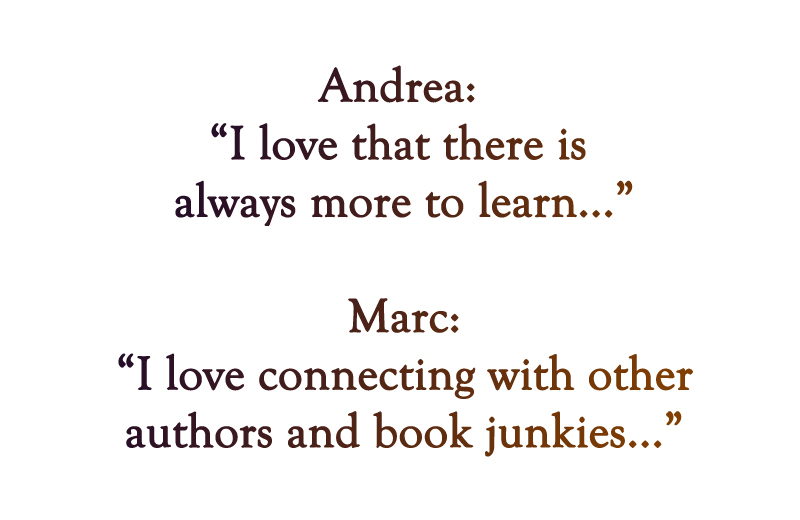 Marc: I love connecting with other authors and book junkies—knowing that people consider our shop more than a business; rather they see it as a gathering space for writers and readers to share ideas and passions. A place to keep literature and independent thought alive and vital. I don't think there's anything I hate about this job, mostly because I never view it as a job.
Tell us about some of the books to be found at Elk River Books. What are some of your personal favorite titles and/or authors?
Andrea: We've been fortunate to count among our friends some of the finest American authors of our time, and so when a beautifully produced, signed limited edition by Peter Matthiessen or Jim Harrison or Terry Tempest Williams comes in, it evokes good memories and (especially in the case of Peter and Jim) bittersweet emotions.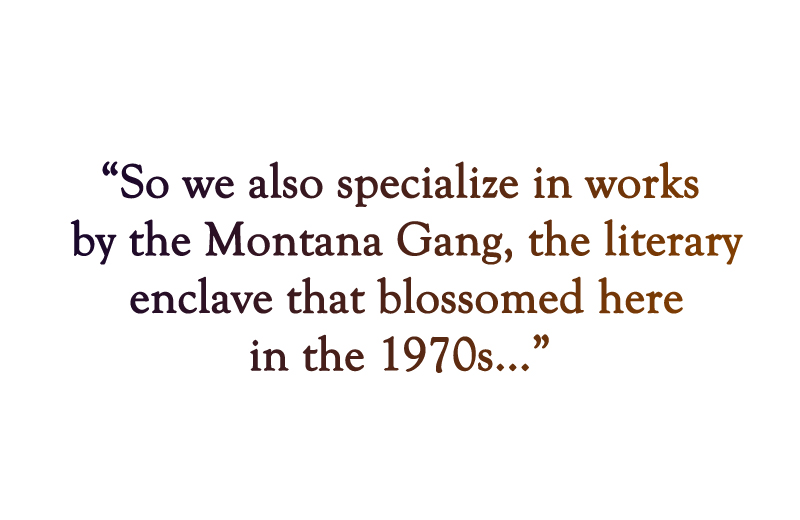 So we also specialize in works by the Montana Gang, the literary enclave that blossomed here in the 1970s around writers like Tom McGuane, Richard Brautigan and Gatz Hjortsberg. I think people like to buy these books from us because it gives them a connection to Livingston's heritage.
What else happens at Elk River Books? Do you stage events? If so, what kind of events?
Marc: We have hosted more than 150 readings with authors including Rick Bass, Terry Tempest Williams, Jim Harrison, Peter Matthiesson, Gretel Ehrlich, Dierdre McNamer, Carl Hiassen; past Montana poet laureates Henry Real Bird, Tami Haaland and Michael Earl Craig; and many emerging regional writers. We also occasionally host concerts with local and touring acts, and we are home to my side project, The Caldera Theatre Company, which has presented both new and classic plays, as well as works I wrote to celebrate Bloomsday and the writings of Richard Brautigan.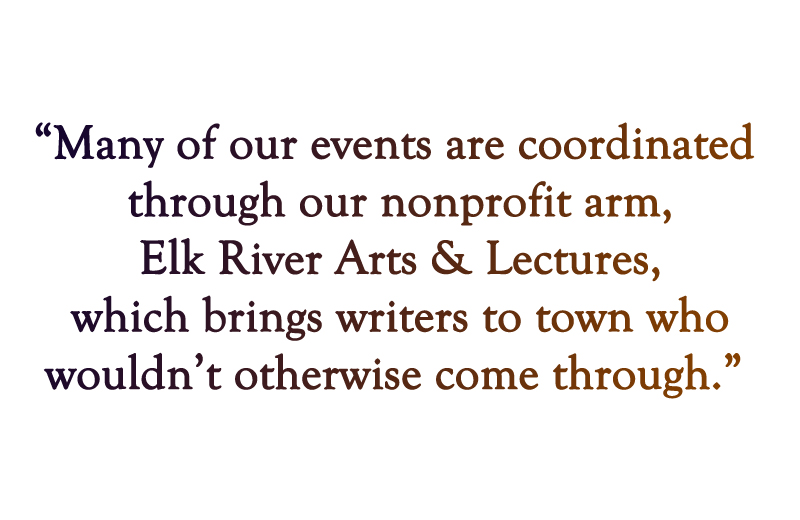 Andrea: Many of our events are coordinated through our nonprofit arm, Elk River Arts & Lectures, which brings writers to town who wouldn't otherwise come through. We put them up for a night or two at the iconic Murray Hotel (where director Sam Peckinpah lived in a suite that still bears his name), feed them a nice dinner, then set them up to talk with classes of high school kids. We're just about to launch a new program through the nonprofit called Community to Classroom. It will be an online directory that educators can access, of local people with expertise in the arts, civics, environment and writing who are willing to volunteer their time in the public schools either by lecturing, collaborating on projects, or mentoring students.
Let's talk about books. Why are they so important for a culture?

Andrea: Books are how we talk about big ideas and sort out our feelings about the world. They teach us empathy, and connect us to each other.
Marc: Books are magical devices: they can create every known emotion, they can completely transform their readers into new and better people, and they can change the world. Miscellaneous Jones says, "If you're going to kill a tree just to write something on it, you'd better have something damn good to say." Our goal is to fill our shop with writing that is worthy of its tree.
What do you hope for in the future for Elk River Books?
Andrea: I would hope for more of the same: a selection of books that serves our community, with the kind of gems that make collectors drool. More book fairs, more catalogs. I'd like to see Elk River Arts & Lectures become self-sustaining and take on its own identity.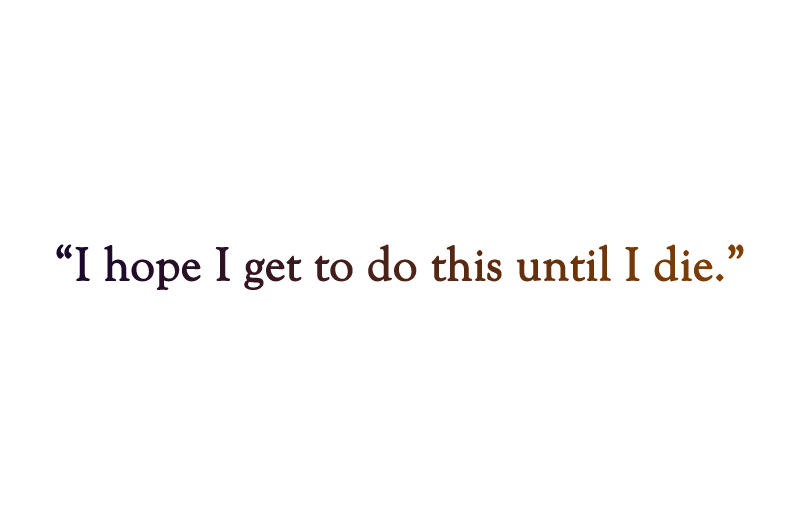 And I hope I get to do this until I die. Unless someone wants to buy the store. Anyone want to buy a used bookstore?
Marc: Over the last couple of years, we've added a publishing arm to our business. Our last book was Unearthing Paradise, an anthology with contributions from more than 30 Montana writers seeking to prevent destructive gold mining operations just north of Yellowstone National Park. We're currently working on our third release, a collection of poetry by Greg Keeler. I'd like to see our publications take an important place in the conversation of contemporary literature, and to become collectible volumes in their own right. … That and better wine at our events.