Best books set in every state in America features the most famous book set in every state and the top 10 must-read books you should read set in each state. Arranged in alphabetical order, from Alabama to Wyoming, travel these United States of books with our list of the best and must-read books set in all 50 states.
The most famous book set in Alabama: To Kill A Mockingbird by Harper Lee
"Voted America's Best-Loved Novel in PBS's The Great American Read. Harper Lee's Pulitzer Prize-winning masterwork of honor and injustice in the deep South—and the heroism of one man in the face of blind and violent hatred."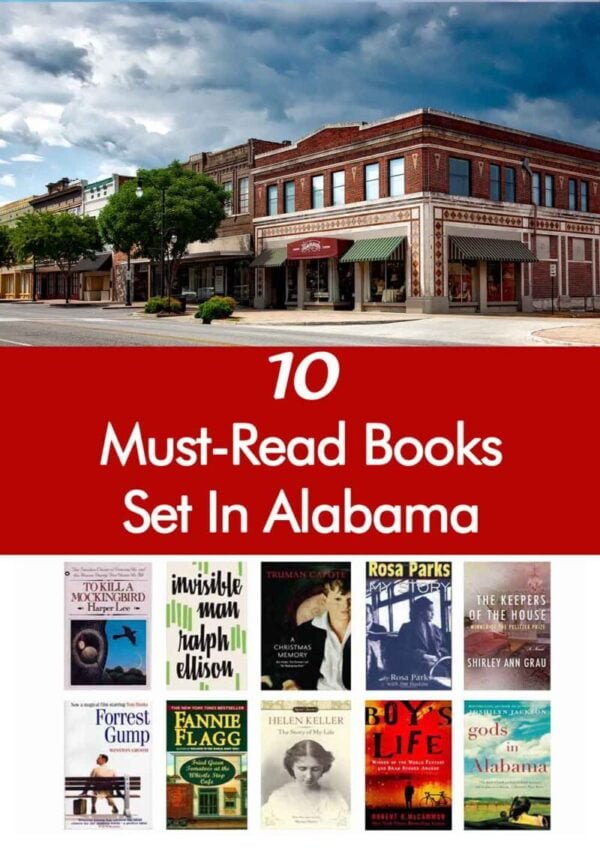 Visit Alabama, the Heart of Dixie, with these 10 must-read books set in Alabama.
The most famous book set in Alaska:

Into the Wild

 by Jon Krakauer
"Krakauer's page-turning bestseller explores a famed missing person mystery while unraveling the larger riddles it holds: the profound pull of the American wilderness on our imagination; the allure of high-risk activities to young men of a certain cast of mind; the complex, charged bond between fathers and sons."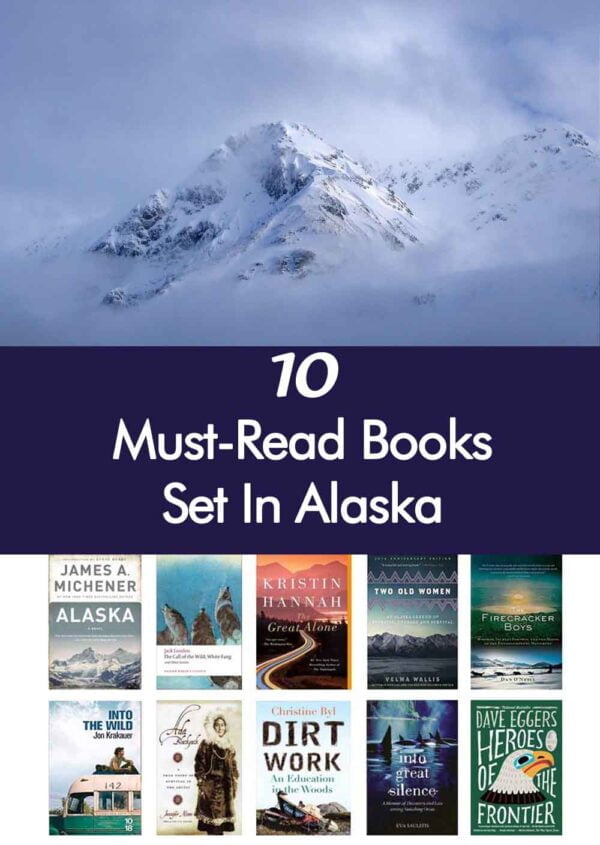 Travel to Alaska, the Last Frontier, with these books that take place in Alaska.
"The Bean Trees is bestselling author Barbara Kingsolver's first novel, now widely regarded as a modern classic. It is the charming, engrossing tale of rural Kentucky native Taylor Greer, who only wants to get away from her roots and avoid getting pregnant. She succeeds, but inherits a 3-year-old native-American little girl named Turtle along the way, and together, from Oklahoma to Tucson, Arizona, half-Cherokee Taylor and her charge search for a new life in the West." Bonus: Don't miss the sequel to this novel, Pigs in Heaven (Greer Family #2).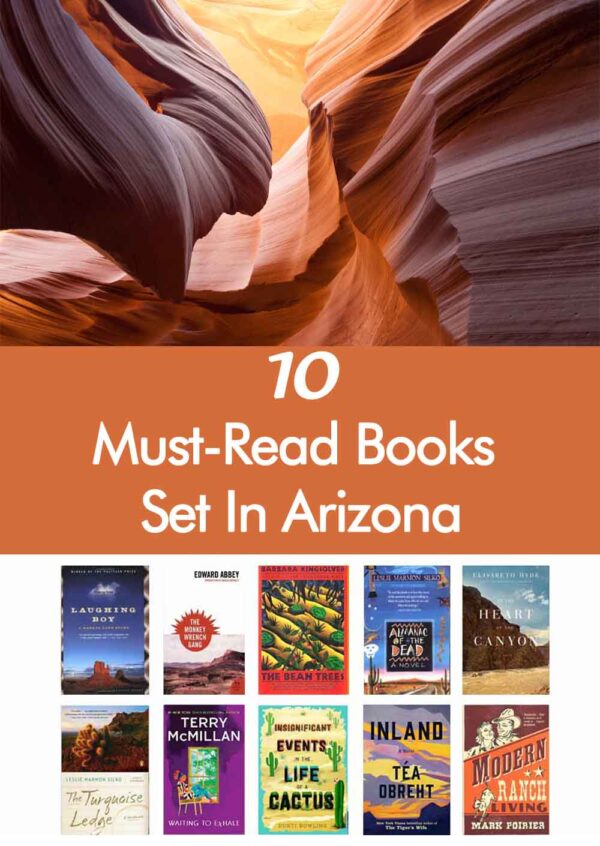 Spend some time in Arizona, the Grand Canyon State, with these 10 must-read books set in Arizona.
The most famous book set in Arkansas:

A Painted House

 by John Grisham
"Until that September of 1952, Luke Chandler had never kept a secret or told a single lie. But in the long, hot summer of his seventh year, two groups of migrant workers — and two very dangerous men — came through the Arkansas Delta to work the Chandler cotton farm. And suddenly mysteries are flooding Luke's world."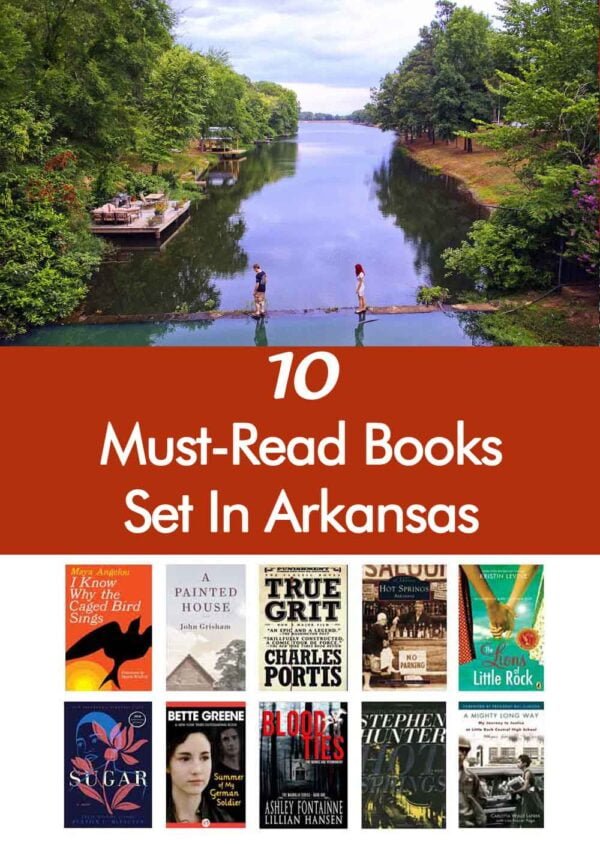 Learn about Arkansas, the Land of Opportunity, with these 10 must-read books set in Arkansas.
The most famous book set in California: East of Eden by John Steinbeck
"Set in the rich farmland of California's Salinas Valley, this sprawling and often brutal novel follows the intertwined destinies of two families—the Trasks and the Hamiltons—whose generations helplessly reenact the fall of Adam and Eve and the poisonous rivalry of Cain and Abel." Bonus: You shouldn't miss Steinbeck's other books set in California, The Grapes of Wrath, Of Mice and Men, and Cannery Row.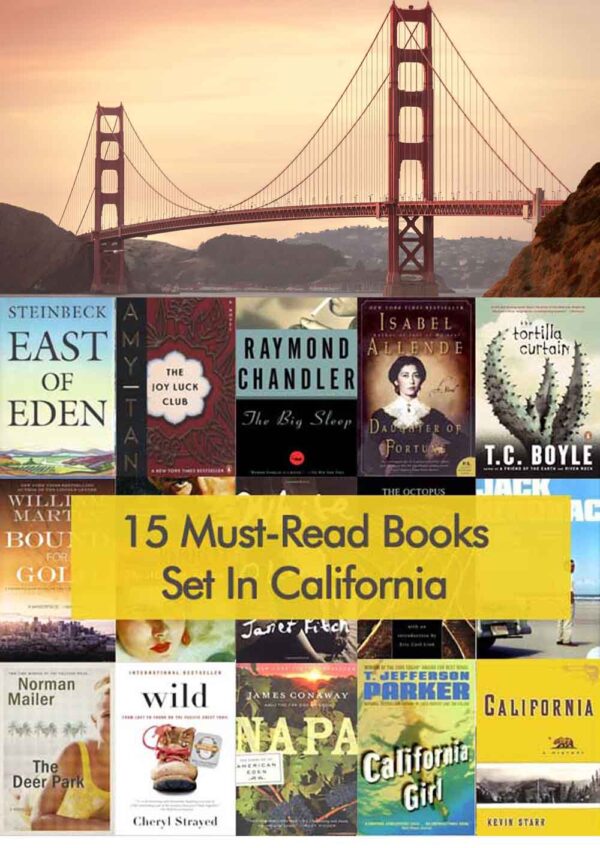 Travel to California, the Golden State, with these 15 must-read books set in California.
The most famous book set in Colorado: The Shining by  Stephen King
Read the book, then visit the real Overlook Hotel, which is in fact named The Stanley Hotel, in Estes Park! "Jack Torrance's new job at the Overlook Hotel is the perfect chance for a fresh start. As the off-season caretaker at the atmospheric old hotel, he'll have plenty of time to spend reconnecting with his family and working on his writing. But as the harsh winter weather sets in, the idyllic location feels ever more remote . . . and more sinister. And the only one to notice the strange and terrible forces gathering around the Overlook is Danny Torrance, a uniquely gifted five-year-old." Bonus: Two more King books, The Stand and Misery, take place in The Centennial State.
Travel to Colorado, the Centennial State, with these 10 must-read books set in Colorado.
The most famous book set in Connecticut: Revolutionary Road by Richard Yates
"Hailed as a masterpiece of realistic fiction and as the most evocative portrayal of the opulent desolation of the American suburbs since its publication in 1961, Revolutionary Road is the story of Frank and April Wheeler, a bright, beautiful, and talented couple who have lived on the assumption that greatness is only just around the corner. With heartbreaking compassion and remorseless clarity, Richard Yates shows how Frank and April mortgage their spiritual birthright, betraying not only each other, but their best selves."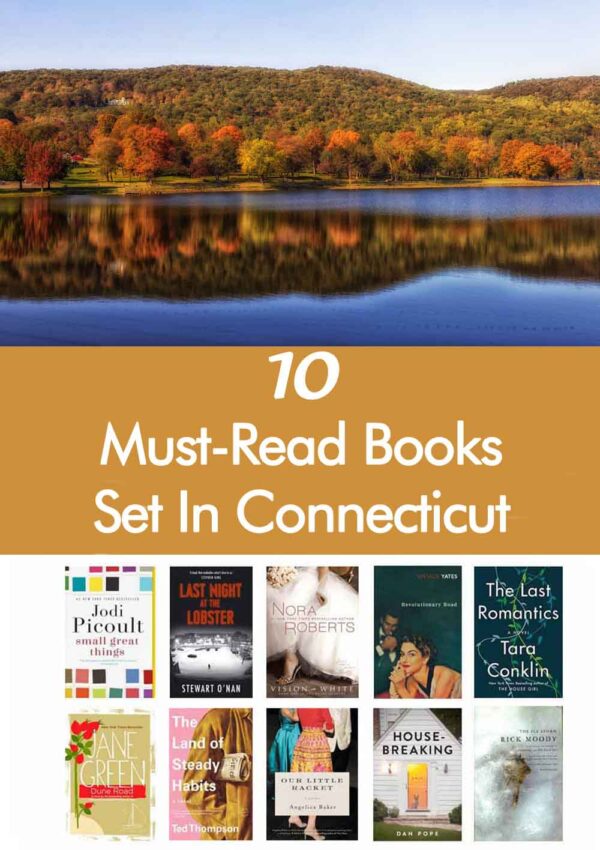 Visit to Connecticut, the Nutgmet State, with these 10 must-read books set in Connecticut.
The most famous book set in Delaware:

Fight Club

 by Chuck Palahniuk
"Chuck Palahniuk showed himself to be his generation's most visionary satirist in this, his first book. Fight Club's estranged narrator leaves his lackluster job when he comes under the thrall of Tyler Durden, an enigmatic young man who holds secret after-hours boxing matches in the basements of bars. There, two men fight 'as long as they have to.' This is a gloriously original work that exposes the darkness at the core of our modern world."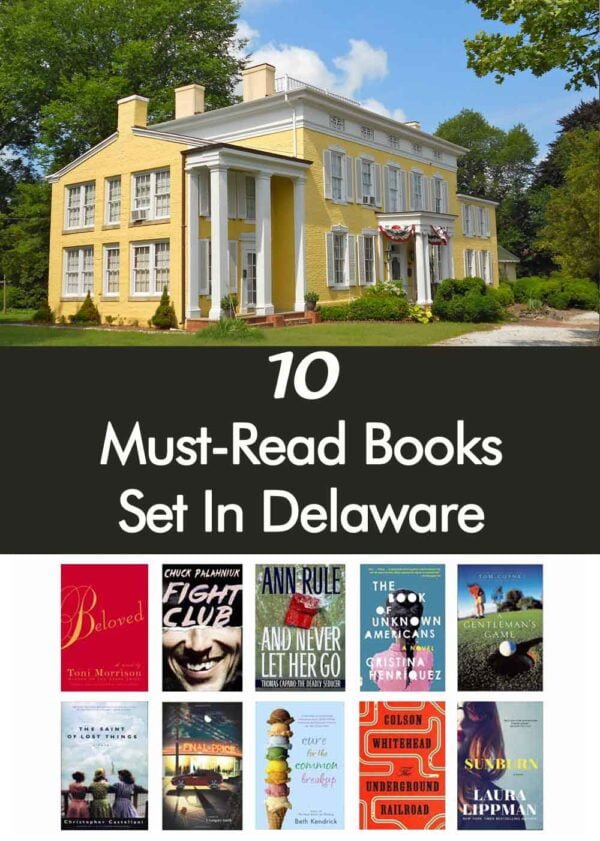 Discover to Delaware, the First State, with these 10 must-read books set in Delaware.
The most famous book set in Florida: To Have and Have Not by Ernest Hemingway
"To Have and Have Not is the dramatic story of Harry Morgan, an honest man who is forced into running contraband between Cuba and Key West as a means of keeping his crumbling family financially afloat. His adventures lead him into the world of the wealthy and dissipated yachtsmen who throng the region and involve him in a strange and unlikely love affair."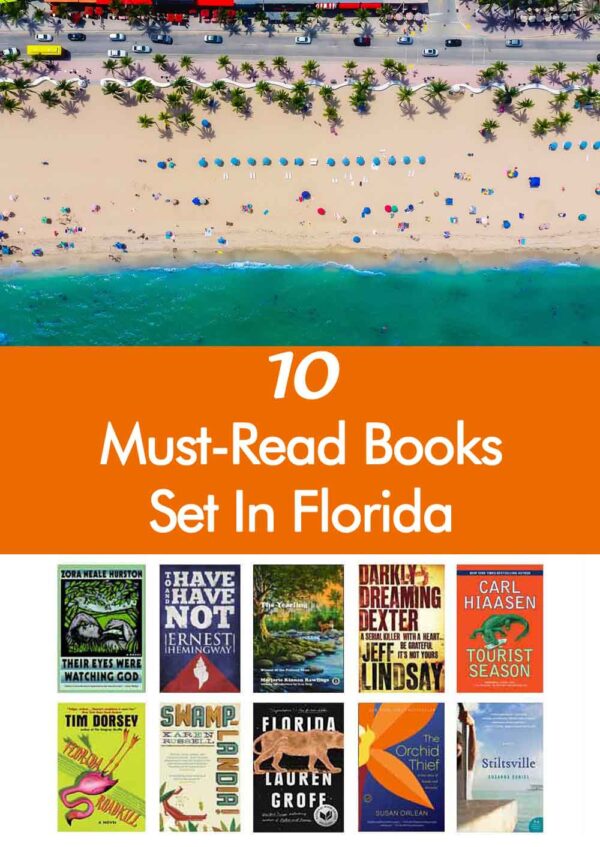 Travel to Florida, the Sunshine State, with these 10 must-read books set in Florida.
The most famous book set in Georgia:

Gone With the Wind

 by Margaret Mitchell
Taking place in the state of Georgia during the American Civil War, "this is the tale of Scarlett O'Hara, the spoiled, manipulative daughter of a wealthy plantation owner, who arrives at young womanhood just in time to see the Civil War forever change her way of life. A sweeping story of tangled passion and courage, in the pages of Gone With the Wind, Margaret Mitchell brings to life the unforgettable characters that have captured readers for over seventy years."
Visit Georgia, the Peach State, with these 10 must-read books set in Georgia.
The most famous book set in Hawaii: Hawaii: A Novel by James A. Michener
"Pulitzer Prize–winning author James A. Michener brings Hawaii's epic history vividly to life in a classic saga that has captivated readers since its initial publication in 1959. As the volcanic Hawaiian Islands sprout from the ocean floor, the land remains untouched for centuries—until, little more than a thousand years ago, Polynesian seafarers make the perilous journey across the Pacific, flourishing in this tropical paradise according to their ancient traditions. Then, in the early nineteenth century, American missionaries arrive, bringing with them a new creed and a new way of life. Based on exhaustive research and told in Michener's immersive prose, Hawaii is the story of disparate peoples struggling to keep their identity, live in harmony, and, ultimately, join together."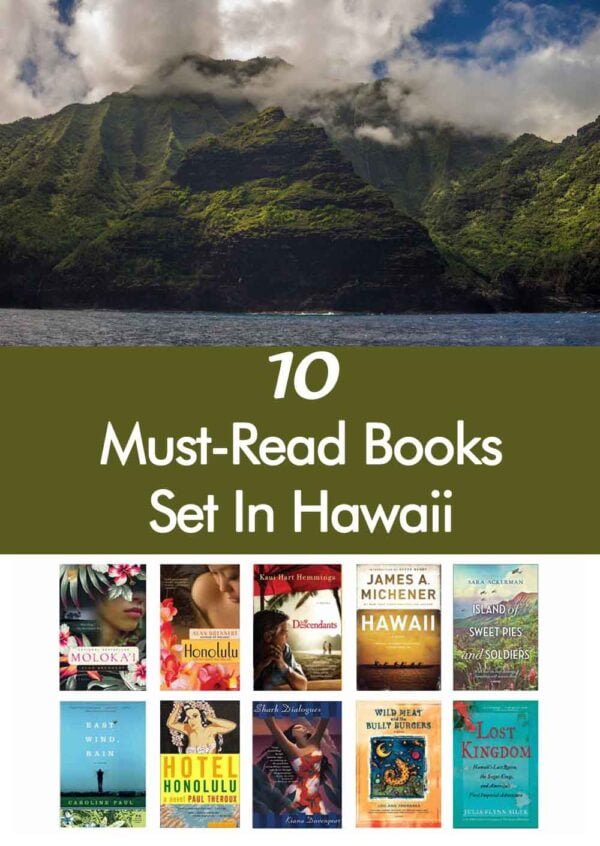 Visit Hawaii, the Aloha State, with these 10 must-read books set in Hawaii.
The most famous book set in Idaho: Housekeeping: A Novel by Marilynne Robinson
"The family house is in the small town of Fingerbone on a glacial lake in the Far West, the same lake where their grandfather died in a spectacular train wreck and their mother drove off a cliff to her death. It is a town 'chastened by an outsized landscape and extravagant weather, and chastened again by an awareness that the whole of human history had occurred elsewhere.'"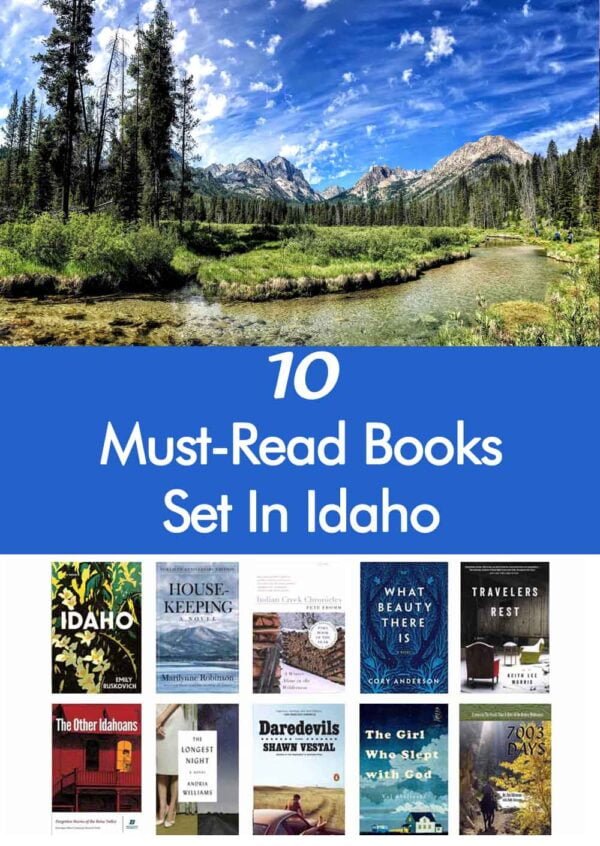 Travel to Idaho, the Gem State, with these 10 must-read books set in Idaho.
The most famous book set in Illinois:

The Jungle

 by Upton Sinclair
"An ardent activist, champion of political reform, novelist, and progressive journalist, Upton Sinclair is perhaps best known today for The Jungle — his devastating exposé of the meat-packing industry. A protest novel he privately published in 1906, the book was a shocking revelation of intolerable labor practices and unsanitary working conditions in the Chicago stockyards. It quickly became a bestseller, arousing public sentiment and resulting in such federal legislation as the Pure Food and Drug Act."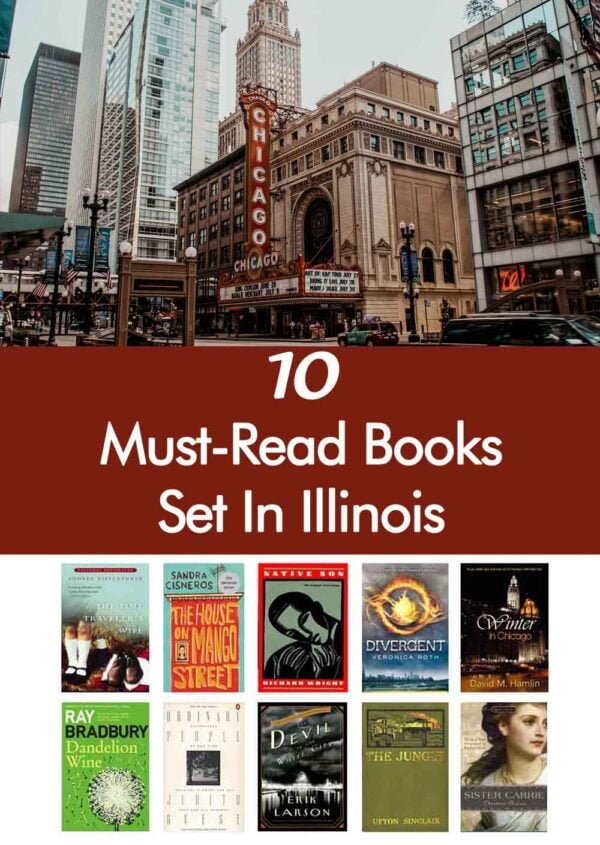 Take a trip to Illinois, the Land of Lincoln, with these 10 must-read books set in Illinois.
The most famous book set in Indiana:

The Magnificent Ambersons

 by Booth Tarkington
"The Magnificent Ambersons is a 1918 novel by Booth Tarkington, the second in his Growth trilogy which includes The Turmoil and The Midlander. It won the Pulitzer Prize for fiction and was adapted into the 1925 silent film Pampered Youth. The novel and trilogy trace the growth of the United States through the declining fortunes of three generations of the aristocratic Amberson family in an upper-scale Indianapolis neighborhood, between the end of the Civil War and the early part of the 20th century, a period of rapid industrialization and socio-economic change in America."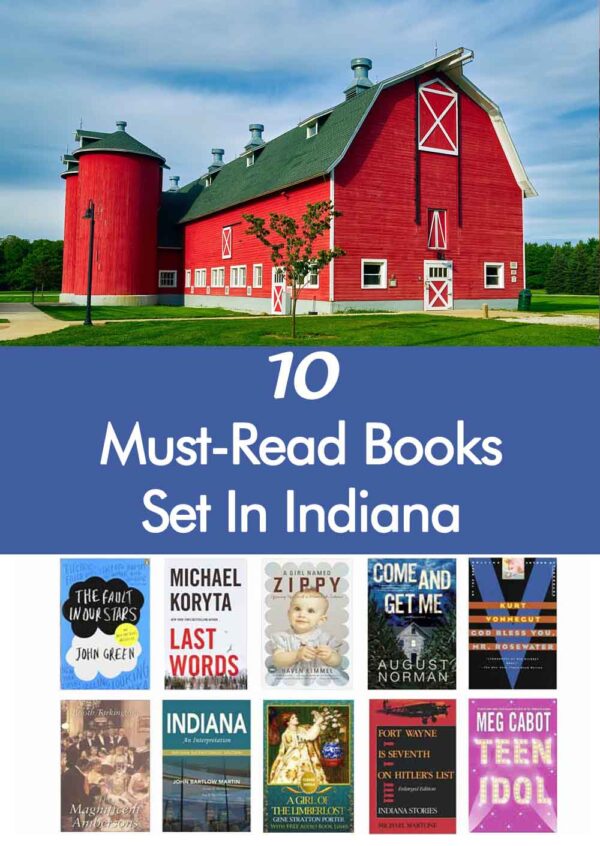 Visit Indiana, the Hoosier State, with these 10 must-read books set in Indiana.
The most famous book set in Iowa:

A Thousand Acres

 by Jane Smiley
"This powerful twentieth-century reimagining of Shakespeare's King Lear centers on a wealthy Iowa farmer who decides to divide his farm between his three daughters. When the youngest objects, she is cut out of his will. This sets off a chain of events that brings dark truths to light and explodes long-suppressed emotions. Ambitiously conceived and stunningly written, A Thousand Acres takes on themes of truth, justice, love, and pride—and reveals the beautiful yet treacherous topography of humanity."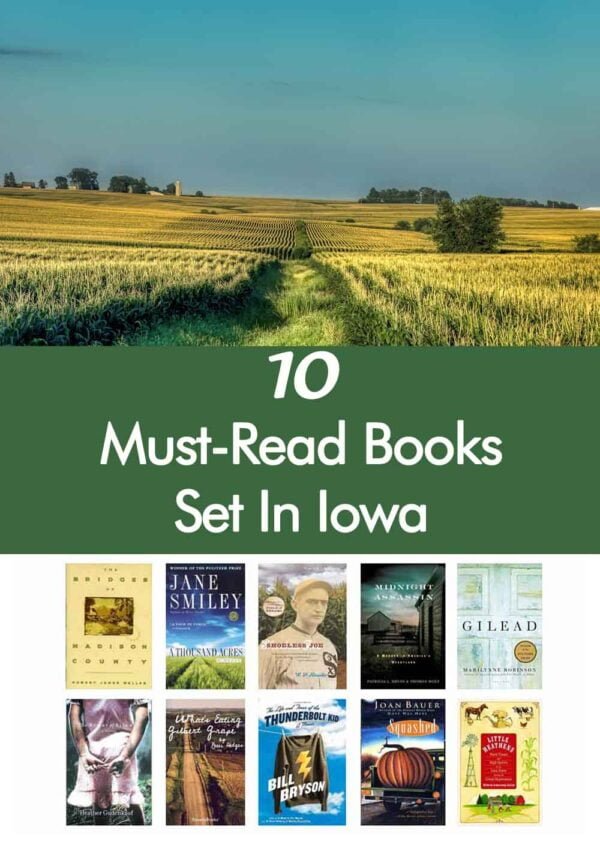 Visit Iowa, the Hawkeye State, with these 10 must-read books set in Iowa.
The most famous book set in Kansas: In Cold Blood by Truman Capote
"On November 15, 1959, in the small town of Holcomb, Kansas, four members of the Clutter family were savagely murdered by blasts from a shotgun held a few inches from their faces. There was no apparent motive for the crime, and there were almost no clues. In one of the first non-fiction novels ever written, Truman Capote reconstructs the murder and the investigation that led to the capture, trial, and execution of the killers, generating both mesmerizing suspense and astonishing empathy. In Cold Blood is a work that transcends its moment, yielding poignant insights into the nature of American violence."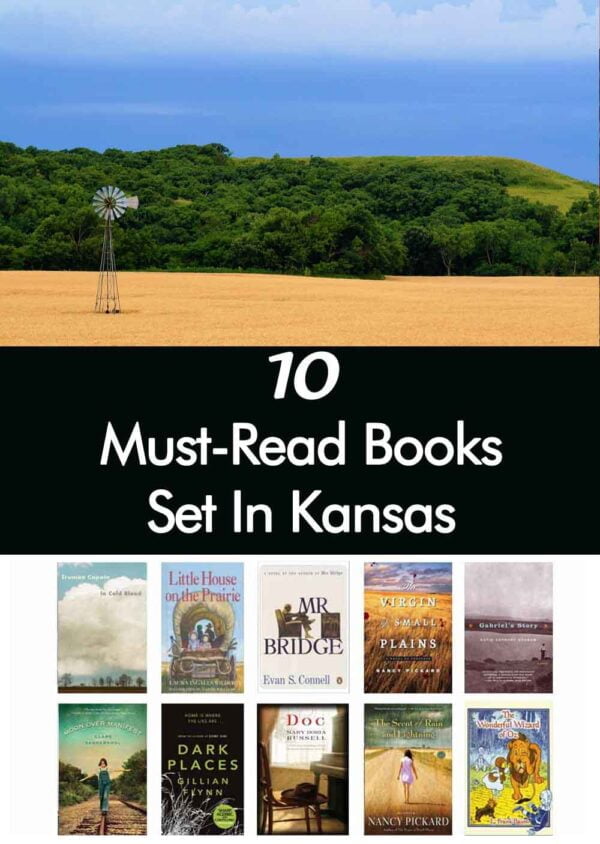 Travel to Kansas, the Sunflower State, with these 10 must-read books set in Kansas.
The most famous book set in Kentucky: Uncle Tom's Cabin by Harriet Beecher Stowe
"Written by American author and dedicated abolitionist Harriet Beecher Stowe, "Uncle Tom's Cabin" is a poignant novel which shows the harsh reality of a slave's life in the 1800s."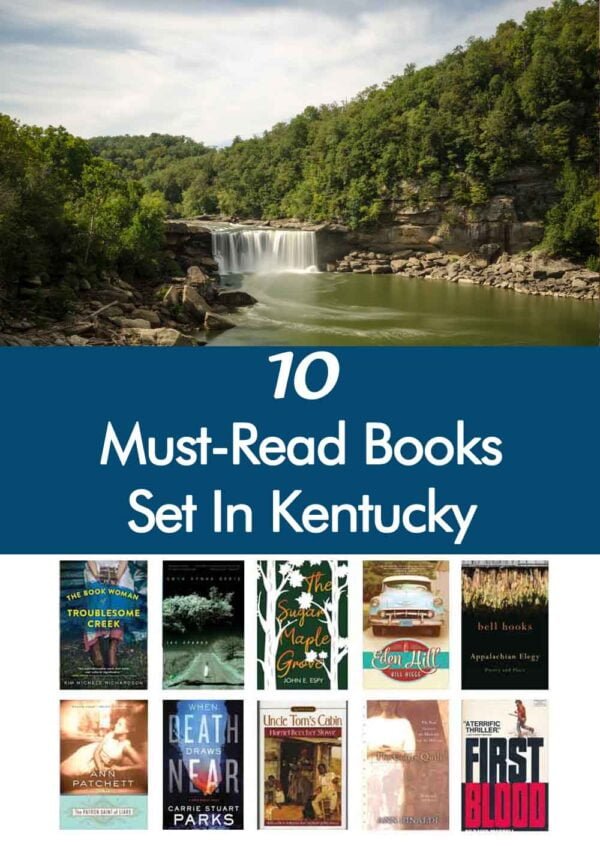 Travel to Kentucky, the Bluegrass State, with these 10 must-read books set in Kentucky.
"Here are the confessions of a vampire. Hypnotic, shocking, and chillingly sensual, this is a novel of mesmerizing beauty and astonishing force—a story of danger and flight, of love and loss, of suspense and resolution, and of the extraordinary power of the senses. It is a novel only Anne Rice could write."
Take a trip to Louisiana, the Bayou State, with these 10 must-read books set in Louisiana.
The most famous book set in Maine:

Olive Kitteridge

by Elizabeth Strout
"At times stern, at other times patient, at times perceptive, at other times in sad denial, Olive Kitteridge, a retired schoolteacher, deplores the changes in her little town of Crosby, Maine, and in the world at large, but she doesn't always recognize the changes in those around her: a lounge musician haunted by a past romance; a former student who has lost the will to live; Olive's own adult child, who feels tyrannized by her irrational sensitivities; and her husband, Henry, who finds his loyalty to his marriage both a blessing and a curse.
"As the townspeople grapple with their problems, mild and dire, Olive is brought to a deeper understanding of herself and her life—sometimes painfully, but always with ruthless honesty. Olive Kitteridge offers profound insights into the human condition—its conflicts, its tragedies and joys, and the endurance it requires."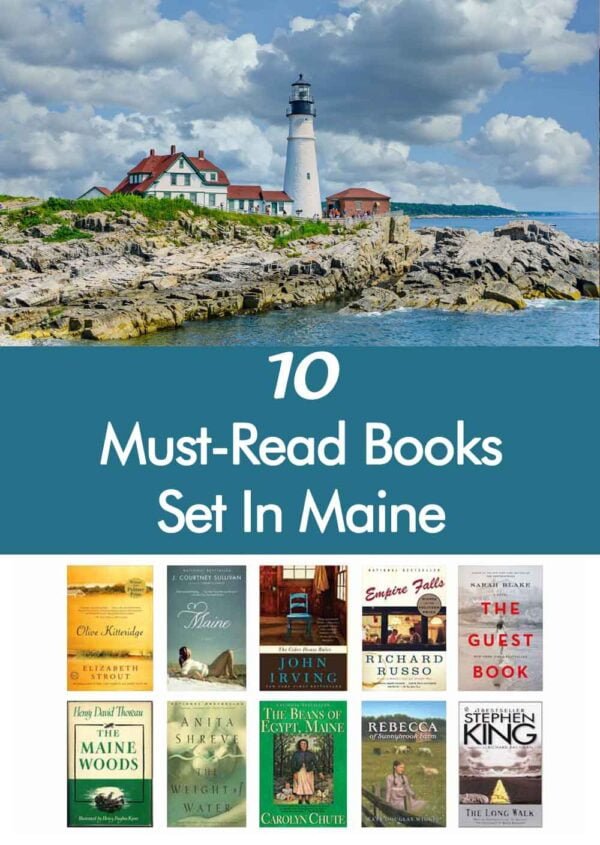 Take a trip to Maine, the Pine Tree State, with these 10 must-read books set in Maine.
The most famous book set in Maryland:

The Accidental Tourist

 by Anne Tyler
"Travel writer Macon Leary hates travel, adventure, surprises, and anything outside of his routine. Immobilized by grief, Macon is becoming increasingly prickly and alone, anchored by his solitude and an unwillingness to compromise his creature comforts. Then he meets Muriel, an eccentric dog trainer too optimistic to let Macon disappear into himself. Despite Macon's best efforts to remain insulated, Muriel up-ends his solitary, systemized life, catapulting him into the center of a messy, beautiful love story he never imagined."
Bonus: More Anne Tyler novels take place in Maryland including Breathing Lessons, Digging to America, Dinner at the Homesick Restaurant, Saint Maybe, The Amateur Marriage, The Clock Winder, and The Beginner's Goodbye.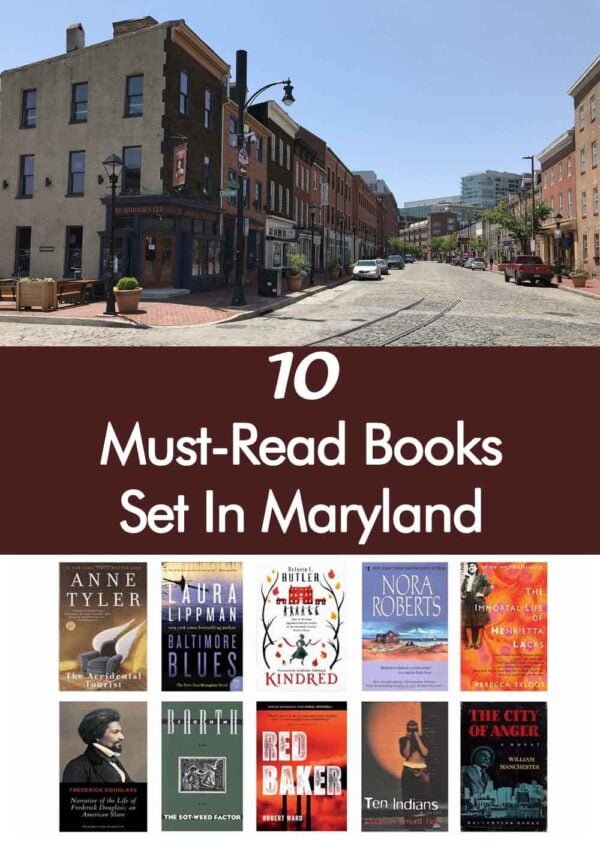 Travel to Maryland, the Old Line State, with these 10 must-read books set in Maryland.
The most famous book set in Massachusetts:

Walden

 by Henry David Thoreau
"First published in 1854, it details Thoreau's experiences over the course of two years, two months, and two days in a cabin he built near Walden Pond, amidst woodland owned by his friend and mentor Ralph Waldo Emerson, near Concord, Massachusetts. The book compresses the time into a single calendar year and uses passages of four seasons to symbolize human development.By immersing himself in nature, Thoreau hoped to gain a more objective understanding of society through personal introspection. Simple living and self-sufficiency were Thoreau's other goals, and the whole project was inspired by transcendentalist philosophy, a central theme of the American Romantic Period. As Thoreau made clear in his book, his cabin was not in wilderness but at the edge of town, about two miles (3 km) from his family home."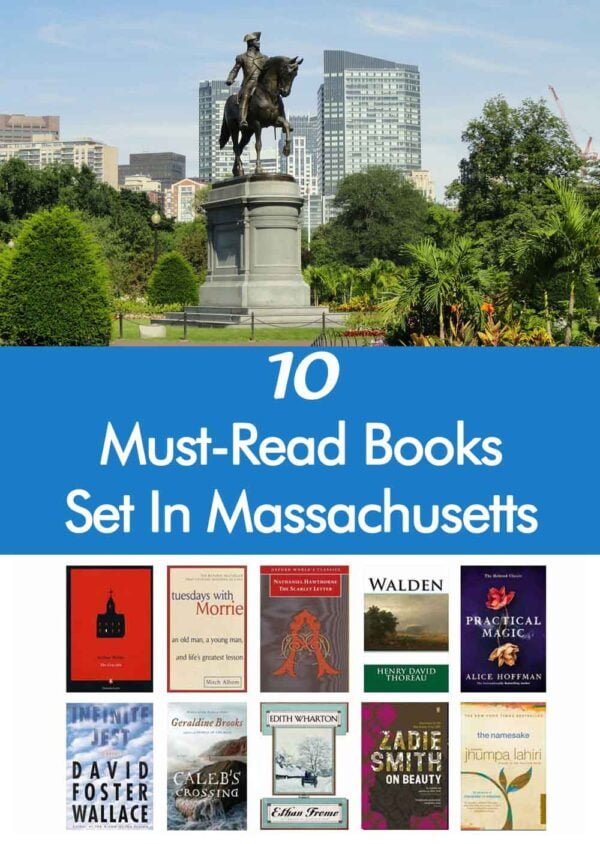 Visit Massachusetts, the Bay State, with these 10 must-read books set in Massachusetts.
The most famous book set in Michigan:

The Virgin Suicides

 by Jeffrey Eugenides
"In a quiet suburb of Detroit, the five Lisbon sisters–beautiful, eccentric, and obsessively watched by the neighborhood boys–commit suicide one by one over the course of a single year."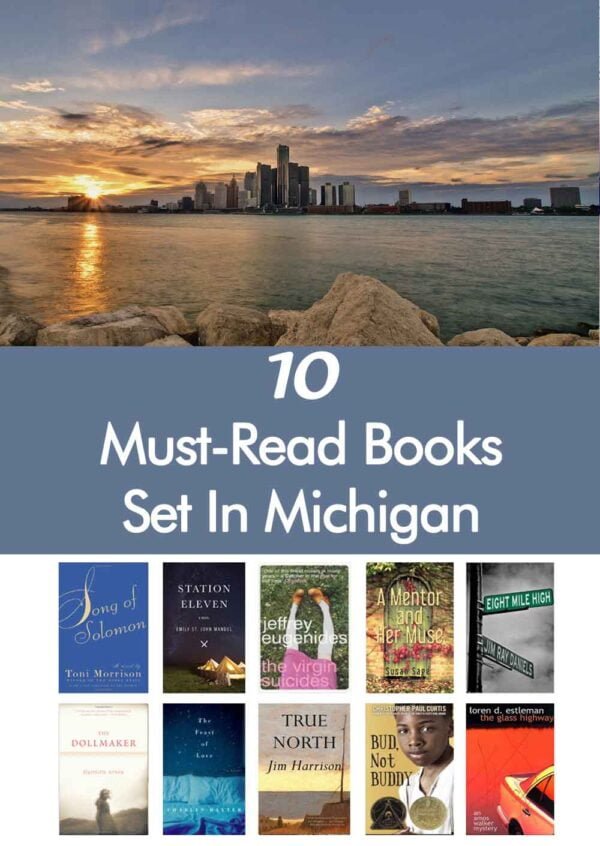 Visit Michigan, the Great Lake State, with these 10 must-read books set in Michigan.
The most famous book set in Minnesota: Main Street by Sinclair Lewis
"Carol, a young and progressive librarian living in St Paul, Minnesota, falls in love with and marries Will Kennicott, a doctor who dreams of returning to the small town of his childhood. Carol agrees and they move to Gopher Prairie, Minnesota, a town modeled on Sinclair's own hometown of Sauk Centre, Minnesota. Carol is disappointed by the town's drab appearance and it's provincial, small-minded inhabitants. Brimming with optimism and tenacity, she sets out to convince the town to modernize and embrace her progressive values. Her ideas are not received as she hoped and instead she is resisted at every turn and derided by her fellow townsfolk. For all its seeming bleakness, Carol is ever optimistic and refuses to give up or believe the fight isn't worth fighting."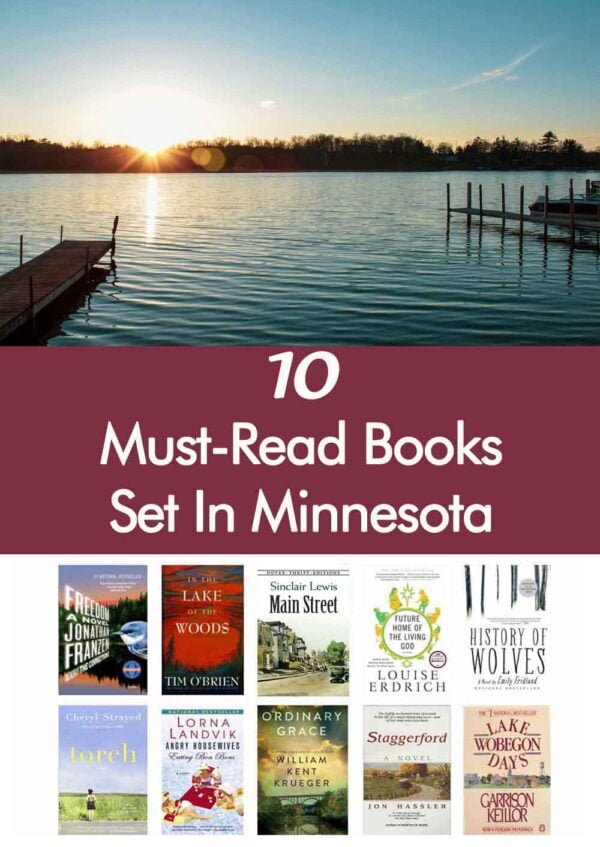 Visit Minnesota, the North Star State, with these 10 must-read books set in Minnesota.
The most famous book set in Mississippi: As I Lay Dying by William Faulkner
"A true 20th-century classic: Faulkner's famed harrowing account of the Bundren family's odyssey across the Mississippi countryside to bury Addie, their wife and mother."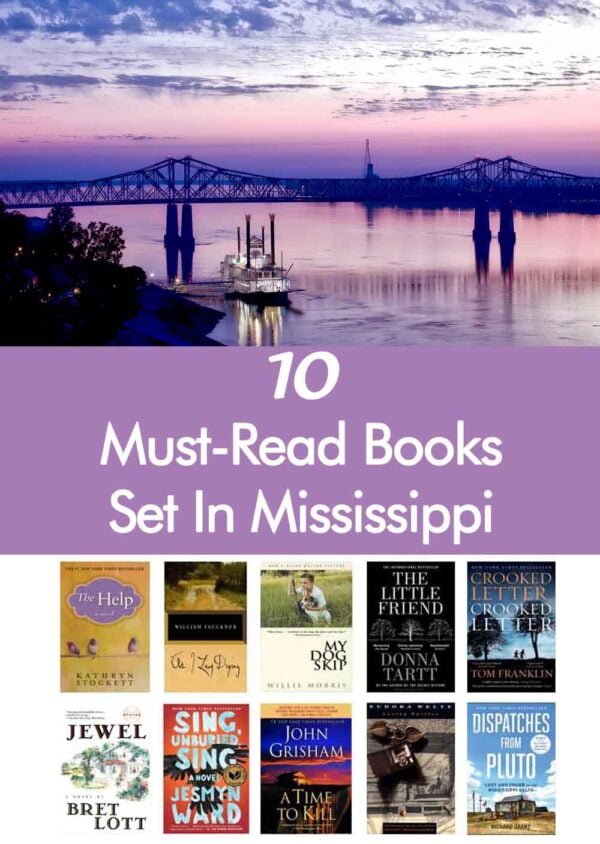 Visit Mississippi, the Magnolia State, with these 10 must-read books set in Mississippi.
"The Adventures of Tom Sawyer by Mark Twain is about a young boy growing up along the Mississippi River. The story is set in the fictional town of St. Petersburg, inspired by Hannibal, Missouri, where Twain lived."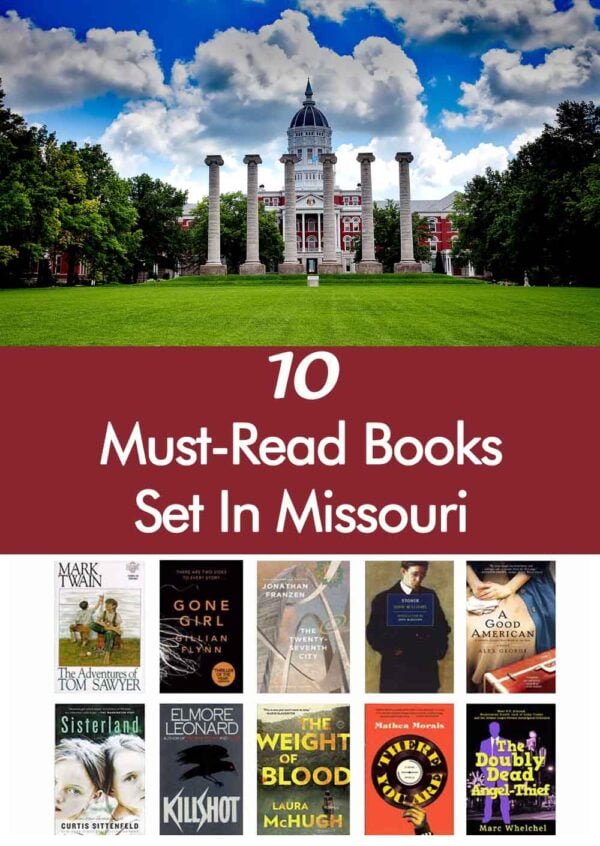 Spend some time in Missouri, the Mother of the West, with these 10 must-read books set in Missouri.
The most famous book set in Montana: A River Runs Through It by Norman Maclean
"Populated with drunks, loggers, card sharks, and whores, and set in the small towns and surrounding trout streams and mountains of western Montana, the stories concern themselves with the complexities of fly fishing, logging, fighting forest fires, playing cribbage, and being a husband, a son, and a father."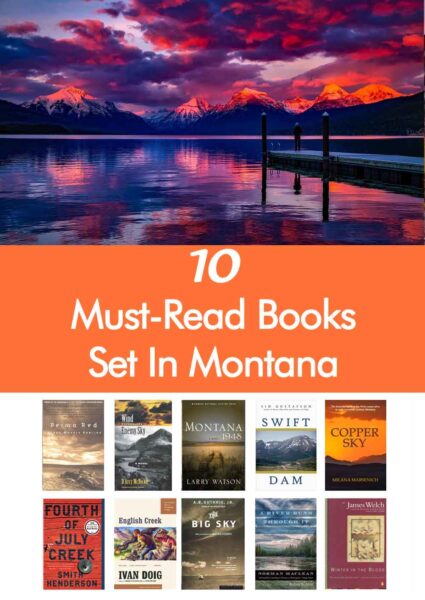 Travel to Montana, Big Sky Country, with these 10 must-read books set in Montana.
Sinclair Lewis praised her work for making "the outside world know Nebraska as no one else has done."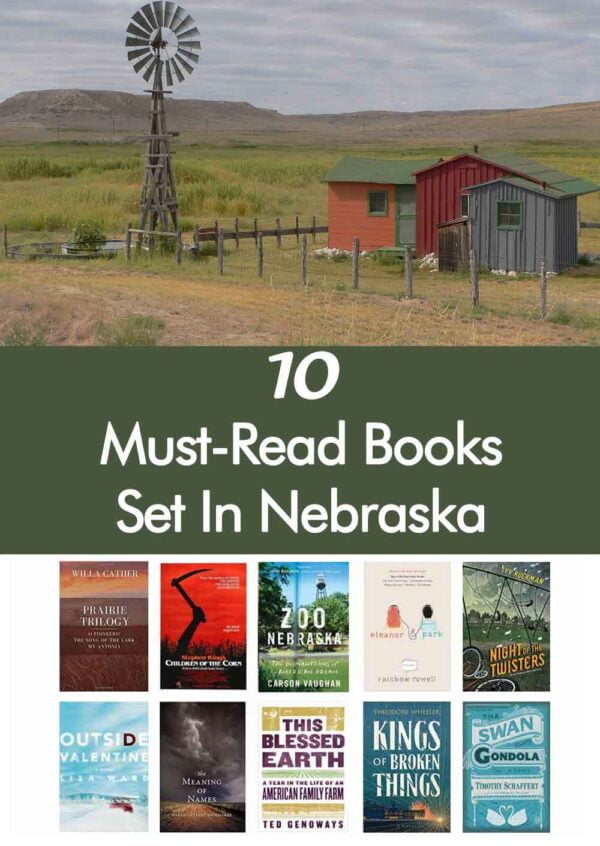 Visit Nebraska, the Cornhusker State, with these 10 must-read books set in Nebraska.
"This cult classic of gonzo journalism is the best chronicle of drug-soaked, addle-brained, rollicking good times ever committed to the printed page. It is also the tale of a long weekend road trip that has gone down in the annals of American pop culture as one of the strangest journeys ever undertaken."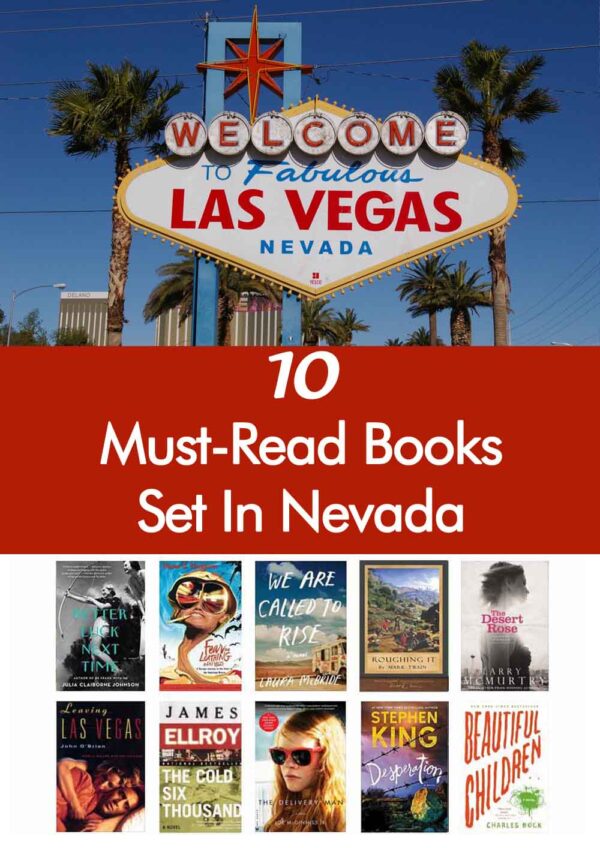 Travel to Nevada, the Silver State, with these 10 must-read books set in Nevada.
The most famous book set in New Hampshire:

The Hotel New Hampshire

 by John Irving
"'The first of my father's illusions was that bears could survive the life lived by human beings, and the second was that human beings could survive a life led in hotels'. So says John Berry, son of a hapless dreamer, brother to a cadre of eccentric siblings, and chronicler of the lives lived, the loves experienced, the deaths met, and the myriad strange and wonderful times encountered by the family Berry. Hoteliers, pet-bear owners, friends of Freud (the animal trainer and vaudevillian, that is), and playthings of mad fate, they 'dream on' in this funny, sad, outrageous, and moving novel."
Bonus: John Irving's A Prayer for Owen Meany also takes place in New Hampshire.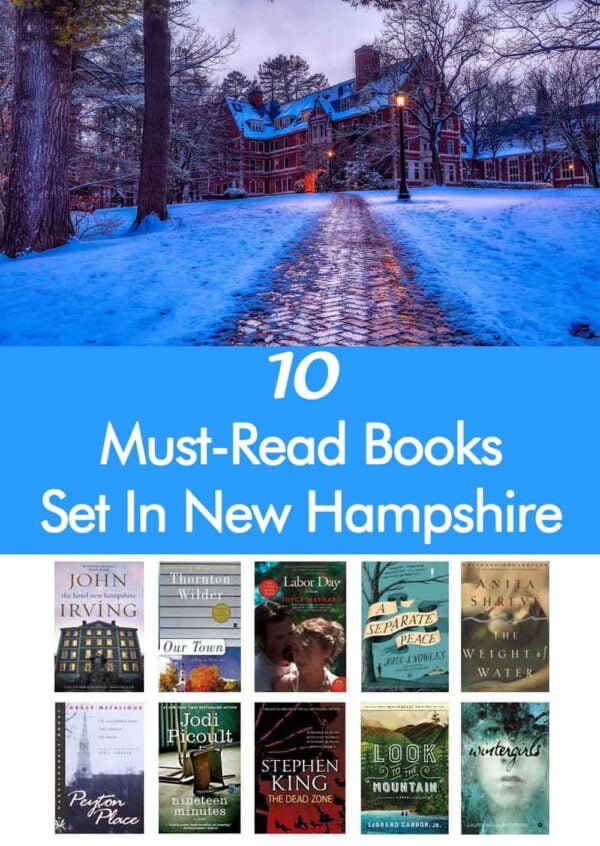 Visit New Hampshire, the Granite State, with these 10 must-read books set in New Hampshire.
The most famous book set in New Jersey: American Pastoral by Philip Roth
"Here is Philip Roth's masterpiece—an elegy for the American century's promises of prosperity, civic order, and domestic bliss. Roth's protagonist is Swede Levov, a legendary athlete at his Newark high school, who grows up in the booming postwar years to marry a former Miss New Jersey, inherit his father's glove factory, and move into a stone house in the idyllic hamlet of Old Rimrock. And then one day in 1968, Swede's beautiful American luck deserts him."
Bonus: Other Roth books take place in New Jersey including Goodbye, Columbus and Patrimony.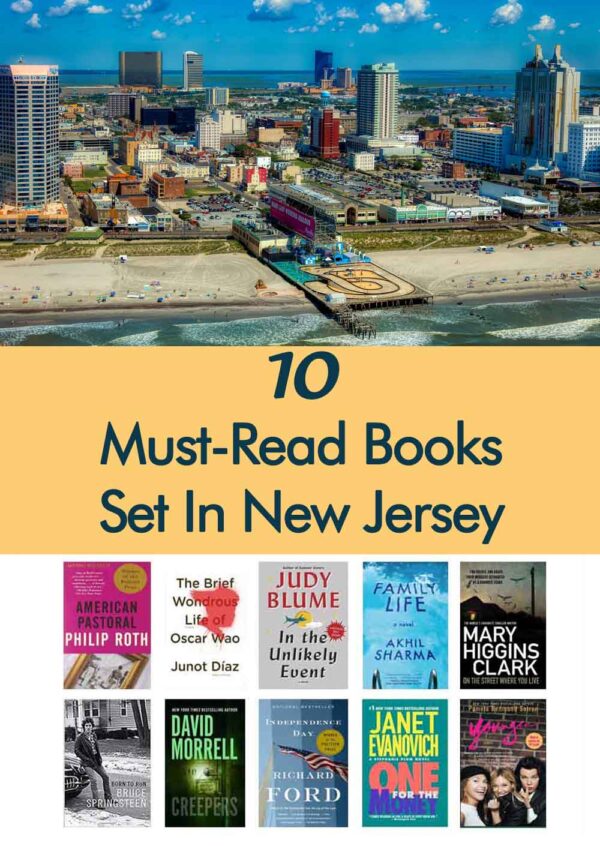 Travel to New Jersey, the Garden State, with these 10 must-read books set in New Jersey.
"Willa Cather's best known novel is an epic–almost mythic–story of a single human life lived simply in the silence of the southwestern desert. In 1851 Father Jean Marie Latour comes to serve as the Apostolic Vicar to New Mexico. What he finds is a vast territory of red hills and tortuous arroyos, American by law but Mexican and Indian in custom and belief. In the almost forty years that follow, Latour spreads his faith in the only way he knows–gently, all the while contending with an unforgiving landscape, derelict and sometimes openly rebellious priests, and his own loneliness. Out of these events, Cather gives us an indelible vision of life unfolding in a place where time itself seems suspended."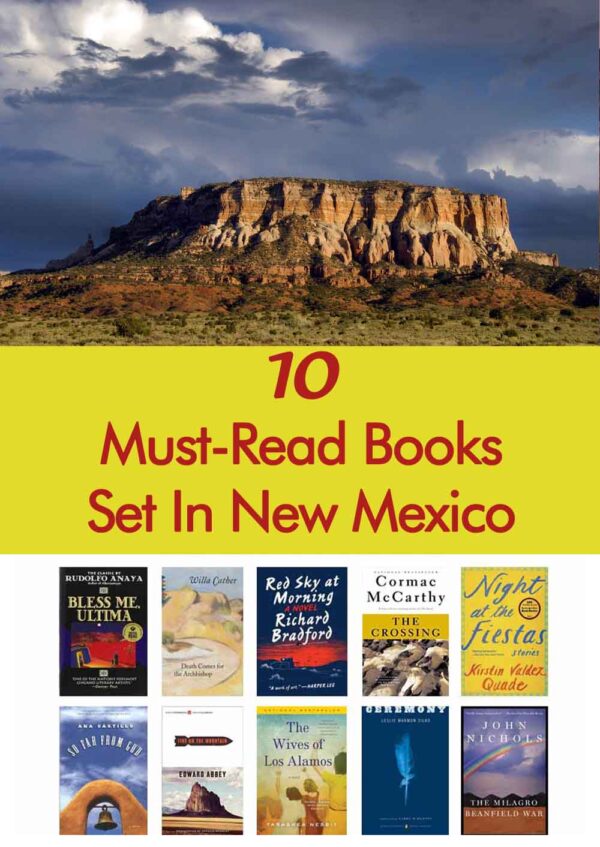 Travel to New Mexico, the Land of Enchantment, with these 10 must-read books set in New Mexico.
The most famous book set in New York:

The Great Gatsby

by F. Scott Fitzgerald
"Set in the Jazz Age on Long Island, the novel depicts narrator Nick Carraway's interactions with mysterious millionaire Jay Gatsby and Gatsby's obsession to reunite with his former lover, Daisy Buchanan."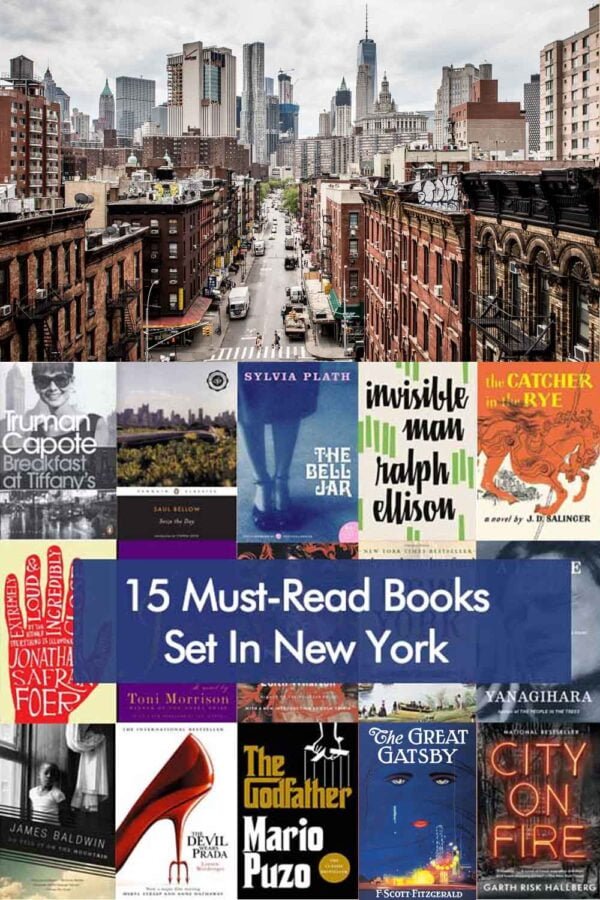 Visit New York, the Empire State, with these 15 must-read books set in New York.
The most famous book set in North Carolina:

The Notebook

 by Nicholas Sparks
"At thirty-one, Noah Calhoun, back in coastal North Carolina after World War II, is haunted by images of the girl he lost more than a decade earlier. At twenty-nine, socialite Allie Nelson is about to marry a wealthy lawyer, but she cannot stop thinking about the boy who long ago stole her heart. Thus begins the story of a love so enduring and deep it can turn tragedy into triumph, and may even have the power to create a miracle…"
Bonus: Most of Sparks' novels and stories are set in North Carolina, including Message in a Bottle, A Walk to Remember, and Nights in Rodanthe.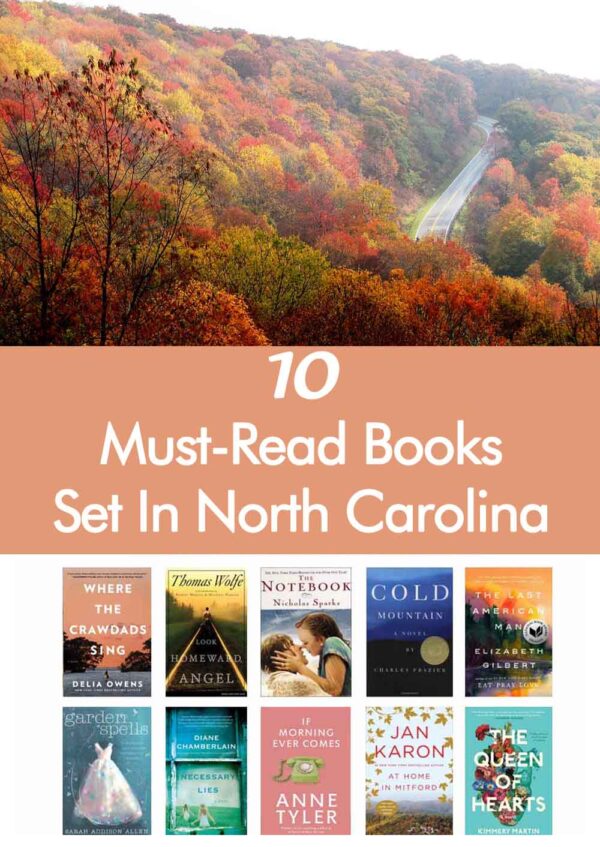 Travel to North Carolina, the Tar Heel State, with these 10 must-read books set in North Carolina.
The most famous book set in North Dakota: The Round House by Louise Erdrich
"One Sunday in the spring of 1988, a woman living on a reservation in North Dakota is attacked. The details of the crime are slow to surface because Geraldine Coutts is traumatized and reluctant to relive or reveal what happened, either to the police or to her husband, Bazil, and thirteen-year-old son, Joe. In one day, Joe's life is irrevocably transformed. He tries to heal his mother, but she will not leave her bed and slips into an abyss of solitude. Increasingly alone, Joe finds himself thrust prematurely into an adult world for which he is ill prepared.
"While his father, a tribal judge, endeavors to wrest justice from a situation that defies his efforts, Joe becomes frustrated with the official investigation and sets out with his trusted friends, Cappy, Zack, and Angus, to get some answers of his own. Their quest takes them first to the Round House, a sacred space and place of worship for the Ojibwe. And this is only the beginning."
Discover North Dakota, the Peace Garden State, with these 10 must-read books set in North Dakota.
The most famous book set in Ohio:

Winesburg, Ohio

 by Sherwood Anderson
"In this moving collection of interrelated stories, Ohio-born Sherwood Anderson (1876-1941) illuminates the loneliness and frustration — spiritual, emotional and artistic — of life in a small American town. Winesburg, Ohio subtly portrays as well a young writer's coming of age, searching for love, yearning for a less stifling world."
Travel to Ohio, the Buckeye State, with these 10 must-read books set in Ohio.
The most famous book set in Oklahoma: The Grapes of Wrath by John Steinbeck
"First published in 1939, Steinbeck's Pulitzer Prize-winning epic of the Great Depression chronicles the Dust Bowl migration of the 1930s and tells the story of one Oklahoma farm family, the Joads—driven from their homestead and forced to travel west to the promised land of California."
Visit Oklahoma, the Sooner State, with these 10 must-read books set in Oklahoma.
"In this classic novel, Ken Kesey's hero is Randle Patrick McMurphy, a boisterous, brawling, fun-loving rebel who swaggers into the world of a mental hospital and takes over. A lusty, life-affirming fighter, McMurphy rallies the other patients around him by challenging the dictatorship of Nurse Ratched. He promotes gambling in the ward, smuggles in wine and women, and openly defies the rules at every turn. But this defiance, which starts as a sport, soon develops into a grim struggle, an all-out war between two relentless opponents: Nurse Ratched, backed by the full power of authority, and McMurphy, who has only his own indomitable will. What happens when Nurse Ratched uses her ultimate weapon against McMurphy provides the story's shocking climax."
Bonus: Don't miss Kesey's Sometimes a Great Notion.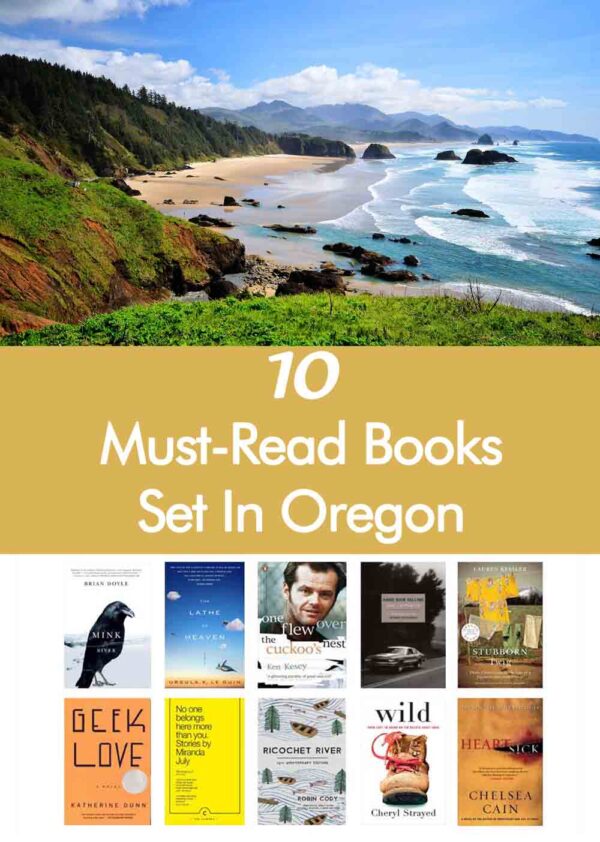 Travel to Oregon, the Beaver State, with these 10 must-read books set in Oregon.
The most famous book set in Pennsylvania: Rabbit, Run by John Updike
"Harry Angstrom was a star basketball player in high school and that was the best time of his life. Now in his mid-20s, his work is unfulfilling, his marriage is moribund, and he tries to find happiness with another woman. But happiness is more elusive than a medal, and Harry must continue to run–from his wife, his life, and from himself, until he reaches the end of the road and has to turn back…."
Don't miss the other books in the Rabbit series.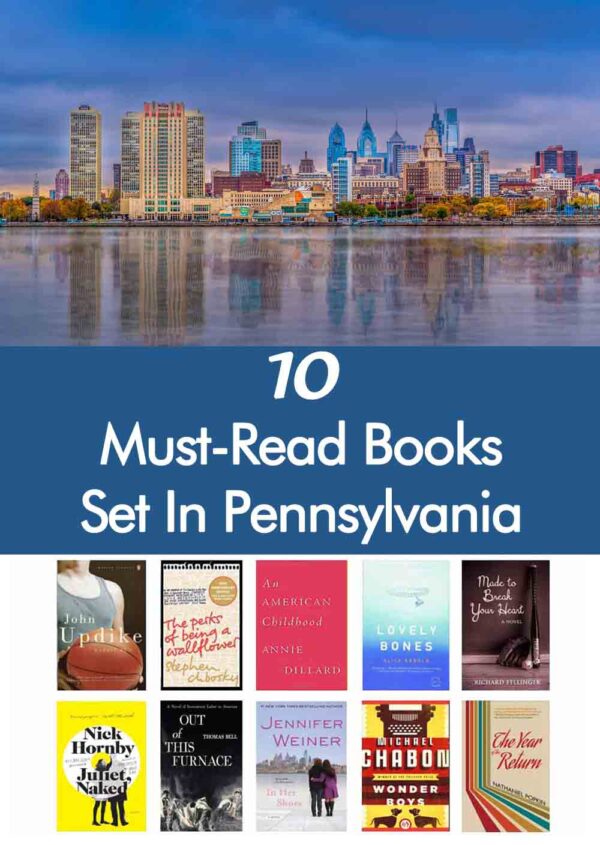 Travel to Pennsylvania, the Keystone State, with these 10 must-read books set in Pennsylvania.
The most famous book set in Rhode Island: The Witches of Eastwick by John Updike
"Toward the end of the Vietnam era, in a snug little Rhode Island seacoast town, wonderful powers have descended upon Alexandra, Jane, and Sukie, bewitching divorcées with sudden access to all that is female, fecund, and mysterious. Alexandra, a sculptor, summons thunderstorms; Jane, a cellist, floats on the air; and Sukie, the local gossip columnist, turns milk into cream. Their happy little coven takes on new, malignant life when a dark and moneyed stranger, Darryl Van Horne, refurbishes the long-derelict Lenox mansion and invites them in to play. Thenceforth scandal flits through the darkening, crooked streets of Eastwick—and through the even darker fantasies of the town's collective psyche."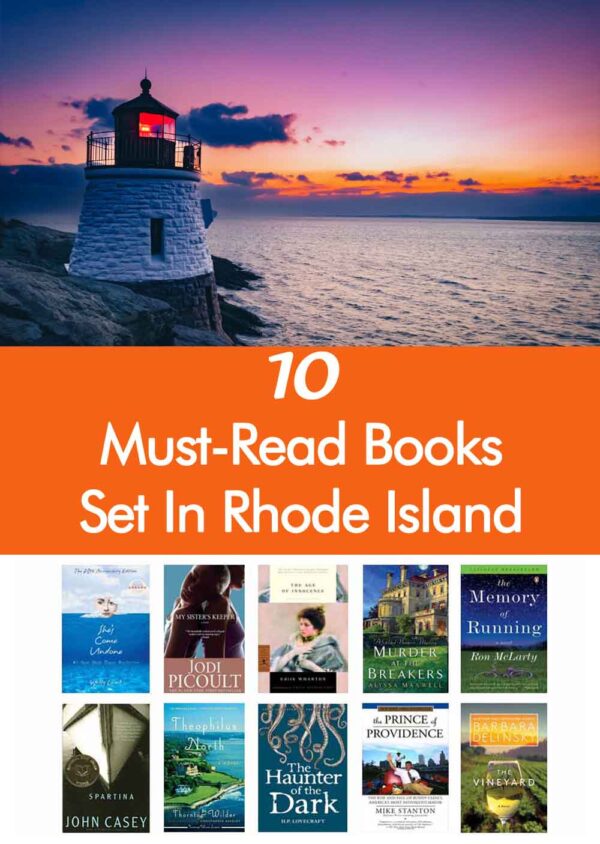 Visit Rhode Island, the Ocean State, with these 10 must-read books set in Rhode Island.
The most famous book set in South Carolina:

The Secret Life of Bees

 by Sue Monk Kidd
"Set in South Carolina in 1964, The Secret Life of Bees tells the story of Lily Owens, whose life has been shaped around the blurred memory of the afternoon her mother was killed. When Lily's fierce-hearted black "stand-in mother," Rosaleen, insults three of the deepest racists in town, Lily decides to spring them both free. They escape to Tiburon, South Carolina–a town that holds the secret to her mother's past. Taken in by an eccentric trio of black beekeeping sister, Lily is introduced to their mesmerizing world of bees and honey, and the Black Madonna. This is a remarkable novel about divine female power, a story that women will share and pass on to their daughters for years to come."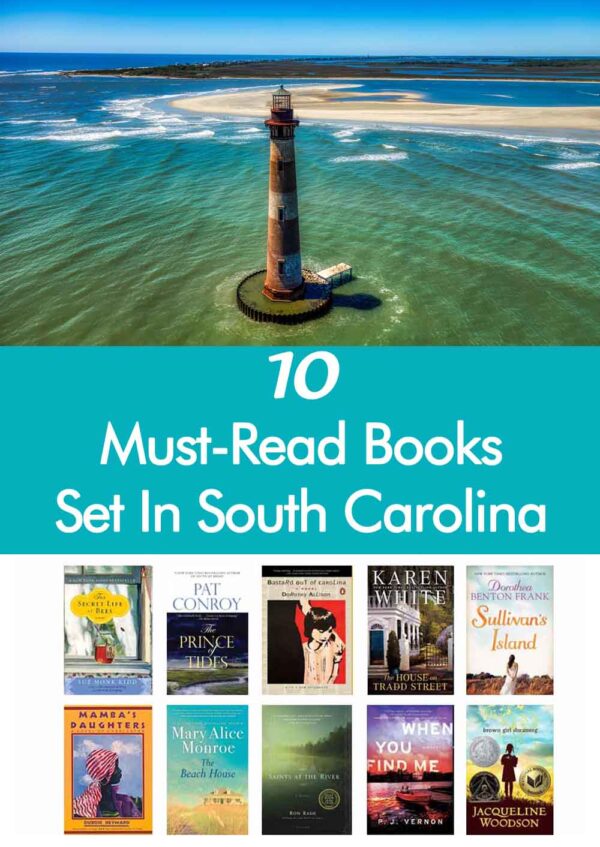 Travel to South Carolina, the Palmetto State, with these 10 must-read books set in South Carolina.
The most famous book set in South Dakota:

A Long Way From Home

 by Tom Brokaw
"From his parents' life in the Thirties, on to his boyhood along the Missouri River and on the prairies of South Dakota in the Forties, into his early journalism career in the Fifties and the tumultuous Sixties, up to the present, this personal story is a reflection on America in our time. Tom Brokaw writes about growing up and coming of age in the heartland, and of the family, the people, the culture and the values that shaped him then and still do today."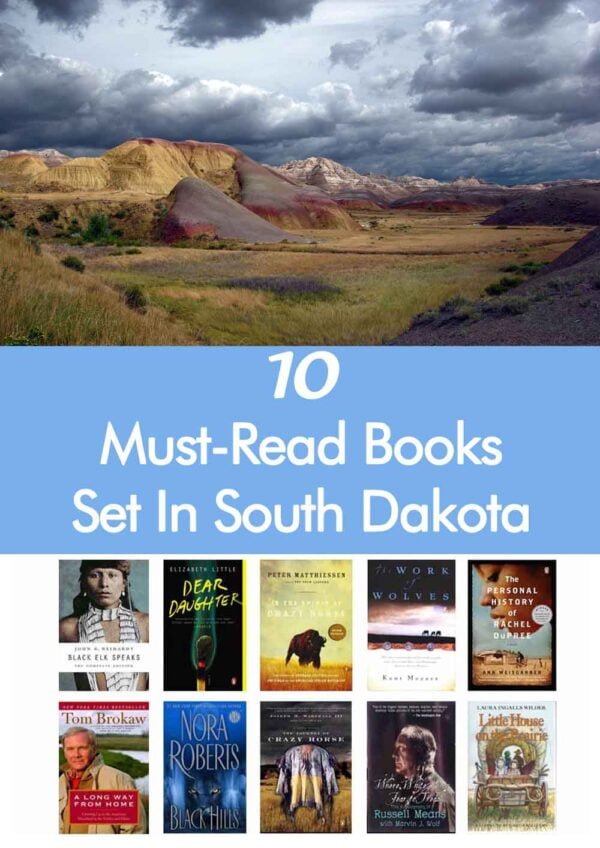 Learn about South Dakota, the Mount Rushmore State, with these 10 must-read books set in South Dakota.
The most famous book set in Tennessee:

Flight Behavior

 by Barbara Kingsolver
"Kingsolver's riveting story concerns a young wife and mother on a failing farm in rural Tennessee who experiences something she cannot explain, and how her discovery energizes various competing factions—religious leaders, climate scientists, environmentalists, politicians—trapping her in the center of the conflict and ultimately opening up her world. Flight Behavior is arguably Kingsolver's must thrilling and accessible novel to date, and like so many other of her acclaimed works, represents contemporary American fiction at its finest."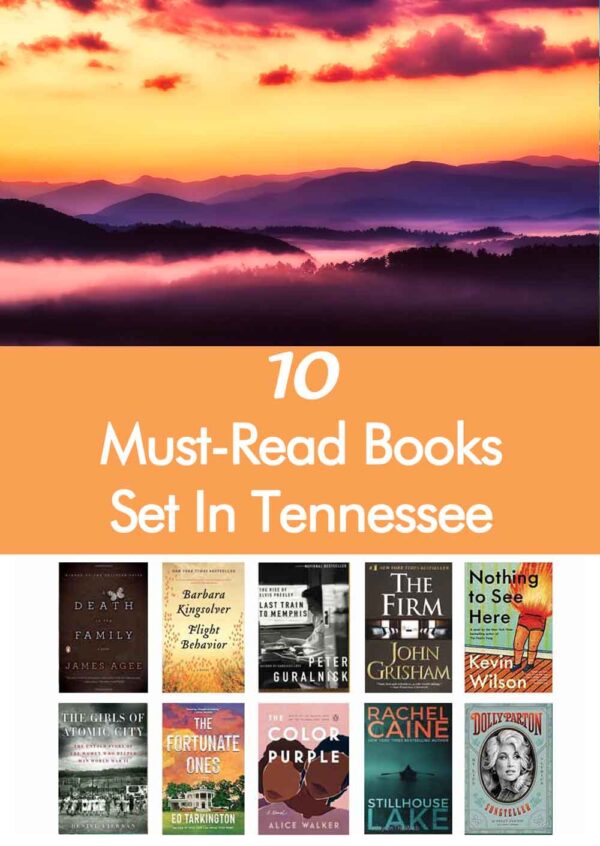 Travel to Tennessee, the Volunteer State, with these 10 must-read books set in Tennessee.
The most famous book set in Texas: The Last Picture Show by Larry McMurtry
"The Last Picture Show is both a rambunctious coming-of-age story and an elegy to a forlorn Texas town trying to keep its one movie house alive. Adapted into the Oscar-winning film, this masterpiece immortalizes the lives of the hardscrabble residents who are threatened by the inexorable forces of the modern world."
Bonus: Don't miss other McMurtry novels set in Texas including Lonesome Dove, Terms of Endearment, and Streets of Laredo.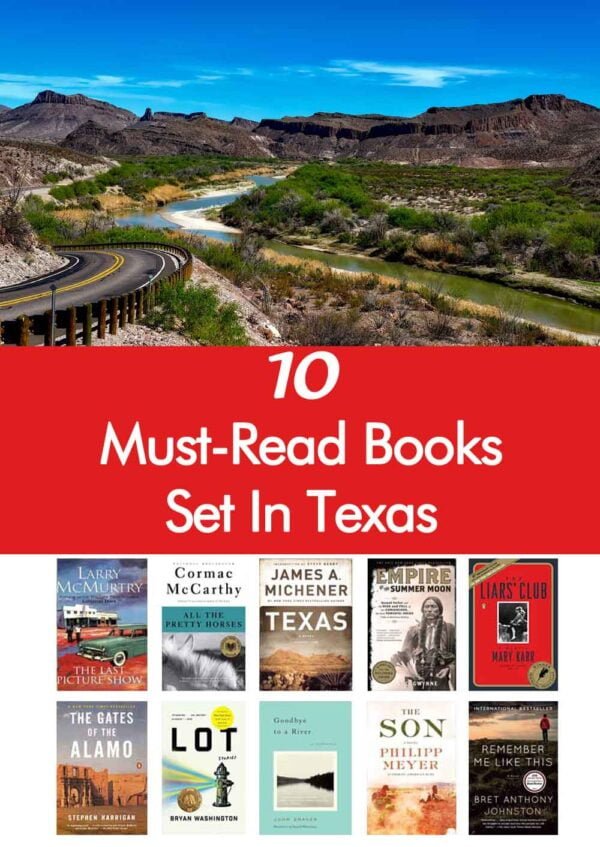 Take a trip to Texas, the Lone Star State, with these 10 must-read books set in Texas.
The most famous book set in Utah: The Executioner's Song by Norman Mailer
"Arguably the greatest book from America's most heroically ambitious writer, The Executioner's Song follows the short, blighted life of Gary Gilmore who became famous after he robbed two men in 1976 and killed them in cold blood. After being tried and convicted, he immediately insisted on being executed for his crime. To do so, he fought a system that seemed intent on keeping him alive long after it had sentenced him to death. And that fight for the right to die is what made him famous.
"Mailer tells not only Gilmore's story, but those of the men and women caught in the web of his life and drawn into his procession toward the firing squad. All with implacable authority, steely compassion, and a restraint that evokes the parched landscape and stern theology of Gilmore's Utah. The Executioner's Song is a trip down the wrong side of the tracks to the deepest source of American loneliness and violence. It is a towering achievement-impossible to put down, impossible to forget."
Visit Utah, the Beehive State, with these 10 must-read books set in Utah.
The most famous book set in Vermont: The Secret History by Donna Tartt
"Under the influence of their charismatic classics professor, a group of clever, eccentric misfits at an elite New England college discover a way of thinking and living that is a world away from the humdrum existence of their contemporaries. But when they go beyond the boundaries of normal morality their lives are changed profoundly and forever, and they discover how hard it can be to truly live and how easy it is to kill."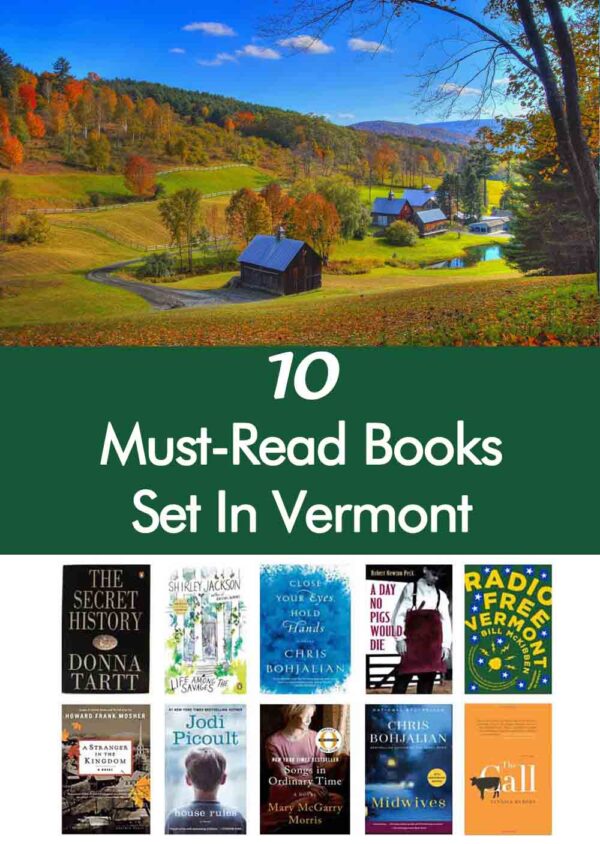 Travel to Vermont, the Green Mountain State, with these 10 must-read books set in Vermont.
The most famous book set in Virginia: Big Stone Gap series by Adriana Trigiani
"Millions of readers around the world have fallen in love with the small town of Big Stone Gap, nestled in the Blue Ridge Mountains of Virginia, and the story of its self-proclaimed spinster, Ave Maria Mulligan. In the series' enchanting debut, Ave Maria reaches her thirty-fifth year and resigns herself to the single life, filling her days with hard work, fun friends, and good books. Then, one fateful day, Ave Maria's past opens wide with the revelation of a long-buried secret that will alter the course of her life. Before she knows it, Ave Maria is fielding marriage proposals, trying to claim her rightful inheritance, and planning the trip of a lifetime to Italy—one that will change her view of the world and her own place in it forever."
Travel to Virginia, the Old Dominion, with these 10 must-read books set in Virginia.
The most famous book set in Washington State: Twilight Saga by Stephenie Meyer
"Twilight is a series of four vampire-themed fantasy romance novels by American author Stephenie Meyer. It charts a period in the life of Isabella 'Bella' Swan, a teenage girl who moves to Forks, Washington, and falls in love with a 104-year-old vampire named Edward Cullen. The series is told primarily from Bella's point of view, with the epilogue of Eclipse and Part II of Breaking Dawn being told from the viewpoint of character Jacob Black, a werewolf."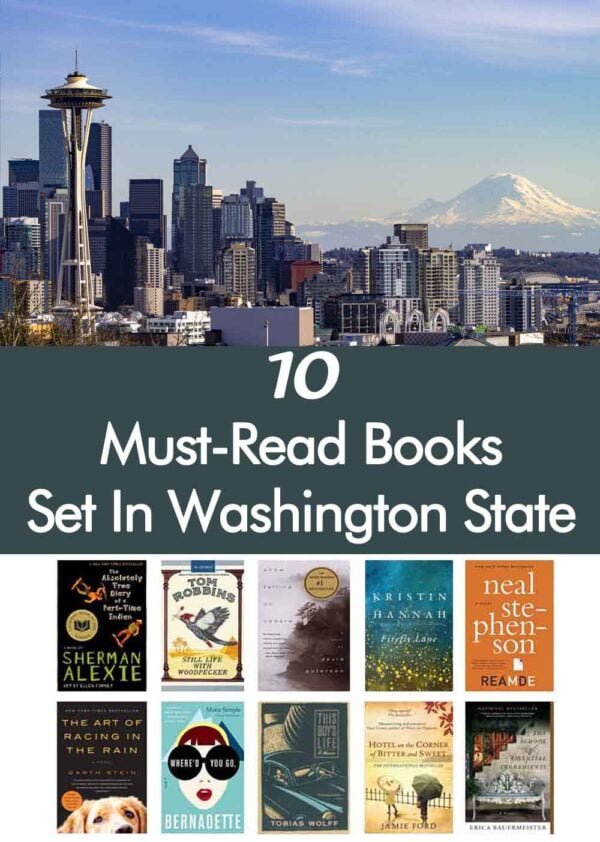 Take a trip to Washington State, the Evergreen State, with these 10 must-read books set in Washington State.
The most famous book set in West Virginia: Lee Maynard's 

Crum

 trilogy
"In Crum, a gritty coal town on the West Virginia-Kentucky border, the boys fight, swear, chase and sometimes catch girls. The adults are cramped in and clueless, hemmed in by the mountains. The weight of wonder, dejection, and even possibility loom over this tiny, suffocating town. This story is the tale of Jesse Stone, who doesn't know where he's going, but knows he is leaving, and whose rebellion against the people and the place of his childhood allows him to reject the comfort and familiarity of his home in search of his place in a larger world."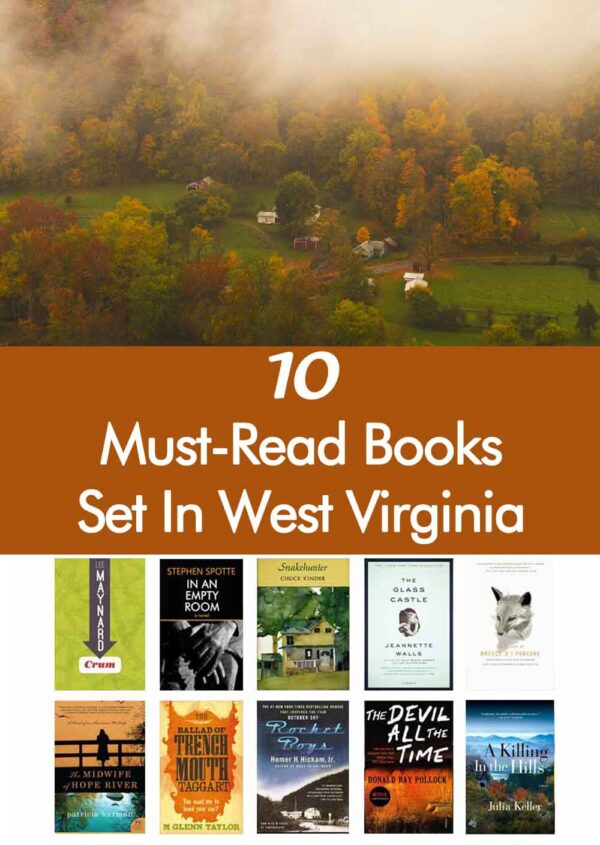 Travel to West Virginia, the Mountain State, with these 10 must-read books set in West Virginia.
The most famous book set in Wisconsin:

Little House in the Big Woods

 by Laura Ingalls Wilder
"Little House in the Big Woods takes place in 1871 and introduces us to four-year-old Laura, who lives in a log cabin on the edge of the Big Woods of Wisconsin. She shares the cabin with her Pa, her Ma, her sisters Mary and Carrie, and their lovable dog, Jack.
"Pioneer life isn't easy for the Ingalls family, since they must grow or catch all their own food as they get ready for the cold winter. But they make the best of every tough situation. They celebrate Christmas with homemade toys and treats, do their spring planting, bring in the harvest in the fall, and make their first trip into town. And every night, safe and warm in their little house, the sound of Pa's fiddle lulls Laura and her sisters into sleep."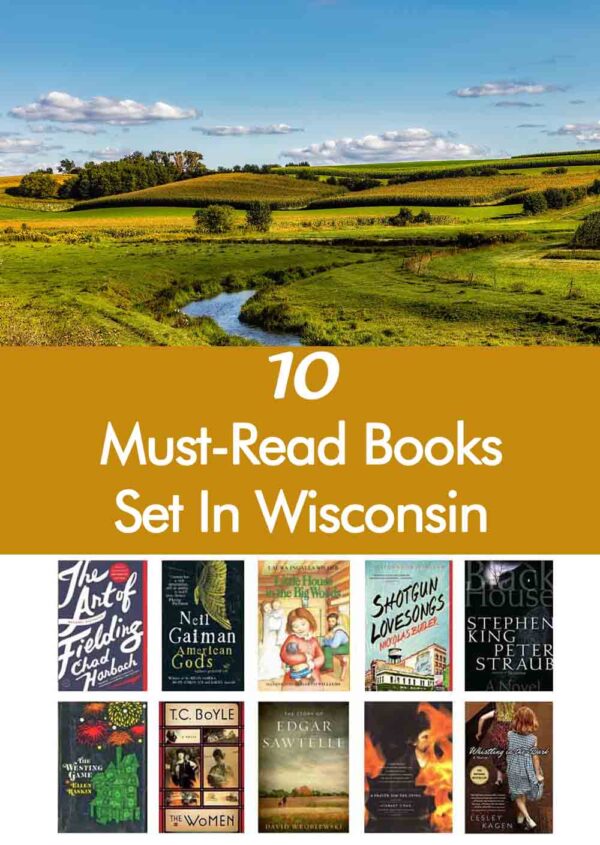 Visit Wisconsin, America's Dairyland and the Badger State, with these 10 must-read books set in Wisconsin.
"Annie Proulx's masterful language and fierce love of Wyoming are evident in this collection of stories about loneliness, quick violence, and wrong kinds of love. In 'The Mud Below,' a rodeo rider's obsession marks the deepening fissures between his family life and self-imposed isolation. In 'The Half-Skinned Steer,' an elderly fool drives west to the ranch he grew up on for his brother's funeral, and dies a mile from home. In 'Brokeback Mountain,' the difficult affair between two cowboys survives everything but the world's violent intolerance.
"These are stories of desperation, hard times, and unlikely elation, set in a landscape both brutal and magnificent. Enlivened by folk tales, flights of fancy, and details of ranch and rural work, they juxtapose Wyoming's traditional character and attitudes—confrontation of tough problems, prejudice, persistence in the face of difficulty—with the more benign values of the new west."
Travel to Wyoming, the Cowboy State, with these 10 must-read books set in Wyoming.
Receive top book recommendations directly in your inbox.
Try Audible Premium Plus and Get Up to Two Free Audiobooks
1 comment