Every student of International Relations should read these 5 must-read books on diplomacy.
"Over the course of more than three decades as an American diplomat, William J. Burns played a central role in the most consequential diplomatic episodes of his time—from the bloodless end of the Cold War to the collapse of post–Cold War relations with Putin's Russia, from post–9/11 tumult in the Middle East to the secret nuclear talks with Iran.
"In The Back Channel, Burns recounts, with novelistic detail and incisive analysis, some of the seminal moments of his career. Drawing on a trove of newly declassified cables and memos, he gives readers a rare inside look at American diplomacy in action. His dispatches from war-torn Chechnya and Qaddafi's bizarre camp in the Libyan desert and his warnings of the "Perfect Storm" that would be unleashed by the Iraq War will reshape our understanding of history—and inform the policy debates of the future. Burns sketches the contours of effective American leadership in a world that resembles neither the zero-sum Cold War contest of his early years as a diplomat nor the "unipolar moment" of American primacy that followed.
"Ultimately, The Back Channel is an eloquent, deeply informed, and timely story of a life spent in service of American interests abroad. It is also a powerful reminder, in a time of great turmoil, of the enduring importance of diplomacy."
"As the initial US observer, David Rawson participated in the 1993 Rwandan peace talks at Arusha, Tanzania. Later, he served as US ambassador to Rwanda during the last months of the doomed effort to make them hold. Despite the intervention of concerned states in establishing a peace process and the presence of an international mission, UNAMIR, the promise of the Arusha Peace Accords could not be realized. Instead, the downing of Rwandan president Habyarimana's plane in April 1994 rekindled the civil war and opened the door to genocide.
"In Prelude to Genocide, Rawson draws on declassified documents and his own experiences to seek out what went wrong. How did the course of political negotiations in Arusha and party wrangling in Kigali, Rwanda, bring to naught a concentrated international effort to establish peace? And what lessons are there for other international humanitarian interventions? The result is a commanding blend of diplomatic history and analysis that is a milestone read on the Rwandan crisis and on what happens when conflict resolution and diplomacy fall short."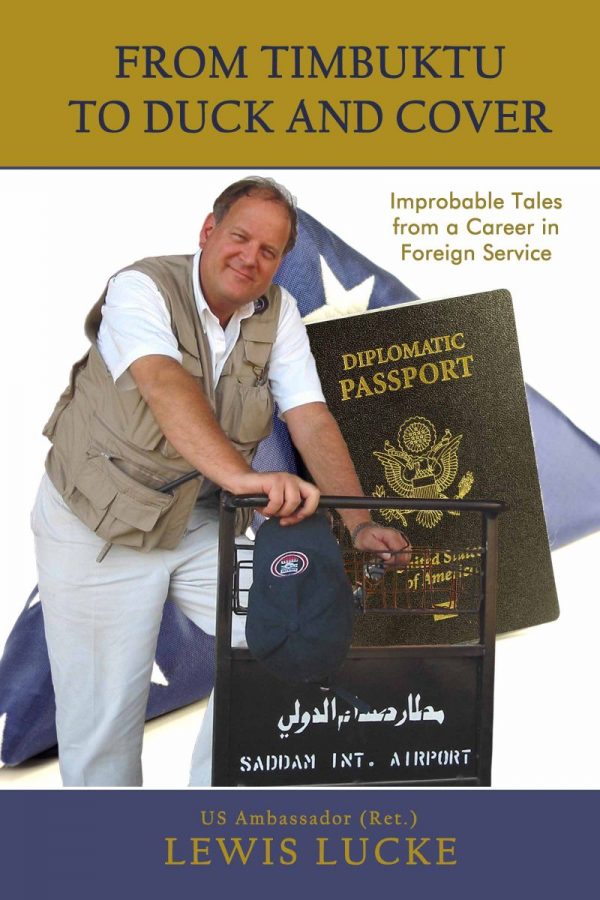 "While spending thirty years overseas in the US Foreign Service, and living in eleven countries and working in many more, Ambassador Lucke accumulated many stories that would never have happened 'at home.' His work took him to Timbuktu (twice), to places in West Africa where kids ran away in fear at their first glimpse of a person with white skin, to the scary run up to Gulf War I in North Africa, to the jungles of Bolivia and Lake Titicaca in the Andes, the fall of Communism in the old Czechoslovakia, biblical sites of Jerusalem, the passing of King Hussein in Jordan, to interaction with a few US Presidents and many members of Congress. He was thrust into the aftermath of the Haiti earthquake, deployed into the war zone of Iraq, and finally served as US Ambassador to the last absolute monarchy in Africa. His take on a thirty-year career abroad: 'It was never boring.'"
"Christopher Hill was on the front lines in the Balkans at the breakup of Yugoslavia. He participated in one-on-one meetings with the dictator Milosevic and traveled to Bosnia and Kosovo, and to the Dayton conference, where a truce was arrived at. He was the first American Ambassador to Macedonia; Ambassador to Poland, in the cold war; chief disarmament negotiator in North Korea; and Hillary Clinton's hand-picked Ambassador to Iraq.
"Outpost is Hill's "lively, entertaining…introduction to the difficult game of diplomacy" (The Washington Post)—an adventure story of danger, loss of comrades, high stakes negotiations, and imperfect options. There are fascinating portraits of war criminals (Mladic, Karadzic), of presidents (Bush, Clinton, and Obama), of vice presidents including Dick Cheney, of Secretaries of State Madeleine Albright and Hillary Clinton and Secretary of Defense Robert Gates, and of Ambassadors Richard Holbrooke and Lawrence Eagleburger, among others. Hill writes bluntly about the bureaucratic warfare in DC and expresses strong criticism of America's aggressive interventions and wars of choice."
"From 1798 to 1801, during the Haitian Revolution, President John Adams and Toussaint Louverture forged diplomatic relations that empowered white Americans to embrace freedom and independence for people of color in Saint-Domingue. The United States supported the Dominguan revolutionaries with economic assistance and arms and munitions; the conflict was also the U.S. Navy's first military action on behalf of a foreign ally. This cross-cultural cooperation was of immense and strategic importance as it helped to bring forth a new nation: Haiti.
"Diplomacy in Black and White is the first book on the Adams-Louverture alliance. Historian and former diplomat Ronald Angelo Johnson details the aspirations of the Americans and Dominguans―two revolutionary peoples―and how they played significant roles in a hostile Atlantic world. Remarkably, leaders of both governments established multiracial relationships amid environments dominated by slavery and racial hierarchy. And though U.S.-Dominguan diplomacy did not end slavery in the United States, it altered Atlantic world discussions of slavery and race well into the twentieth century.
"Diplomacy in Black and White reflects the capacity of leaders from disparate backgrounds to negotiate political and societal constraints to make lives better for the groups they represent. Adams and Louverture brought their peoples to the threshold of a lasting transracial relationship. And their shared history reveals the impact of decisions made by powerful people at pivotal moments. But in the end, a permanent alliance failed to emerge, and instead, the two republics born of revolution took divergent paths."
Receive top book recommendations directly in your inbox.