These beautiful home libraries are full of inspiring home library decor ideas. Painted with vibrant colors or ultra chic creams and whites, drenched in natural sunlight or sequestered in cavernous nooks, filled with super comfy reading chairs and sofas, library ladders, leafy green plants, framed art, and of course vast collections of books, these amazing home libraries will inspire you to create your own dream home library.
14 Beautiful Home Libraries
1. Timeless Elegance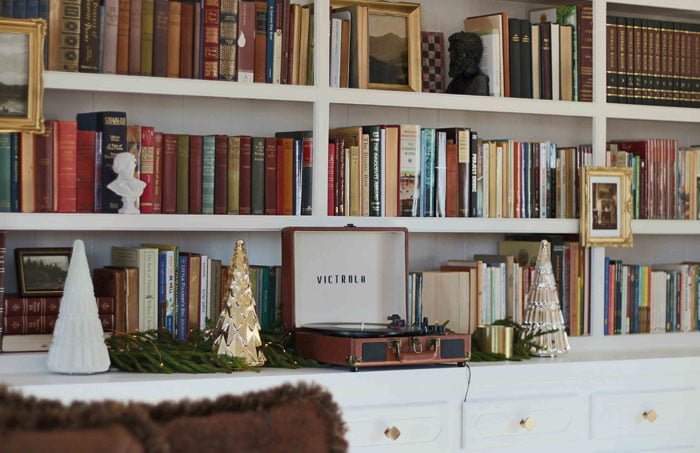 Books plus music plus art equals a timelessly elegant home library. Miniature busts, framed art, a seasonal display, and a Victrola record player accessorize this beautiful bone white wall-to-wall bookcase that contains approximately 1,000 books.
Shop the look
2. Monochromatic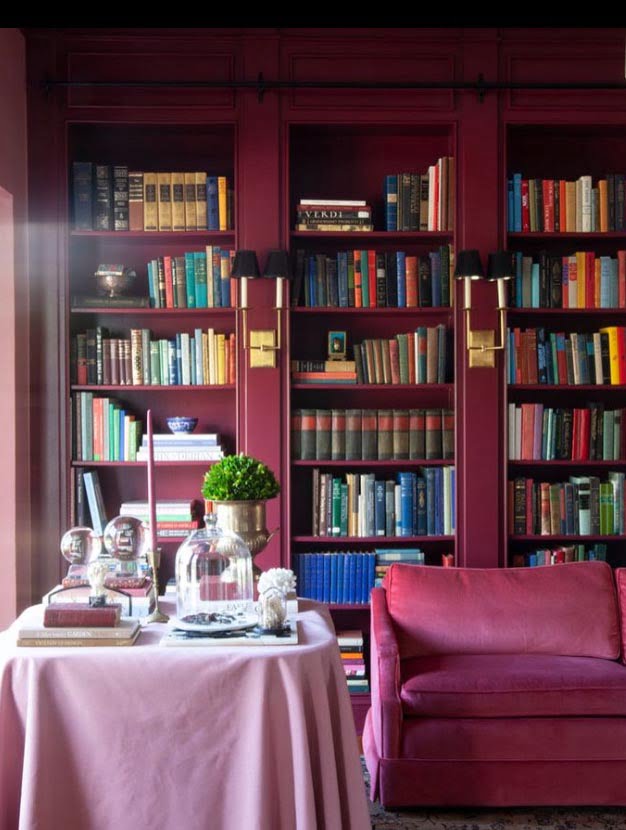 This luxurious and contemporary built-in home library pops with color in different shades of red and features a one-of-a-kind watermelon sofa.
Shop the look
3. Light and Bright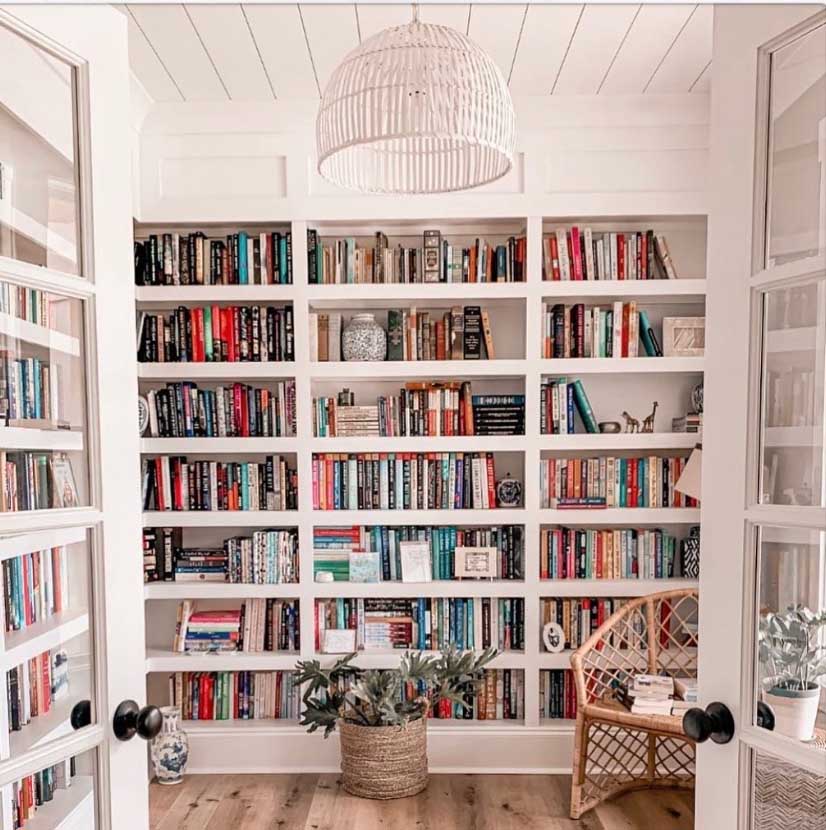 Rules for Dating a Bookshop Owner author and Porter Co. Book Shoppe owner S. C. Gray's home library exudes freshness, lightness, and brightness accessorized with decorative vases, wicker furnishings, and potted plants.
Shop the look
4. Purple Mood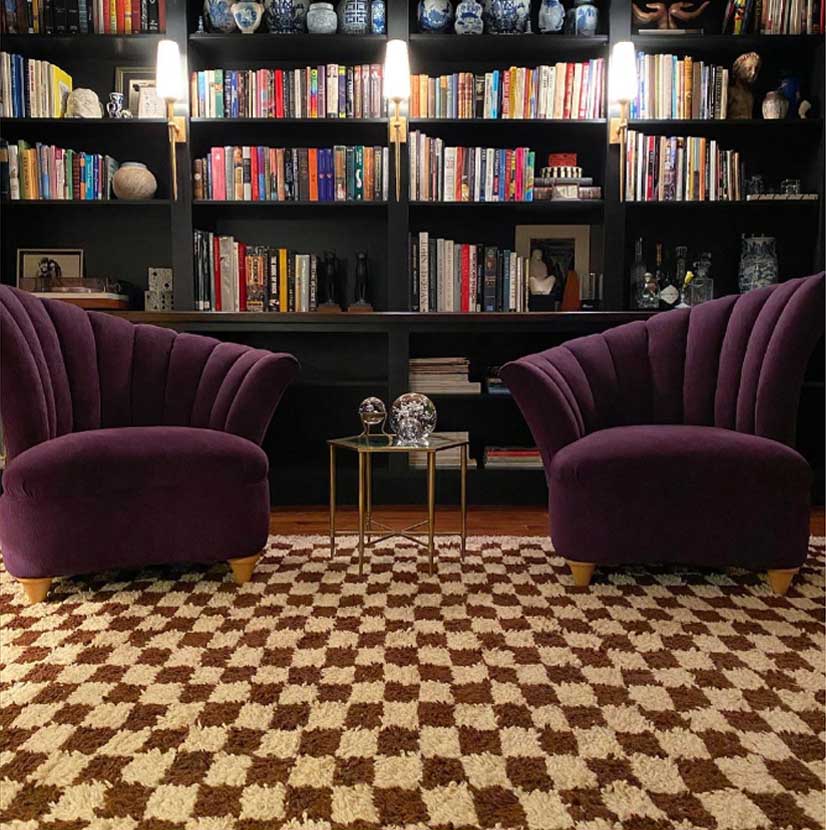 This home library is a mood and we love it from the white and brown checkboard rug to the all black wall-to-wall bookshelves to the the matching scalloped asymmetrical purple lounge chairs.
Shop the look
5. Paper Tower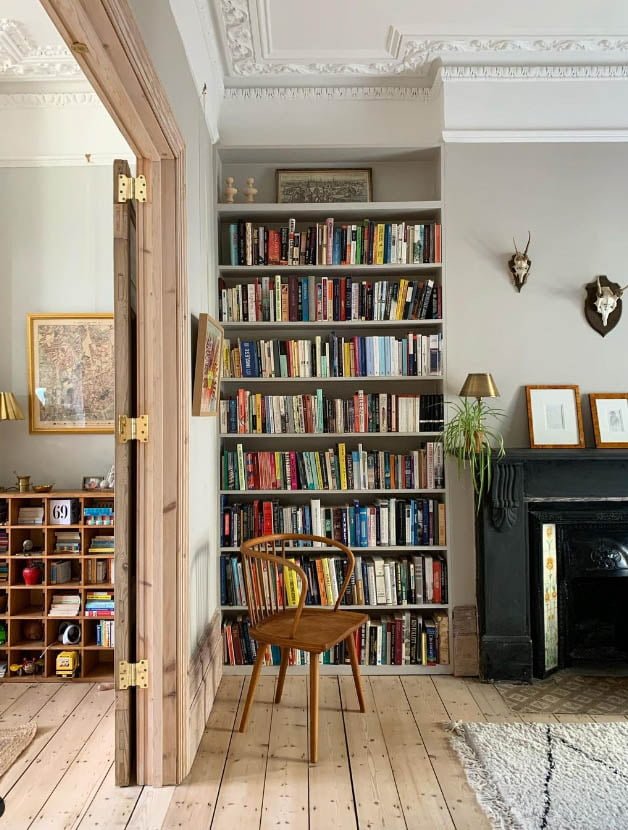 Forget the ivory tower, we'll spend time gazing at this paper tower. This floor-to-ceiling walled-in vertical bookcase leads the eye to the room's beautiful moulded ceiling. The all-black fireplace adds a different block of color to the room, the brass fixtures add shine, and the rough wood floors bring charm.
Shop the look
6. Color-Coded Nook
"With the help of a good friend, my husband bought salvaged wood, cut the planks, sanded and painted each one before attaching each shelf to the three walls. They are made to measure – literally," explains Amy Foster, owner of this custom built color-coded home library nook and author of When Autumn Leaves, The Rift Uprising, The Rift Frequency and The Rift Coda. "It was, much to my husband's dismay, my idea to color co-ordinate the books. I cared very much about how the space looked. He wanted the shelves to be sectioned according to category – like a bookstore. He also tried to get me to go for an alphabetized by author option. I was determined. I know how incredible it would look and feel to be surrounded by a rainbow of books. Luckily, he didn't put up much of a fight – likely because he was too exhausted from building the shelves…Every time someone walks into our home, our guests want to sit in that little nook. It's cozy and perfect on rainy days and sunny days alike."
Shop the look
7. Sophisticated Circles
No hard edges here, this home library honors circles and curves from floor to ceiling starting from the kidney-shaped rug and round white marble coffee table all the way up to the paper lantern and moulded ceiling.
Shop the look
8. French Cottage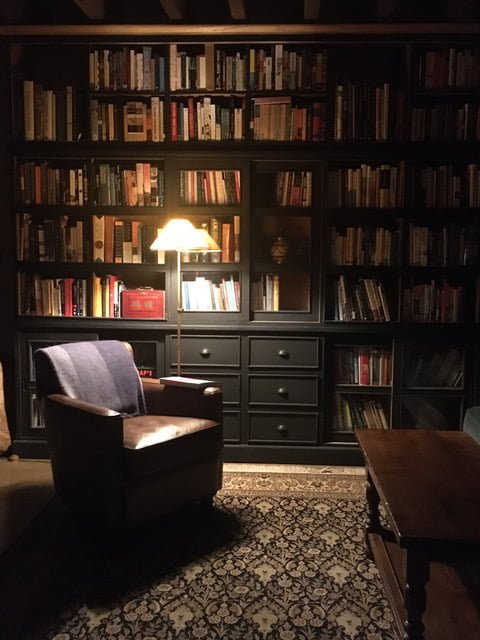 "Last year we moved from a large eighteenth century house with classic built-in library shelves into a small stone cottage with nothing of the sort," explains Nancy Wilson, owner of this cozy home library in France. "Most of our books lived in cardboard boxes piled high behind our bed for nine months. We didn't know exactly where to put them. Building shelves was an option but with all the other tasks to be done, was not high on our list of priorities. We decided to try to find the right piece ready-made. It used to be that there were furniture stores where one could look for such items, but those seem hard to find these days, especially in the deep countryside of Burgundy, where we have moved. While browsing Pinterest, I found a large bibliothéque for sale. It was exactly the right height and length to fill the back wall of our living room. It was made of inexpensive exotic wood but it was handsome and seemed just the thing to fill the space. My husband had always wanted a nice leather chair so we found that on line as well."
Shop the look
9. A Moveable Feast
Would you care for a splash of The Grapes of Wrath? We love this idea of a home library set in a dining room and imagine plates of delicious food paired with equally delicious literature.
Shop the look
10. Raise High The Roof Beam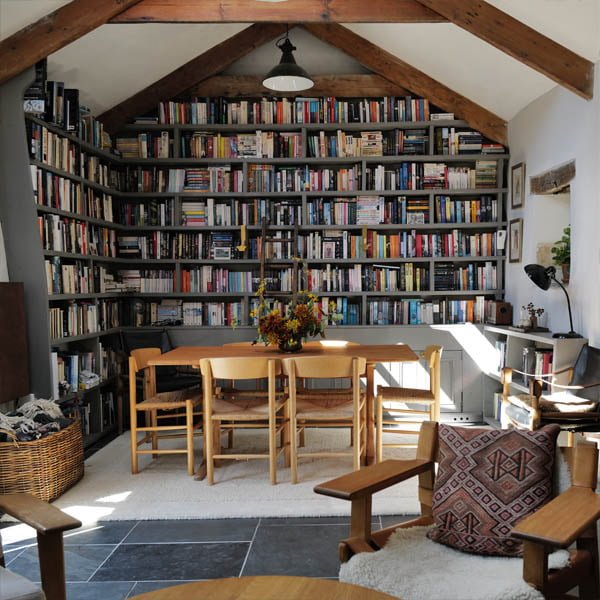 This wooden-beamed, pitched-ceiling home library looks like the perfect place to read, reflect, and relax.
Shop the look
11. Edwardian Charm
Columns and arches, a deep-seated green sofa and patterned throw pillows, leafy green plants, and a library ladder make this home library more than swoonworthy.
Shop the look
12. Scandinavian Svelte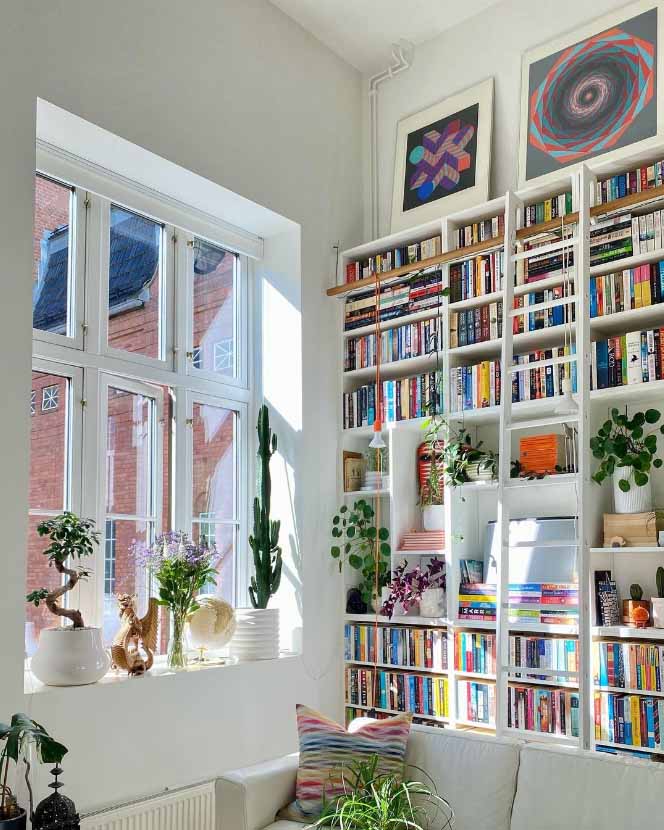 Cold Nordic winters warm up with expertly placed books, plants, pillows, and colorful works of art juxtaposed to bone white walls, a library ladder, and sofa.
Shop the look
13. Vintage Penguin Paperback Palace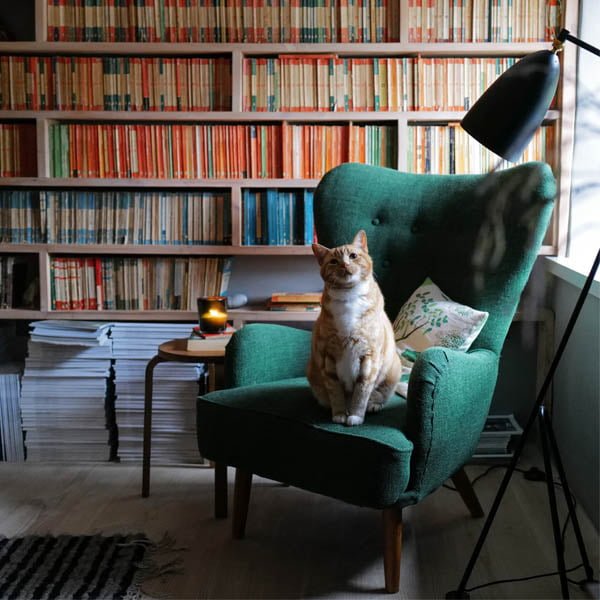 The chair, the cat, the candle, the vintage Penguin paperbacks! We could spend an afternoon (or an entire year) here.
Shop the look
14. Gold-Domed Bibliothèque
Even smaller library collections shine with sophistication and elegance with the right furnishing and accessories, like the gold-domed light fixture shown above.
Shop the look
Visit our Reading Essentials section to discover the best bookshelves, reading chairs, book lights for reading at night, and more!
Receive top book recommendations directly in your inbox.