These 10 of the best literary quotes about art will inspire you to visit your local art museum or create a piece of art yourself. Book lovers and art lovers will appreciate these best literary quotes about art.
10 Of The Best Literary Quotes About Art
1.
"Eleanor was right. She never looked nice. She looked like art, and art wasn't supposed to look nice; it was supposed to make you feel something."―Rainbow Rowell, Eleanor & Park

2.
"The most beautiful experience we can have is the mysterious. It is the fundamental emotion that stands at the cradle of true art and true science."―Albert Einstein, The World As I See It

3.
"The arts are not a way to make a living. They are a very human way of making life more bearable. Practicing an art, no matter how well or badly, is a way to make your soul grow, for heaven's sake. Sing in the shower. Dance to the radio. Tell stories. Write a poem to a friend, even a lousy poem. Do it as well as you possible can. You will get an enormous reward. You will have created something."―Kurt Vonnegut, A Man Without a Country

4.
"Art enables us to find ourselves and lose ourselves at the same time."―Thomas Merton, No Man Is an Island

5.
"Art is the only serious thing in the world. And the artist is the only person who is never serious."―Oscar Wilde

6.
"Any fool can be happy. It takes a man with real heart to make beauty out of the stuff that makes us weep."―Clive Barker, Abarat: Days of Magic, Nights of War

7.
"If you ask me what I came to do in this world, I, an artist, will answer you: I am here to live out loud."―Émile Zola

8.
"One ought, every day at least, to hear a little song, read a good poem, see a fine picture, and, if it were possible, to speak a few reasonable words."―Johann Wolfgang von Goethe, Wilhelm Meister's Apprenticeship

9.
"Art and love are the same thing: It's the process of seeing yourself in things that are not you."―Chuck Klosterman, Killing Yourself to Live: 85% of a True Story

10.
"Art is not what you see, but what you make others see."―Edgar Degas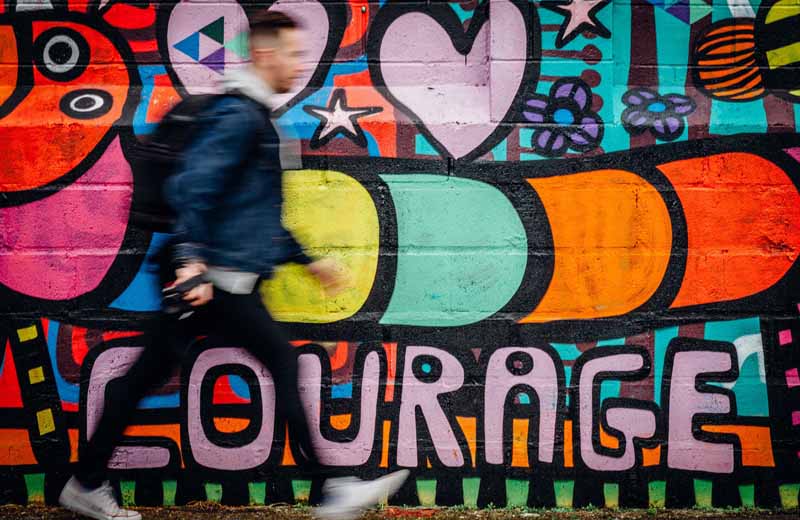 Related: The Best Literary Quotes About Music and 10 Of The Best Literary Quotes About Dancing
Receive top book recommendations directly in your inbox.
Visit our Reading Essentials section to discover the best bookshelves, reading chairs, book lights for reading at night, and more!
Try Audible Premium Plus and Get Up to Two Free Audiobooks