These 10 must-read books set on a lake will transport you to small lakeside towns, summer lake resorts, and remote lakeside home and cabins all with buried secrets ready to resurface. Dive into these books that take place on a lake.
1.

The Lake

by Natasha Preston
"Esme and Kayla once were campers at Camp Pine Lake. Now they're back as counselors-in-training. Esme loves the little girls in her cabin and thinks it's funny how scared they are of everything—the woods, the bugs, the boys…even swimming in the lake. It reminds her of how she and Kayla used to be. Before…
"Because Esme and Kayla did something terrible when they were campers. Something they've kept a secret all these years. They vow that this summer will be awesome. Two months of sun, s'mores, and flirting with the cute boy counselors. But then they get a message:
"THE LAKE NEVER FORGETS.
The secret they've kept buried for so many years is about to resurface."
"This riveting novel of love and mystery from the author of The Things They Carried examines the lasting impact of the twentieth century's legacy of violence and warfare, both at home and abroad. When long-hidden secrets about the atrocities he committed in Vietnam come to light, a candidate for the U.S. Senate retreats with his wife to a lakeside cabin in northern Minnesota. Within days of their arrival, his wife mysteriously vanishes into the watery wilderness."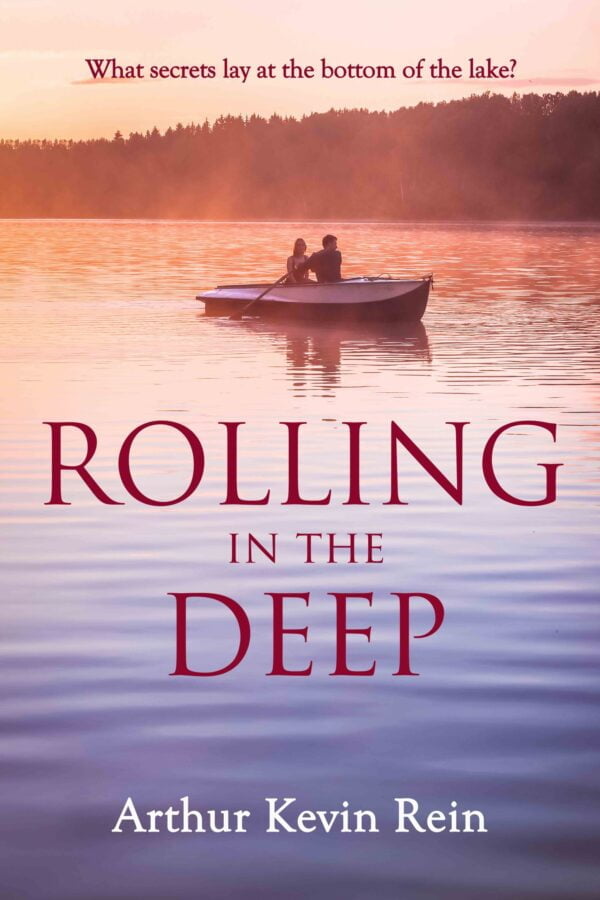 "Seventeen-year-old Sam Robel knows about loss. After the death of his older brother, his family bought Noquebay Resort in Northern Wisconsin to escape their grief.
"Sam's friends Max and Diane also know about loss. Max's mother died long ago and his father's mysterious wealth and trophy wife are the talk of Walnut Creek; and six years ago, Diane's sister Jean disappeared without a trace.
"One day while fishing with Max, Sam's line snags something from the bottom of Red Wolf Lake, and the discovery sets off a series of events that not only involves the three teenagers but also their friends and families, the sheriff's department, the other citizens of Walnut Creek, and, last but not least, a ruthlessly powerful small-town family, the Manticores, who seem intent on taking Noquebay Resort from Sam's family, no matter what the cost.
"How far will Sam and his friends go to discover what secrets lay at the bottom of the lake?"
"Gina Royal is the definition of average―a shy Midwestern housewife with a happy marriage and two adorable children. But when a car accident reveals her husband's secret life as a serial killer, she must remake herself as Gwen Proctor―the ultimate warrior mom.
"With her ex now in prison, Gwen has finally found refuge in a new home on remote Stillhouse Lake. Though still the target of stalkers and Internet trolls who think she had something to do with her husband's crimes, Gwen dares to think her kids can finally grow up in peace.
"But just when she's starting to feel at ease in her new identity, a body turns up in the lake―and threatening letters start arriving from an all-too-familiar address. Gwen Proctor must keep friends close and enemies at bay to avoid being exposed―or watch her kids fall victim to a killer who takes pleasure in tormenting her. One thing is certain: she's learned how to fight evil. And she'll never stop."
"Some places seem too beautiful to be touched by horror. Summit Lake, nestled in North Carolina's Blue Ridge Mountains, is that kind of place. But two weeks ago, Becca Eckersley, a first-year law student and daughter of a powerful attorney, was brutally murdered there. Now the town is reeling with grief, and the police are baffled.
"At first, investigative reporter Kelsey Castle thinks of the assignment as a fluff piece. But the savagery of the crime, and the efforts to keep it quiet, hint at something far more sinister than a random attack by a stranger. As Kelsey digs deeper, despite danger and warnings, she feels a growing connection to the dead girl. And the more she learns about Becca's friendships, her love life—and her secrets—the more convinced she becomes that walking in Becca's footsteps could lead her out of her own dark past…"
"Situated on a peaceful lake in the prettiest part of the North Georgia mountains, Sutherland seems like a nice town, warm and quiet. The kind of place where families know their neighbors and children can grow up safe. The perfect sanctuary for John Howell, a former investigative journalist trying to escape from his past. But Sutherland harbors a dark evil, hidden deep within the lake's waters.
"Soon, whispered rumors of greed, lust, and, corruption reach Howell, who begins to dig into the history of Sutherland. But someone doesn't want Howell to uncover the truth of what lies beneath the lake, and will stop at nothing to silence him…"
"After torrential summer rains uncover a bizarrely tattooed body on a Lake District hillside, long discarded old wives' tales takes on a chilling new plausibility. For centuries, Lakelanders have whispered that Fletcher Christian staged the massacre on Pitcairn so that he could return home. And there, he told his story to an old friend and schoolmate, William Wordsworth, who turned it into a long narrative poem–a poem that remained hidden lest it expose Wordsworth to the gallows for harboring a fugitive. Wordsworth specialist Jane Gresham, herself a native of the Lake District, feels compelled to discover once and for all whether the manuscript ever existed–and whether it still exists today. But as she pursues each new lead, death follows hard on her heels. Suddenly Jane is at the heart of a 200-year-old mystery that still has the power to put lives on the line. Against the dramatic backdrop of England's Lake District a drama of life and death plays out, its ultimate prize a bounty worth millions."
8.

Surfacing

by Margaret Atwood
"Accompanied by her boyfriend and a young married couple, the artist searches her abandoned childhood home for clues her parents may have left. But in the disorienting, transformative isolation of the wilderness, her friends' marriage begins to crumble, sex becomes a catalyst for conflict, and violence and death lurk just beneath the surface. As her relentless probing leads to an electrifying confrontation with her own suppressed secrets, she rapidly descends into what could be either madness or the starkest self-knowledge."
"What happened to Amanda Holmes?
"Twenty years ago, she was found bludgeoned in a rowboat at the MacAllister family's Camp Macaw. No one was ever charged with the crime.
"Now, after their parents' sudden deaths, the MacAllister siblings return to camp to read the will and decide what to do with the prime real estate the camp occupies. Ryan needs to sell. Margaux hasn't made up her mind. Mary believes in leaving well enough alone. Kate and Liddie—the twins—have opposing views. And Sean Booth, the groundskeeper, just hopes he still has a home when all is said and done.
"But it's more complicated than a simple vote. The will stipulates that until they unravel the mystery of what happened to Amanda, they can't settle the estate. Any one of them could have done it, and each one is holding a piece of the puzzle. Will they work together to finally discover the truth, or will their secrets finally tear the family apart?"
"Twenty years ago, Jane Hudson fled the Heart Lake School for Girls in the Adirondacks after a terrible tragedy. The week before her graduation, in that sheltered wonderland, three lives were taken, all victims of suicide. Only Jane was left to carry the burden of a mystery that has stayed hidden in the depths of Heart Lake for more than two decades. Now Jane has returned to the school as a Latin teacher, recently separated and hoping to make a fresh start with her young daughter. But ominous messages from the past dredge up forgotten memories. And young, troubled girls are beginning to die again–as piece by piece the shattering truth slowly floats to the surface. . . ."
Save on books with our weekly book deals.
Receive top book recommendations directly in your inbox.