These 10 must-read books set in Washington State feature bestselling books in, around, and near Seattle, Puget Sound, the Spokane Indian Reservation, and other cities and towns in the Pacific Northwest, and go beyond the well-known Twilight and Fifty Shades of Grey series. Visit the Evergreen State with these books that take place in Washington State.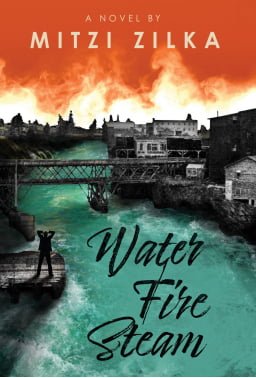 Based on a true story from the author's own family history set in Spokane Falls, Washington, Water Fire Steam is a story of forgiveness and redemption for anyone who has ever had to claw their way back from an unwarranted accusation.
---
"Bestselling author Sherman Alexie tells the story of Junior, a budding cartoonist growing up on the Spokane Indian Reservation. Determined to take his future into his own hands, Junior leaves his troubled school on the rez to attend an all-white farm town high school where the only other Indian is the school mascot."
Bonus: Don't miss Alexie's Indian Killer and The Lone Ranger and Tonto Fistfight in Heaven.
"Still Life with Woodpecker is a sort of a love story that takes place inside a pack of Camel cigarettes. It reveals the purpose of the moon, explains the difference between criminals and outlaws, examines the conflict between social activism and romantic individualism, and paints a portrait of contemporary society that includes powerful Arabs, exiled royalty, and pregnant cheerleaders. It also deals with the problem of redheads."
Bonus: Don't miss Robbins' Half Asleep in Frog Pajamas, Jitterbug Perfume, Another Roadside Attraction, and Fierce Invalids Home from Hot Climates.
"San Piedro Island, north of Puget Sound, is a place so isolated that no one who lives there can afford to make enemies. But in 1954 a local fisherman is found suspiciously drowned, and a Japanese American named Kabuo Miyamoto is charged with his murder.
"In the course of the ensuing trial, it becomes clear that what is at stake is more than a man's guilt. For on San Pedro, memory grows as thickly as cedar trees and the fields of ripe strawberries—memories of a charmed love affair between a white boy and the Japanese girl who grew up to become Kabuo's wife; memories of land desired, paid for, and lost. Above all, San Piedro is haunted by the memory of what happened to its Japanese residents during World War II, when an entire community was sent into exile while its neighbors watched."
"Spanning more than three decades and playing out across the ever-changing face of the Pacific Northwest, Firefly Lane is the poignant, powerful story of two women and the friendship that becomes the bulkhead of their lives."
Bonus: Part of Hannah's The Great Alone takes place in Seattle.
5. Reamde by Neal Stephenson
"The breathtaking tale of a wealthy tech entrepreneur caught in the very real crossfire of his own online fantasy war game, Reamde is a new high—and a new world—for the remarkable Neal Stephenson."
Bonus: Another techno-thriller, Disclosure by Michael Crichton, takes place in Seattle.
"The New York Times bestselling novel from Garth Stein—a heart-wrenching but deeply funny and ultimately uplifting story of family, love, loyalty, and hope—a captivating look at the wonders and absurdities of human life . . . as only a dog could tell it."
"Bernadette Fox is notorious. To her Microsoft-guru husband, she's a fearlessly opinionated partner; to fellow private-school mothers in Seattle, she's a disgrace; to design mavens, she's a revolutionary architect; and to 15-year-old Bee, she is her best friend and, simply, Mom.
"Then Bernadette vanishes. It all began when Bee aced her report card and claimed her promised reward: a family trip to Antarctica. But Bernadette's intensifying allergy to Seattle — and people in general — has made her so agoraphobic that a virtual assistant in India now runs her most basic errands. A trip to the end of the earth is problematic.
"To find her mother, Bee compiles email messages, official documents, and secret correspondence — creating a compulsively readable and surprisingly touching novel about misplaced genius and a mother and daughter's role in an absurd world."
"Teen-aged Wolff moves with his divorced mother from Florida to Utah to Washington State to escape her violent boyfriend. When she remarries, Wolff finds himself in a bitter battle of wills with his abusive stepfather, a contest in which the two prove to be more evenly matched than might have been supposed."
"Set during one of the most conflicted and volatile times in American history, Hotel on the Corner of Bitter and Sweet is an extraordinary story of commitment and enduring hope. In Henry and Keiko, Jamie Ford has created an unforgettable duo whose story teaches us of the power of forgiveness and the human heart."
Bonus: Don't miss Ford's Love and Other Consolation Prizes.
"Once a month on a Monday night, eight students gather in Lillian's restaurant for a cooking class. Among them is Claire, a young woman coming to terms with her new identity as a mother; Tom, a lawyer whose life has been overturned by loss; Antonia, an Italian kitchen designer adapting to life in America; and Carl and Helen, a long-married couple whose union contains surprises the rest of the class would never suspect.
"The students have come to learn the art behind Lillian's soulful dishes, but it soon becomes clear that each seeks a recipe for something beyond the kitchen. And soon they are transformed by the aromas, flavors, and textures of what they create…."
Related: Best Books Set In Every State In America
Visit our Reading Essentials section to discover the best bookshelves, reading chairs, book lights for reading at night, and more!
Receive top book recommendations directly in your inbox.
Try Audible Premium Plus and Get Up to Two Free Audiobooks