These 10 great books with family secrets include bestselling and award-winning fiction, fascinating nonfiction, and unputdownable memoirs. These books about family secrets deliver shocking plot twists. Get ready to keep turning the pages with these must-read books with family secrets.
"The Lost Family delves into the many lives that have been irrevocably changed by home DNA tests – a technology that represents the end of family secrets. There are the adoptees who've used the tests to find their birth parents; donor-conceived adults who suddenly discover they have more than 50 siblings; hundreds of thousands of Americans who discover their fathers aren't biologically related to them, a phenomenon so common it is known as a 'non-paternity event', and individuals who are left to grapple with their conceptions of race and ethnicity when their true ancestral histories are discovered. Throughout these accounts, Copeland explores the impulse toward genetic essentialism and raises the question of how much our genes should get to tell us about who we are. With more than 30 million people having undergone home DNA testing, the answer to that question is more important than ever."
"Murder mystery, family saga, love story, and financial intrigue combine into one satisfyingly complex and entertainingly atmospheric novel, the first in Stieg Larsson's thrilling Millenium series featuring Lisbeth Salander.
"Harriet Vanger, a scion of one of Sweden's wealthiest families disappeared over forty years ago. All these years later, her aged uncle continues to seek the truth. He hires Mikael Blomkvist, a crusading journalist recently trapped by a libel conviction, to investigate. He is aided by the pierced and tattooed punk prodigy Lisbeth Salander. Together they tap into a vein of unfathomable iniquity and astonishing corruption."
"Inheritance is a book about secrets. It is the story of a woman's urgent quest to unlock the story of her own identity, a story that had been scrupulously hidden from her for more than fifty years. It is a book about the extraordinary moment we live in, a moment in which science and technology have outpaced not only medical ethics but also the capacities of the human heart to contend with the consequences of what we discover."
"Slipping between Nazi-occupied Poland and the frenetic pace of modern life, Kelly Rimmer creates an emotional and finely wrought narrative. The Things We Cannot Say is an unshakable reminder of the devastation when truth is silenced…and how it can take a lifetime to find our voice before we learn to trust it."
5. Middlesex by Jeffrey Eugenides
"'I was born twice: first, as a baby girl, on a remarkably smogless Detroit day of January 1960; and then again, as a teenage boy, in an emergency room near Petoskey, Michigan, in August of l974. . . My birth certificate lists my name as Calliope Helen Stephanides. My most recent driver's license…records my first name simply as Cal.'
"So begins the breathtaking story of Calliope Stephanides and three generations of the Greek-American Stephanides family who travel from a tiny village overlooking Mount Olympus in Asia Minor to Prohibition-era Detroit, witnessing its glory days as the Motor City, and the race riots of l967, before they move out to the tree-lined streets of suburban Grosse Pointe, Michigan. To understand why Calliope is not like other girls, she has to uncover a guilty family secret and the astonishing genetic history that turns Callie into Cal, one of the most audacious and wondrous narrators in contemporary fiction. Lyrical and thrilling, Middlesex is an exhilarating reinvention of the American epic."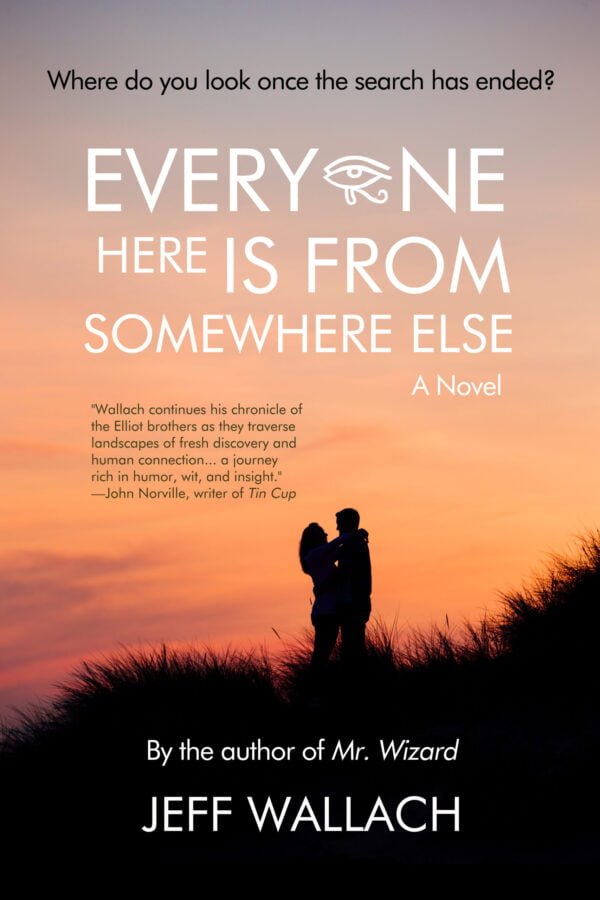 "Where do you look once the search has ended?
"Mysteries, comedy, and atmospheric Irish golf abound in this stand-alone novel that also continues the stories of Phillip and Spencer Elliot first explored in the novel Mr. Wizard. The middle-aged brothers undertake a quest inspired by their dead mother to discover "wonderful things"—the phrase used by archaeologist Howard Carter in describing his first look into King Tut's tomb.
"Jenny Elliot, the boys' mother, was a budding Egyptologist as a girl, and the brothers consider themes of permanence, change, and legacy as they follow a trail to find their true place in the world—place being key as the brothers consider whether where you live is as crucial to who you are as such other obvious factors as DNA and upbringing."
Bonus: Don't miss Wallach's Mr. Wizard.
"Marie-Laure lives in Paris near the Museum of Natural History, where her father works. When she is twelve, the Nazis occupy Paris and father and daughter flee to the walled citadel of Saint-Malo, where Marie-Laure's reclusive great uncle lives in a tall house by the sea. With them they carry what might be the museum's most valuable and dangerous jewel.
"In a mining town in Germany, Werner Pfennig, an orphan, grows up with his younger sister, enchanted by a crude radio they find that brings them news and stories from places they have never seen or imagined. Werner becomes an expert at building and fixing these crucial new instruments and is enlisted to use his talent to track down the resistance. Deftly interweaving the lives of Marie-Laure and Werner, Doerr illuminates the ways, against all odds, people try to be good to one another."
8. The Hours by Michael Cunningham
"In The Hours, Michael Cunningham, widely praised as one of the most gifted writers of his generation, draws inventively on the life and work of Virginia Woolf to tell the story of a group of contemporary characters struggling with the conflicting claims of love and inheritance, hope and despair. The narrative of Woolf's last days before her suicide early in World War II counterpoints the fictional stories of Samuel, a famous poet whose life has been shadowed by his talented and troubled mother, and his lifelong friend Clarissa, who strives to forge a balanced and rewarding life in spite of the demands of friends, lovers, and family."
9.

Beloved

by Toni Morrison
"Sethe, its protagonist, was born a slave and escaped to Ohio, but eighteen years later she is still not free. She has too many memories of Sweet Home, the beautiful farm where so many hideous things happened. And Sethe's new home is haunted by the ghost of her baby, who died nameless and whose tombstone is engraved with a single word: Beloved. Filled with bitter poetry and suspense as taut as a rope, Beloved is a towering achievement."
"A dying millionaire hires private eye Philip Marlowe to handle the blackmailer of one of his two troublesome daughters, and Marlowe finds himself involved with more than extortion. Kidnapping, pornography, seduction, and murder are just a few of the complications he gets caught up in."
Receive top book recommendations directly in your inbox.
Try Audible Premium Plus and Get Up to Two Free Audiobooks