These 10 great books about siblings explore the complicated bonds of siblings, from sibling love to sibling rivalry. If you have brothers, sisters, both, or if you are an only child and have wondered what it's like to have a brother or sister, then you will enjoy these must-read books about siblings.
"This powerful twentieth-century reimagining of Shakespeare's King Lear centers on a wealthy Iowa farmer who decides to divide his farm between his three daughters. When the youngest objects, she is cut out of his will. This sets off a chain of events that brings dark truths to light and explodes long-suppressed emotions. Ambitiously conceived and stunningly written, A Thousand Acres takes on themes of truth, justice, love, and pride—and reveals the beautiful yet treacherous topography of humanity."
"The Brothers Karamazov is a murder mystery, a courtroom drama, and an exploration of erotic rivalry in a series of triangular love affairs involving the "wicked and sentimental" Fyodor Pavlovich Karamazov and his three sons―the impulsive and sensual Dmitri; the coldly rational Ivan; and the healthy, red-cheeked young novice Alyosha. Through the gripping events of their story, Dostoevsky portrays the whole of Russian life, is social and spiritual striving, in what was both the golden age and a tragic turning point in Russian culture."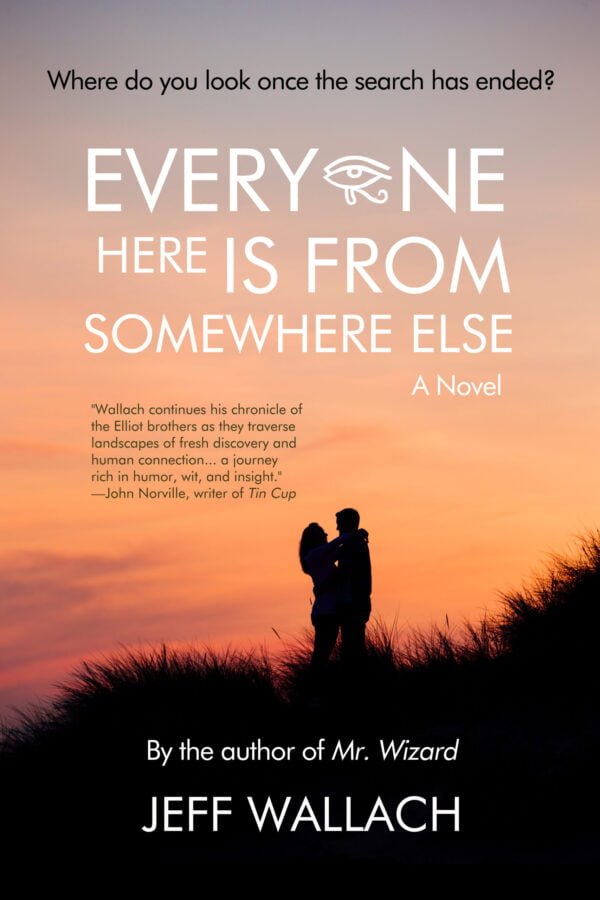 "Where do you look once the search has ended?
"Mysteries, comedy, and atmospheric Irish golf abound in this stand-alone novel that also continues the stories of Phillip and Spencer Elliot first explored in the novel Mr. Wizard. The middle-aged brothers undertake a quest inspired by their dead mother to discover "wonderful things"—the phrase used by archaeologist Howard Carter in describing his first look into King Tut's tomb.
"Jenny Elliot, the boys' mother, was a budding Egyptologist as a girl, and the brothers consider themes of permanence, change, and legacy as they follow a trail to find their true place in the world—place being key as the brothers consider whether where you live is as crucial to who you are as such other obvious factors as DNA and upbringing."
Bonus: Don't miss Wallach's Mr. Wizard.
"Based on Maclean's own experiences as a young man, the book's two novellas and short story are set in the small towns and mountains of western Montana. It is a world populated with drunks, loggers, card sharks, and whores, but also one rich in the pleasures of fly-fishing, logging, cribbage, and family. By turns raunchy and elegiac, these superb tales express, in Maclean's own words, 'a little of the love I have for the earth as it goes by."
"Set in the rich farmland of California's Salinas Valley, this sprawling and often brutal novel follows the intertwined destinies of two families—the Trasks and the Hamiltons—whose generations helplessly reenact the fall of Adam and Eve and the poisonous rivalry of Cain and Abel."
"The title novella, 'Legends of the Fall'—which was made into the film of the same name—is an epic, moving tale of three brothers fighting for justice in a world gone mad. Moving from the raw landscape of early twentieth-century Montana to the blood-drenched European battlefields of World War I and back again to Montana, Harrison's powerful story explores the theme of revenge and the actions to which people resort when their lives or goals are threatened, painting an unforgettable portrait of the twentieth-century man."
"'Lydia is dead. But they don't know this yet.' So begins this exquisite novel about a Chinese American family living in 1970s small-town Ohio. Lydia is the favorite child of Marilyn and James Lee, and her parents are determined that she will fulfill the dreams they were unable to pursue. But when Lydia's body is found in the local lake, the delicate balancing act that has been keeping the Lee family together is destroyed, tumbling them into chaos. A profoundly moving story of family, secrets, and longing, Everything I Never Told You is both a gripping page-turner and a sensitive family portrait, uncovering the ways in which mothers and daughters, fathers and sons, and husbands and wives struggle, all their lives, to understand one another."
"A novel in two halves, Franny and Zooey brilliantly captures the emotional strains and traumas of entering adulthood. It is a gleaming example of the wit, precision, and poignancy that have made J. D. Salinger one of America's most beloved writers."
"It's 1969 in New York City's Lower East Side, and word has spread of the arrival of a mystical woman, a traveling psychic who claims to be able to tell anyone the day they will die. The Gold children–four adolescents on the cusp of self-awareness–sneak out to hear their fortunes.
"The prophecies inform their next five decades. Golden boy Simon escapes to the West Coast, searching for love in '80s San Francisco; dreamy Klara becomes a Las Vegas magician obsessed with blurring reality and fantasy; eldest son Daniel struggles to maintain security as an army doctor post-9/11; and bookish Varya throws herself into longevity research, where she tests the boundary between science and immortality.
"Both a dazzling family love story and a sweeping novel of remarkable ambition and depth, The Immortalists probes the line between destiny and choice, reality and illusion, this world and the next. It is a deeply moving testament to the power of story, the nature of belief, and the unrelenting pull of familial bonds."
"In a quiet suburb of Detroit, the five Lisbon sisters―beautiful, eccentric, and obsessively watched by the neighborhood boys―commit suicide one by one over the course of a single year. As the boys observe them from afar, transfixed, they piece together the mystery of the family's fatal melancholy, in this hypnotic and unforgettable novel of adolescent love, disquiet, and death."
Receive top book recommendations directly in your inbox.
Try Audible Premium Plus and Get Up to Two Free Audiobooks